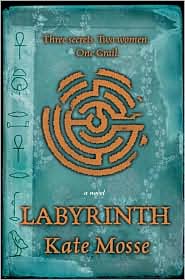 Comparisons are odious.
  For more than a year, I put off reading Kate Mosse's "Labyrinth" because so many reviewers compared it to Dan Brown's "The Da Vinci Code," a novel I thought unfolded like a bad Cliff Note's version of Grail mythology. But there it was one weekend, the last novel in my To Be Read pile. So I rolled my eyes, picked up "Labyrinth" and landed in the French Pyrenees, somewhere near Carcassonne.
  I was truly glad to be there.
  Mosse delivers a twined story of quest and destiny told by a modern Alice and her 13th-century counterpart Alais. The story begins with Alice's discovery of a pair of  skeletons interred in a shallow grave while volunteering on an archaeological dig. The remains, clearly marked by violence, are interred in a cave underneath the pattern of a labyrinth.
  A mysterious ring gripped by one of the skeletons and a book in a leather bag may contain keys that lead to the true Grail. The artifacts trigger the interest of a shadowy secret sect that soon has Alice on the run, desperately trying to understand her role in what quickly becomes a  fantastical thriller.
  Her story and that of Alais — who with her family is caught up in the relentless press of a crusade called by the Vatican to stamp out the Cathar heresy — explodes in a satisfying mix of Grail lore and history.
  The only thing Mosse's novel has in common with "The Da Vinci Code" is topic, and "Labyrinth" is the better book by far.