Behind the camera, Mark Duplass (pictured) and his brother Jay make edgy indie comedies. (You can catch their latest, "Cyrus," in theaters now.)
As an actor, however, Duplass gets to do something other than "sitting inside of a house on the east side of L.A." directing "Cyrus" stars John C. Reilly, Marisa Tomei and Jonah Hill, "improvising and trying to find a truthful, funny, dramatic moment," he explains.
Such as spending a week in Las Vegas shooting footage for his FX comedy "The League," which was expected to wrap its location visit over the weekend.
"The League" will kick off its second season Sept. 16 with the made-in-Vegas episode; the show focuses on a fantasy football league.
And "there's a big connection between sports and Vegas," Duplass points out.
The episode is designed to "capture all the wish fulfillment of the ultimate Vegas draft weekend," according to "League" officials, including "the great suite, the poolside cabanas, the nightlife. It's a weekend these guys will be talking about for a long time."
Viewers will see that action staged at the MGM Grand, from Wet Republic cabanas to Tabu to a Skyloft with killer Strip views, along with scenes on the casino floor — and along the Strip.
Shooting "The League" in Las Vegas represents "the antithesis" of working on his own projects, Duplass acknowledges.
"When my brother and I are working together, it's a passion project that takes us a couple of years. It's more stressful and intense," he explains. On this Vegas trek, "I'm out here with some of my best friends" filming "and when we're done, I get to hit the blackjack tables, order room service and jump in the pool."
Duplass also gets to spend some quality time with his wife and their toddler daughter, who's captivated by the sights and sounds of Glitter City.
"The M&Ms store was a big hit," he says, and the doting father won "a lollipop and a toe ring" for his daughter while playing arcade games. "What else would a girl want?"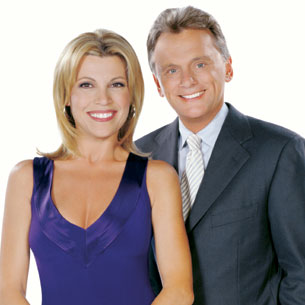 Still spinning: "Wheel of Fortune" rolled into Las Vegas last week. And they're not through rolling yet.
The syndicated game show winds down its longest Vegas visit ever with additional days of shooting today and Tuesday in The Venetian's Sands Expo and Convention Center.
Today, doors open at 2 p.m. for ticket-holders and close at 3:15 p.m. for the first taping session, then open at 6:30 p.m. and close at 7:15 p.m. for the evening shows. Audiences for Tuesday's first taping session should arrive between noon and 1:15 p.m.; doors open at 4:30 p.m. for the second session and close at 5:15 p.m.
The current Vegas stint represents "the most shows we've ever taped in one place — and the longest we've ever stayed in one place," according to host Pat Sajak, who's been spinning since 1981. (Co-host Vanna White arrived a year later.) In Las Vegas, Pat and Vanna play to audiences 10 times the size of the show's studio audience back in Southern California.
"It makes it more exciting," White says of the larger crowds. "It's louder — there's more energy."
But Sajak says the at-home audience shouldn't see any difference in the on-location shows, because they try not to let it affect production.
"When we first started traveling, we were playing to three or four thousand people in a convention center, and I was doing 'Rigoletto,' playing to the back row," Sajak recalls. "I forgot people were still watching on their little TV sets."
TV sets aren't so little anymore, of course, and "Wheel" has made changes over the years to reflect changing times.
"That's one of the challenges of doing a long-running show," Sajak says. For example, it's paced faster now than it was a decade ago, he notes. "Every year, you make an adjustment, but it's gradual, so people don't say, 'Hey, what happened to my show?' "
After all, "we're like apple pie," White points out. "We're part of the family," beloved by audiences "from babies to grandmothers."
To Sajak, "what makes it incredible is, we're still a force to be reckoned with," after more than a quarter-century on the air. ("Wheel's" 28th season, which taped here last week, launches in September.)
"Wheel" may be "kind of corny, kind of old-fashioned — we're playing Hangman, for gosh sakes — but we've become a part of people's lives in ways we've never intended."
Striking back: The reality series "Crimestrike" — a reboot of the syndicated show "Crime Strike" — focuses on true stories of real-life heroes, potential crime victims who have fought back against attackers.
Including the 80-year-old Las Vegas resident who fended off home invaders while home alone.
Production officials contacted him to tell his story on "Crimestrike," according to producer-director Bryan Albright of Associated Television.
And he'll be portraying himself in re-enactments filming this week, Albright explains. "That's one of the real novelties" of the show, he adds.
The shoot will take place at a northwest Las Vegas residence — but not the same house where the incident took place, Albright says. (The story will be one segment of an upcoming 30-minute episode.)
"Crimestrike" has a full-season order for a future network launch; Albright says the show is considering other Las Vegas stories for future segments.
Contest countdown: Filmmakers, start your cameras.
The annual 48 Hour Film Project begins Friday evening, launching a whirlwind weekend for local movie mavens.
Before the start of the contest, however, there's one more meet-and-greet for participants and potential participants: 7 p.m. Tuesday at Putter's Bar & Grill, 6945 S. Rainbow Blvd.
From 6 to 7 p.m. Friday, the contest launches at Putters, where filmmaking teams will receive details on a prop, character and line of dialogue that must be incorporated into their short films.
From there, it's off to work, with finished projects due between 6 and 7 p.m. Sunday at Putter's.
At press time, some two dozen teams had signed up to compete; their films will be shown July 28 and 29 at Century's Suncoast 16 multiplex; the winning short will compete with other films from around the world.
Reality bites: Two projects have taken out film permits to join Las Vegas' ongoing reality-TV parade: "Mel B: It's a Scary World," is expected to bring the former Spice Girl — and former "Peepshow" headliner — back to Las Vegas for a weeklong shoot scheduled to end today; and "Tonight's the Night," a BBC dreams-come-true show that was expected to conclude a three-day shoot over the weekend. Among the regulars still rolling around town: History's "Pawn Stars," Fox's "Cops" and truTV's "Rehab: Party at the Hard Rock Pool."