It's the end of the trail for ABC's "Supernanny," which wraps up an 11-day Las Vegas shoot this week — to say nothing of the show's six-season run.
"Live! With Regis and Kelly," meanwhile, wraps up a two-day Vegas visit today at Wynn Las Vegas. (More about that in a moment.)
Tuesday marks the final day of taping for "Supernanny" Jo Frost — not just for this Las Vegas episode, but for good.
After "six years on the road," the current Las Vegas family "is the last family I'm helping under the 'Supernanny' umbrella," says Frost, taking a break from filming outside the suburban Las Vegas home where she's currently working.
"After six years, I've evolved and grown," she comments. And while "the show has given me a wonderful opportunity" — after all, it's been shown in 150 territories worldwide, she says — she's "really excited to be moving on under a different format."
But not until she finishes up with her current Las Vegas family, the second she's worked with here in Southern Nevada. ("Supernanny" previously visited here in 2007.)
"As we would say for Vegas, they need to double down on discipline," she comments of her current subjects — two parents, three children.
In addition, the local parents who appealed for Frost's help have "valued materialism as a priority."
Frost adds, "and they're about to understand that what children want is not their parents' money, but their parents' time. Their priorities need alignment."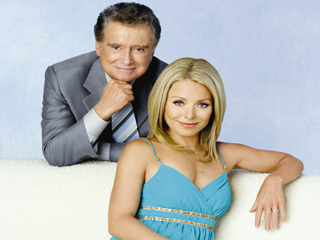 Take two: It's two down, two to go as the syndicated "Live! With Regis and Kelly" concludes a two-day stay at Wynn Las Vegas' Encore Theater.
It's the show's second annual visit — and while Vegas in November isn't quite a yearly tradition, executive producer Michael Gelman, for one, "wouldn't be unhappy if it did" become one.
After all, "Vegas is really a special place," Gelman says — in part because of "the amount of show business talent" in town. "There are so many great acts," thereby enabling the show to get "a lot of great bookings" for the four shows produced here, he explains.
David Copperfield, Rod Stewart, Terry Fator, Howie Mandel and Vegas native Jimmy Kimmel lead the list of performers scheduled to appear during the show's Vegas visit; a preview of Wynn Las Vegas' new "SINATRA Dance With Me" also will be featured.
And because the Encore Theater is more than 10 times bigger than the show's New York studio, the show's production crew discovered during last year's visit that "big opening acts worked for us to open the show," Gelman points out. (Among this year's opening acts: Blue Man Group, Jabbawockeez and "Jersey Boys.")
In addition, Gelman says "we'll be in the field a lot," doing "fun taped pieces" — including Ripa's turn with Cirque du Soleil's "Ka," Philbin's look back at "Classic Vegas" and a "Girls' Night Out" segment with contest winners — that reinforce the Vegas vibe.
"The crowds are terrific," Gelman says of local audiences. "It's really a whole different experience."
And while tickets for today's 11 a.m. and 1:30 p.m. shows are long gone, there's always a chance standby seats will open up, especially at the afternoon show. (No guarantees, but if you're interested, be at the Encore Theater an hour before showtime.)
Bollywood dreams: India and Las Vegas may be oceans — and continents — apart.
But the two cultures connect for the romantic comedy "Stand By Me" (a working title), which plans a two-week shoot around town.
The movie focuses on a Las Vegas architect (played by Imran Khan), the scion of an upper-class family who loses his job — and meets his total opposite (Kareena Kapoor) over drinks (lots of them) on Christmas Eve. That encounter leads to a fateful trip to a 24-hour wedding chapel, where they go from witnesses to sudden, soused spouses.
Among the week's expected locations: downtown's El Cortez and various Fremont Street businesses.
Double feature: Various Fremont Street locations also turn up on this week's schedule for the homegrown feature "An Entire Body," including the Emergency Arts building — headquarters of Lola Pictures, which is providing production services for the drama.
"The whole place has come together to assist where needed on this film," according to production supervisor Chris Ramirez, "and the photogs, artists, Beat Cafe (catering), stylist and more have made some revenue on their contribution to the project."
This week's other locations range from Smarty's car wash on Las Vegas Boulevard to the Great Wall Chinese restaurant on Charleston Boulevard.
Quick hits: The World Poker Tour's big end-of-the-year tournament, the Five Diamond Poker Classic, gets under way Friday at Bellagio for Fox Sports Network. Holly Madison's E! series, "Holly's World," returns to production this week, with planned locations at The Venetian, while Oxygen's "Bachelorette Party" continues rolling at the Palms. A commercial for the Volkswagen Tiguan plans a shoot Tuesday and Wednesday in Cactus Springs and at a possible Strip location. And a German TV news report will focus on the Strip's newest resort, the Cosmopolitan, for the daily newscast "Deutsche Welle Journal."