'Great Christmas Light Fight' puts spotlight on Henderson home
December 1, 2019 - 8:26 pm
Updated December 2, 2019 - 10:02 am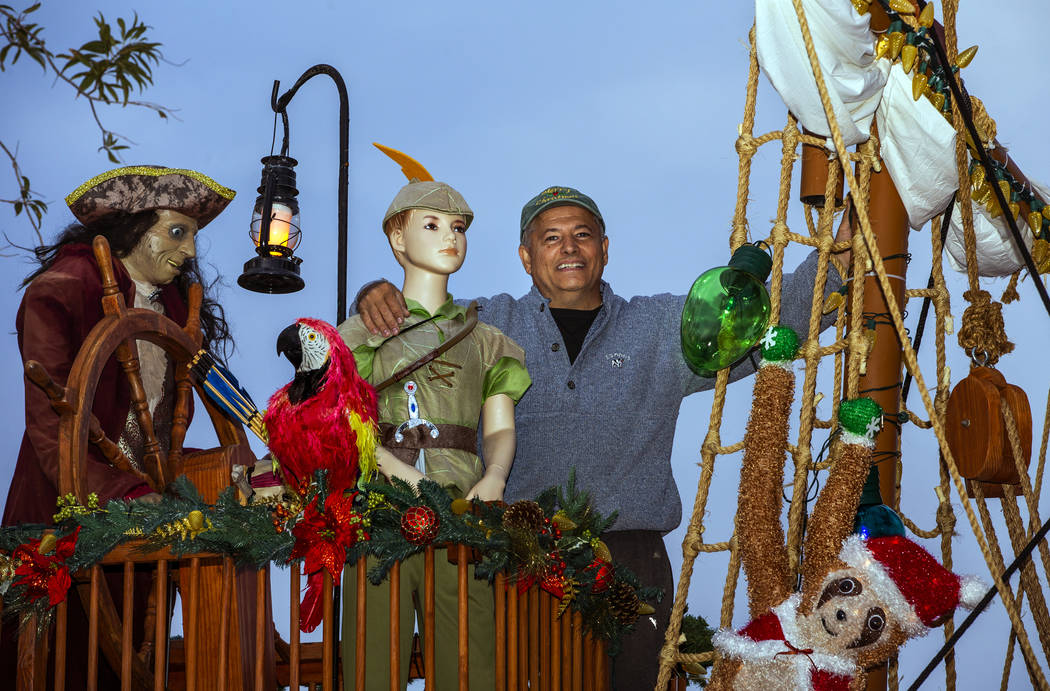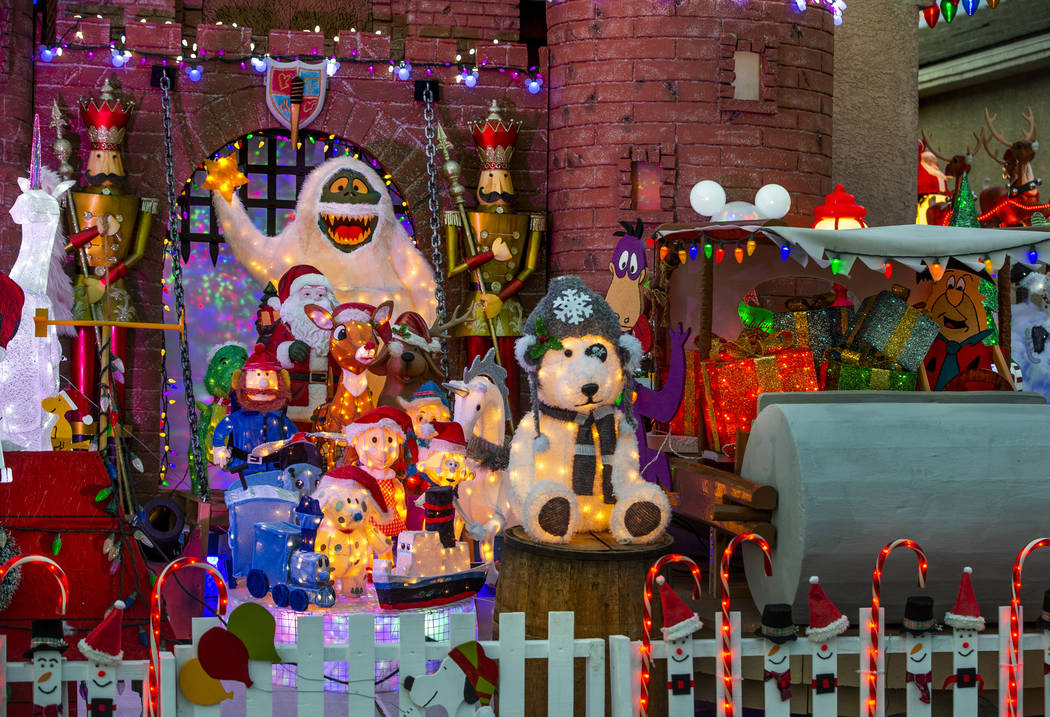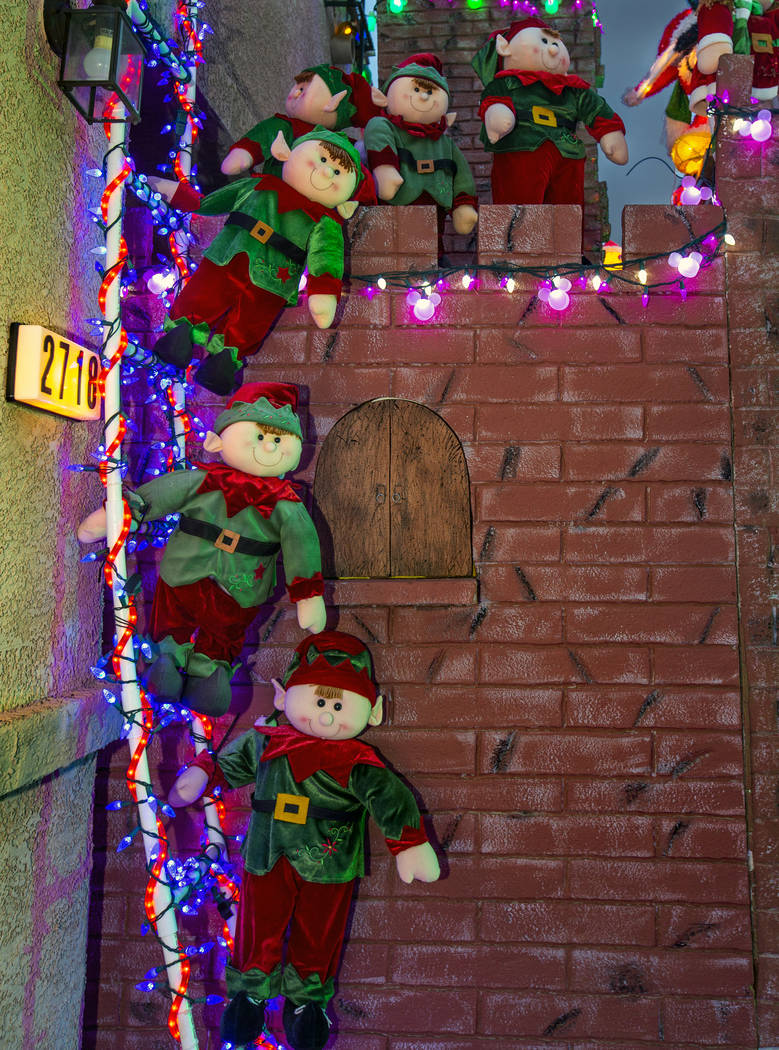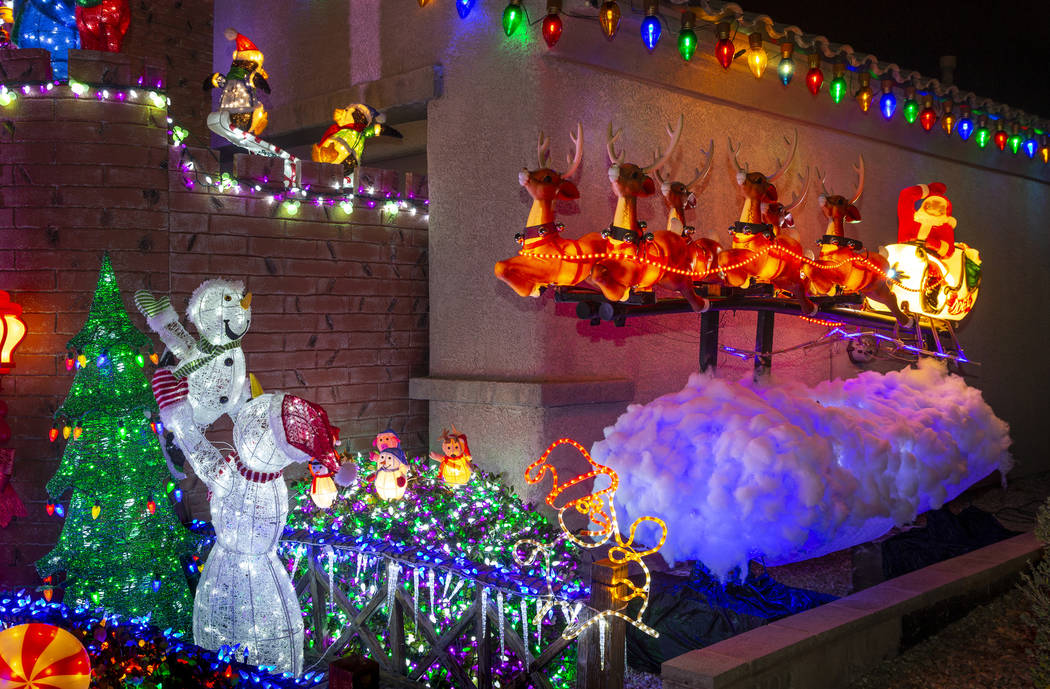 A Henderson couple will compete Monday night on ABC's "The Great Christmas Light Fight" to prove it doesn't take a second mortgage to turn a front yard into award-winning magic.
For Maria and Juan Torres, it only took savvy shopping, craftsmanship and an unexpected award by their homeowners association to ignite the spirit of Christmas in the couple's Anthem home on Lochleven Way.
"I just love lights; I'm a Christmas fanatic," said Maria Torres, 52. "We didn't even know there was a display contest. They sent us an email saying we won fourth place and Juan said, 'Next year, I'm going to make this a little better.' "
Juan Torres, 57, had usually just put a wreath on the door and called it Christmastime. He was wary of putting any decorations outside because his Halloween decor had been stolen. His wife, meanwhile, had grown up in a Las Vegas house where Christmas was celebrated but on the inside only, because her mother had grown up under the Communist regime in Cuba, where she said religion and holidays were banned.
The couple won the homeowners association contest in 2012 and started competing in Henderson lighting contests. Maria Torres dreamed big and watched Christmas light competitions on TV, but her husband wasn't confident their yard was good enough to compete.
"We'd watch the show and he'd be like, 'Don't even dream about it; we're not to that stage,'" she said. "I started sending in pictures of the things we created."
'Catch the judges' eye'
All the while, her husband built nearly everything by hand. Their garage, attic, shed and a covered section of the backyard have become a full-time Christmas storage center.
"If you look at the show, people that won made something unique," Maria Torres said. "Anyone can go out and buy thousands of dollars worth of stuff or take a second mortgage, but if you create something really special, that's what's gonna catch the judges' eye."
So Juan Torres made a pirate ship. A 32-foot-tall wooden structure, with a helm made from a $10 crib he bought online. It took seven months of wood carving in the backyard, and he tied the ropes that hang from the masts himself. Sloths dangle from the sides, Mickey Mouse watches for land and a life-size pirate drives his life-size ship.
Maria Torres said she thinks this won over their judges, one of whom was a former carpenter.
"When they came in person, they were in shock," she said. "They didn't expect a life-size ship in the actual yard."
Around the pirate ship is a blue tide pool with creatures, including flapping flamingos. In front of it is a doghouse Juan Torres made from wood, with 3D wood carvings of Charlie Brown and Snoopy dangling their legs. Even the picket fence was built by hand, and Maria Torres painted faces on the white posts and donned them with Santa hats to look like festive snowmen.
"It looks like a movie set," Juan Torres said proudly. "There's nothing like it. No matter where you go."
For the community
The couple, though, didn't spend the past seven years decorating for a TV show. It was for her love of Christmas and for his love of the people who visit. Around the same time Juan Torres built the pirate ship, he also built a 20-foot castle.
Not a single neighbor has had a problem with the decorating, which usually begins in October, Maria Torres said.
"At this point we really do it for the community," she said. "We have a lot of people that drive by. There are some touching stories."
Although the two can't reveal who will win Monday night, Maria Torres said her husband might already have plans for next year.
"Juan wanted to retire, but now he brings me the submarine from Disney and said, 'I'm going to build this,'" she said.
ABC wouldn't allow the family to feature some of their neighborhood favorites, including the Grinch, Rudolph the Red-Nosed Reindeer and the cast from the Island of Misfit Toys. But the characters have reappeared on the lawn since the show filmed almost a year ago.
"All the neighbors love the Misfits," Maria Torres said. "If it was just for me and him, we wouldn't go to all this trouble. It's for the community, to see all the happy faces."
Contact Sabrina Schnur at sschnur@reviewjournal.com or 702-383-0278. Follow @sabrina_schnur on Twitter.