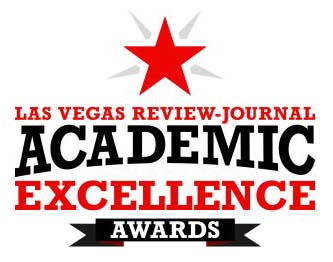 Presented By

Supporting Sponsor
The Las Vegas Review-Journal's Academic Excellence program recognizes 1st thru 12th-grade students in Southern Nevada who exhibit academic achievement, community involvement, citizenship, and leadership in and out of the classroom.
To be eligible, a student must demonstrate some or all of the following pillars:
Academic Excellence
Responsibility
Leadership
Extracurricular Activity/Community Service
Rules:
Students can be nominated by their Teachers, Principals, Coaches, Family Members, Friends, School Administrators, Non-Profit Organizations, or anyone that knows a tremendous academic all-star.
Nominations are open to all students in Southern Nevada, i.e., public, private, charter, magnet, and home school. A student may be nominated anytime during the 2022 – 2023 school year.
Nomination forms are available on the Las Vegas Review-Journal website.
Nominations must be received by Friday, March 31, 2023, at 11:59 p.m.
An independent panel of judges will determine the Academic Excellence Award recipients in each grade level, where one student from each grade level will win the award.
Winners will be notified the week of April 13, 2023, and will receive an invitation to the in-person Academic Excellence Awards Dinner scheduled for Wednesday, May 11, 2023, at the JW Marriott Las Vegas Resort and Spa. The nominator and the school principal will be among each winner's guests.
Winners will also be announced in the Academic Excellence Awards special section that will run in the Wednesday, May 11, 2023, issue of the Las Vegas Review-Journal.
Award to include:
Custom Academic Excellence Award
$500 scholarship to each Academic Excellence Award recipient
$500 to a school program, as designated by each Academic Excellence Award recipient
Special invitation to the in-person Academic Excellence Awards Dinner plus four (4) guests
Click here to view 2023 Academic Excellence Award Winners
Click here to view 2022 Academic Excellence Award Winners
Click here to view 2021 Academic Excellence Award Winners
Click here to view 2020 Academic Excellence Award Winners