Mecum Las Vegas Motorcycle Auction adds 5th day
January 20, 2023 - 8:00 am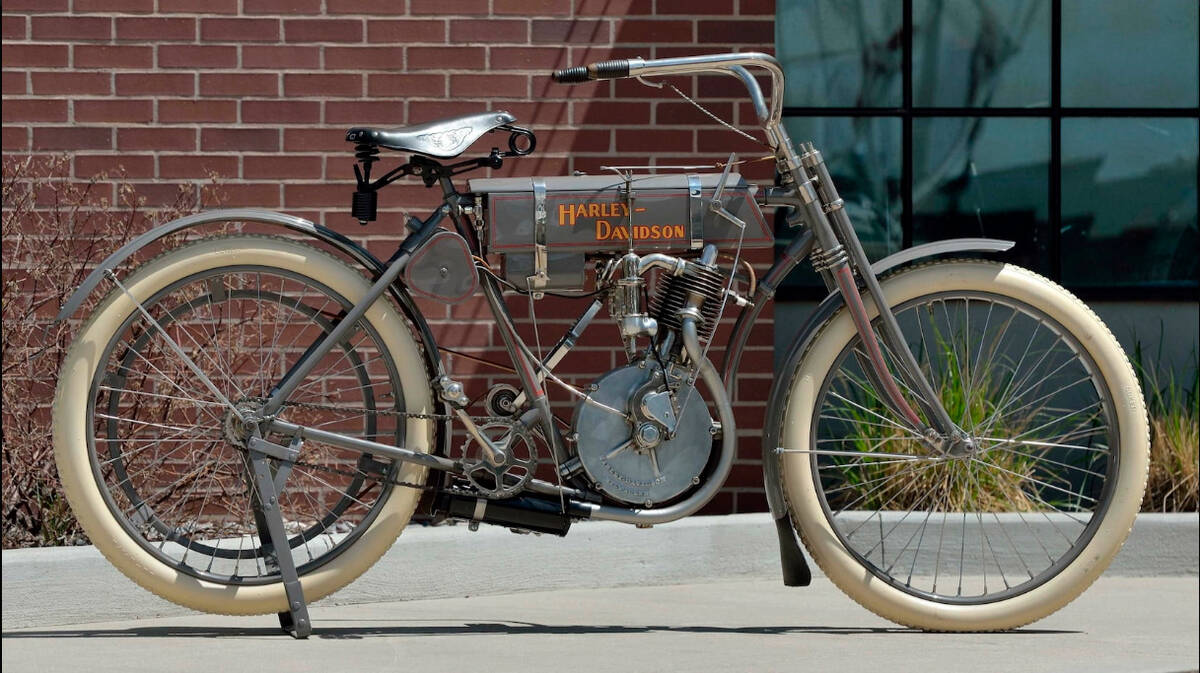 The global gathering of vintage motorcycle enthusiasts will return Tuesday through Jan. 28 to South Point in a big way, as Mecum Auctions' 32nd annual Vintage & Antique Motorcycle Auction reaches new heights with an estimated 2,000 motorcycles to be offered. Headlining consignments are numerous, with highlights from more than 15 private collections leading the way, including motorcycles from Jim's Forever Collection, Mike Wolfe's As Found Collection and the BMW Centennial Selection From the Black Forest Collection.
Wolfe, the well-known frontman of television's "American Pickers," has amassed an impressive collection of some of the world's rarest and most highly sought-after motorcycles in highly original condition, a group that is now slated to become a once-in-a-lifetime offering christened as Mike Wolfe's As Found Collection. The assemblage contains more than 60 two-wheeled icons, including mostly original and unaltered Harley-Davidsons and Indians, all to be offered at no reserve, such as a 1919 Indian Military Twin and a 1936 Harley-Davidson EL Knucklehead.
Another well-known name in the motorcycling milieu is Jim Godwin, the former Harley-Davidson dealer behind Jim's Forever Museum — a 60-year collection of some of the American builder's best. Godwin will offer more than 100 motorcycles from his private collection at no reserve, as well as the remaining portion of his Harley-Davidson memorabilia collection.
Among the most desirable motorcycles from Godwin's vault are a handful of the celebrated Knucklehead line, led by a restored 1947 Harley-Davidson FL Knucklehead presented in a bold red color scheme. A 1946 Harley-Davidson FL Springer Knucklehead is finished in two-tone red over black with matching fenders and powered by a 74 CI air-cooled V-twin engine.
Another collection consigned to this year's Mecum Las Vegas Motorcycle Auction is the BMW Centennial Selection From the Black Forest Collection of 10 motorcycles, eight of which were restored by collection owner and curator Hubert Fehrenbach, including a one-of-152 1925 BMW R37 that was discovered 25 years ago at the Marxzelle Museum in Germany in highly original condition, and a 1926 BMW R42 that is purported to be the earliest R42 still in existence, boasting Frame No. 4 and Engine No. 7.
Among other headlining lots consigned for the Las Vegas auction is a 1908 Harley-Davidson Strap Tank that is among the oldest surviving models of this extremely rare breed and was discovered as a complete motorcycle in a Wisconsin barn in 1941, where it remained for 66 years. It's one of only 450 motorcycles produced by Harley-Davidson in 1908 and includes the original tank, wheels, engine belt pulley, seat cover and muffler sleeve with its sale.
Those interested in consigning a motorcycle for auction at Mecum's 2023 Las Vegas Motorcycle Auction can find complete details about the consignment process and pricing at Mecum.com. Bidder registration is available online in advance and on-site at the auction starting at $100, and standard, in-person bidding includes admission for two persons to the four auction days. For those unable to attend in person, enhanced remote bidding options are also available, including for both online and telephone bidding.
General admission tickets are available in advance online for $20 per person, per day, and for $30 at the door and online after Tuesday; children 12 and younger receive complimentary admission.
Mecum's website is updated daily with the latest consignments and includes detailed descriptions and photographs of the vehicles to be offered. For schedule information, to consign a vehicle or to register as a bidder for this and all Mecum events, visit Mecum.com or call 262-275-5050 for more information.