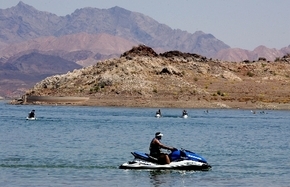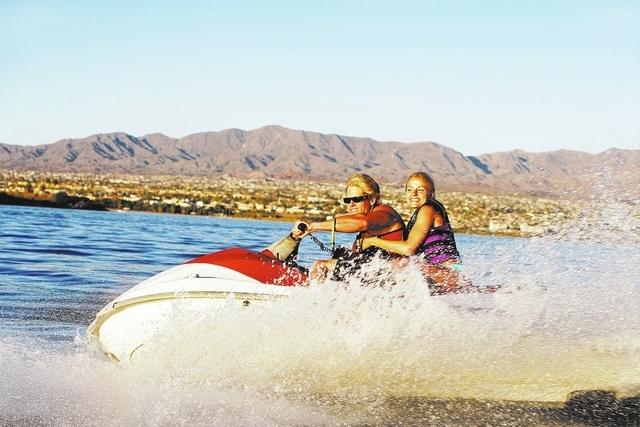 It's no wonder that personal watercrafts, or PWCs, have become so popular with people who love the water. Their compact size makes them affordable to operate and easy to store, tow and launch.
At Lake Mead National Recreation Area, PWC riders have the freedom to explore secluded side coves and waterways through narrow slot canyons that are inaccessible by larger vessels.
PWCs are often referred by the trademarked brand names Jet Ski, WaveRunner, or Sea-Doo, but they are motorized water vehicles that the rider sits or stands on, rather than inside of, as in a boat.
Older model PWCs had a reputation for being difficult to control, especially for beginners. However, newer designs incorporate advanced braking systems, making them safer to operate.
You have many things to consider when purchasing a PWC and finding something that fits your budget is only one piece of the puzzle.
"Try to figure out what type of riding you enjoy," said Dan Boyle, owner of Proshop Motorsports and Marine in Henderson. Boyle is a lifelong boater who has been riding PWCs for more than two decades and selling watercraft in the Las Vegas area since 2000.
Choosing the right model PWC depends on whether you prefer speed over comfort, whether you plan to tow passengers on a water toy and whether you plan to ride with a passenger some of the time, all of the time or never.
Today's PWCs accommodate two or three passengers and, according to Boyle, the majority sold these days are three-seaters.
"You need a three-seater if you want to tow a tube or wakeboard," explains Boyle. "That's because you must have an observer on the PWC and an empty seat for the person on the tube to use, if necessary. Three-seaters are usually larger, so they ride more smoothly. Two-seaters are shorter, quicker and offer more performance."
A brand-new machine will set you back anywhere from $5,000 to $15,000, depending on size, and amenities and horsepower. Engine sizes range from 60 horsepower to more than 300 horsepower.
You can save some money buying a used PWC, but as with any major purchase, it's buyer beware. A good machine with a four-stroke engine should cost between $3,000 and $6,000, but it is possible to spend up to $10,000 for a top-of-the-line machine.
Boyle advises that buyers have any used machine checked out by a qualified technician before they part with their hard-earned money. It will be well worth the investment. Proshop Motorsports and Marine, for example, offers a used check-over inspection for around $50, a small price to pay for peace of mind.
If you plan on exploring nearby Lake Mead and the Colorado River, you should be aware that federal regulations ban the use of PWCs with carbureted two-stroke engines within the Lake Mead National Recreation Area. If you are purchasing a used machine, make sure it meets the EPA 2006 emission standards. To verify compliance, look for the emission control information label on the vehicle.
On the water, PWC users are bound to the same rules and regulations as any other boater, including respecting wake zones and maintaining a safe distance from other vessels. Riders also must wear a U.S. Coast Guard-approved life jacket.
PWCs are prohibited on the Black Canyon National Water Trail between Lake Mead and Willow Beach between Labor Day and Memorial Day weekend, as well as Sundays and Mondays year-round. PWCs are permitted in this area Tuesday through Saturday only from Memorial Day weekend through the Saturday of Labor Day weekend.
Regardless of where you put your PWC into the water, it is important to deal with a trusted source, whether you are purchasing a new or used machine. As with any other vehicle purchase, you want to make sure the PWC you end up with is safe to operate and in good enough condition to provide you with many hours of fun in the sun.