Smart car meets smart home
February 5, 2016 - 4:44 pm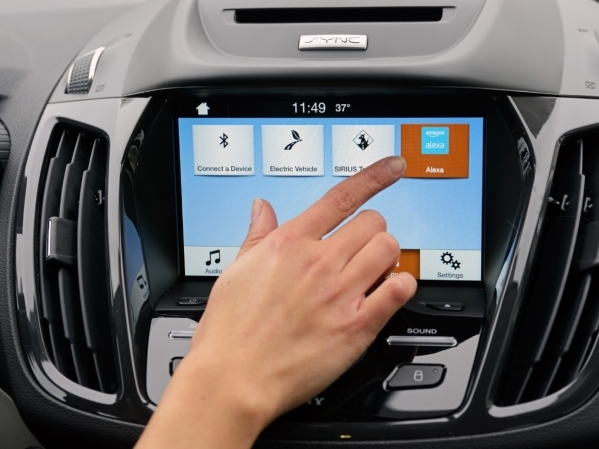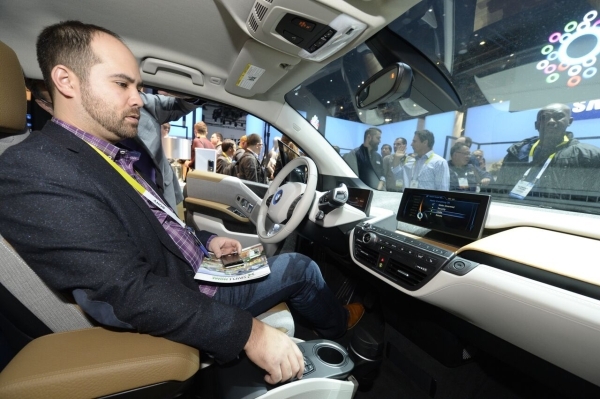 At January's CES 2016 electronics trade show in Las Vegas and the North American International Auto Show in Michigan, automotive manufacturers exhibited new applications that integrated automobile platforms with smart, connected homes.
Ford Motor Co. partnered with Amazon and the company's Echo smart home system to marry its Sync telematics environment with Amazon's Alexa voice-controlled interface. The result is a two-way connection between home and car, where an owner can control both living and transportation spaces simultaneously.
While at home preparing for a road trip, a homeowner can utilize Alexa and a mobile phone app to check a Ford vehicle for fuel capacity; monitor on-board diagnostics; turn on temperature controls inside the cabin to preheat or precool the car; program dashboard infotainment channels; set seat configuration, security systems and door locks; and even prestart the car's drive system remotely.
Once inside the vehicle and on the road, a driver can keep tabs on the home remotely by monitoring security systems, lighting, temperature settings, appliances and other smart devices.
Amazon's Alexa is also a virtual digital assistant that is connected to a worldwide cloud of computer servers from the car, home or a mobile phone app. Alexa can interpret complex verbal questions from its owner to reply with precise verbal answers and control signals that access streams of on-demand information, entertainment channels, navigation aids, services, mobile communications and other apps while its owner completes each daily task.
After a driver finishes a road trip and returns home, Ford Sync can signal a garage door to automatically open while also sending control signals for temperature control, lighting, door locks and entertainment systems to the house that can pretune the living space for its owner's arrival.
GM has partnered with Apple to adapt the Siri virtual assistant and its voice control interface to the company's OnStar system. Siri can interact with apps from a driver's iPhone and the Apple HomeKit.
Apple has also been hiring automotive engineers for its new Titan program, with a project goal to completely redefine the automotive platform, as well as integrate existing product lines within it.
Google's intelligent automotive systems are ushering in an era of self-driving, autonomous cars while also exploring new realms of cognitive research that employ deep neural networks and machine learning.
"The advent of cognitive computing is an era of systems you do not program. They understand, they reason and they learn, they have hypotheses and confidence levels," said IBM CEO Ginni Rommetty during her keynote speech at CES 2016 in Las Vegas last month. "And this is what IBM Watson does, something we started working on a decade ago."
IBM's Watson supercomputer matched question and answer skills with human contestants and won during a famous "Jeopardy" game show in 2011. The computing platform now provides the underpinnings of IBM Bluemix mobile apps that can build "thinking" and cognition into business platforms.
During another keynote speech at CES 2016, WP Hong, president of Samsung Business Solutions, announced that Samsung's sister companies will all be integrating communications links between each of their product lines so that they can all talk with each other.
"The future is today. The Internet of Things ecosystem is emerging. … We are weaving connectivity into all of our devices," he said.
"The role of technology in our homes is changing. A device or appliance now has more than one purpose. Once connected to a hub, it is part of an ecosystem, part of the Internet for you."
During his keynote speech, Hong invited a Microsoft representative to demonstrate how the company's Cortana virtual assistant could interact with Samsung's SmartThings product lines through voice recognition to monitor appliance use and energy-efficiency.
Steven Althaus, director of marketing sServices for BMW Group, also addressed the audience about connectivity of SmartThings devices to BMW automotive platforms.
"There used to be boundaries between, home, office, car and smart devices. No more," Althaus said. "This is the digital transformation of your driving experience, integrating IoT and connected mobility. Your BMW is now your personal IoT cockpit while driving. You control your Samsung ecosystem from inside your BMW. It is seamless, it is safe, wherever you are. Smart car meets smart home."
Cybersecurity between smart hardware devices and software applications becomes increasingly important as the Internet of Things is coupled with an existing Internet of Services in each person's home, automobile, mobile phone and wearable device. During 2015, the first attempts at hacking existing automotive platforms were demonstrated at Defcon and Black Hat conferences in Las Vegas.
If drivers relinquish control of their vehicles and allow more smart technologies into their personal lives, can these devices be trusted to remain safe and secure from external vindictive manipulation?
Samsung Knox builds secure communication links into each of the SmartThings that the company develops. However, historical lessons have shown that wherever there is an open access door, a hacker can enter and exploit the weakness of a system.
Only time will tell as the Internet of Things continues to grow to encompass billions of personal devices over the next decade.