2016 Ford Shelby GT350 sells before arriving at Friendly Ford
January 1, 2016 - 12:38 pm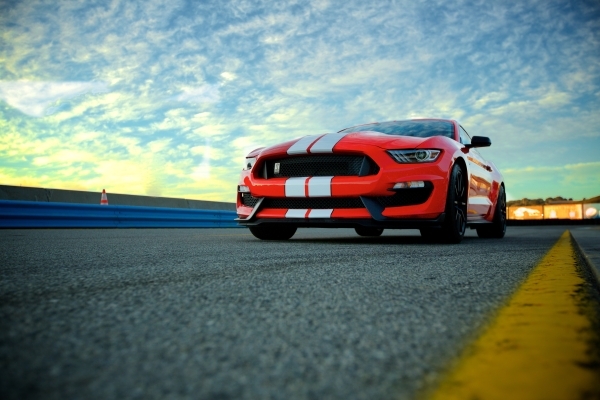 In 1965, Shelby American unleashed what has become one of the most legendary vehicles in the world: the Shelby GT350.
The 2016 model is the first GT350 since the late '60s produced exclusively by Ford Motor Co. Friendly Ford delivered its first Shelby GT350 in early November.
"The car was actually ordered in July," said Friendly Ford sales consultant Randy Block, who sold the model to a Shelby collector from Palm Springs, Calif.
Block said the second 2016 Shelby GT is due at Friendly Ford sometime in January, although a firm date has not been established yet. The key, however, is that the second Shelby GT was sold in September.
"It's unique and the only vehicle with the 5.2-liter flat plane crank engine," said Block. "It's the highest horsepower (normally aspirated) motor ever built by Ford for the general public. It is basically a race motor that sounds the part. The redline exceeds 8,000 rpm."
With 526 horsepower, the 2016 Shelby GT goes from 0 to 60 mph in about four seconds flat. Even more impressive, though, is the handling the car provides. The chassis systems are the most balanced and nimble. The Shelby GT's suspension is designed specifically for lateral stiffness for precise handling while also enhancing brake modulation capabilities.
In addition, the Ford Shelby GT350 has been hailed for its aerodynamics and design. In fact, every element of the Shelby GT350 has been specially prepared for the model, from the hood to the fenders and from the fascia to the belly pan.
Accolades for the 2016 Shelby GT350 have been long and consistent. From front to back, the latest Shelby has been redesigned and upgraded in every aspect ranging from suspension to aerodynamics, cooling, styling and interior. Key, however, is that the 2015 model was not directly available to the public.
"2016 is the first year (in the current 2015 body style) the Shelby GT350 has been available to the general public," Block said. "There were only 137 2015 models made that were awarded to dealers across the country that met specific criteria."
Block said there will be extremely limited quantities available for the 2016 model year. Customers who want to order the unique performance car need to contact the dealership as soon as possible.
"The Shelby GT350 is the pinnacle of performance Mustangs today," said Dave Pericak, the director of Ford Performance.
The Shelby GT350 ranges in price from $53,000 to $65,000 depending on models and options.
Friendly Ford is one of the oldest new-vehicle dealerships in Southern Nevada. The dealership opened at its current location at 660 N. Decatur Blvd. in 1970.
Further information is available by calling 702-870-7221 or visiting friendlyfordlv.com.