2016 Honda Civic sedan larger in size, but lighter in weight
December 18, 2015 - 5:21 pm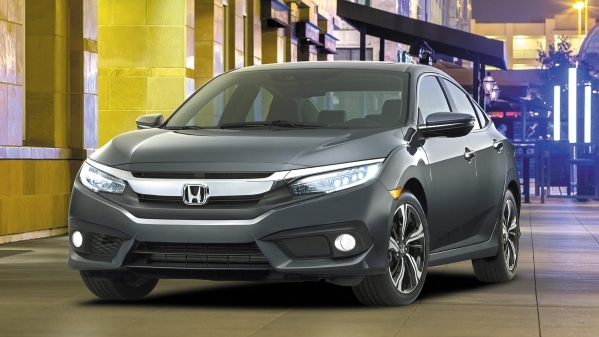 Honda introduced the 2016 Civic coupe and sedan during a live-streaming press conference in September over the Internet and has followed that up with all the details. In general, the sedan is significantly better looking and larger in nearly every respect, including passenger volume (now the most spacious in the compact-sedan class, says Honda) and trunk space.
The two-door coupe's dimensions should similarly increase, but Honda isn't launching it until midway into the 2016 model year. At that time an all-new Civic hatchback will also arrive, along with a hot Si coupe and first-ever Civic four-door hatchback in the guise of a high-performance Type R model.
Despite the car's increased size, Honda's designers managed to make it 75 pounds lighter than the outgoing model. The platform is also 25 percent stiffer. Lower trim levels run with a 158-horsepower 2.0-liter four-cylinder, which is 15 more than before.
The top end of the Civic lineup is equipped with an all-new turbocharged 1.5-liter four-cylinder that pumps out 174 horsepower. A six-speed manual transmission is standard for the Civic LX, while a continuously variable unit is optional, but standard in all other models including those with the turbocharged engine.
The list of standard features is impressive, including climate control, multi-information display screen plus the usual power-operated items. Among a lengthy list of available features is a full range of crash-avoiding software.
Kevin Bushey, general manager at Honda West of Las Vegas, said the 2016 Honda Civic's redesign has resulted in a more stylish vehicle equipped with additional safety and convenient features.
"It gives people good price points to consider and they don't have to give up any features such as Bluetooth or backup cameras," he said. "They knocked it out of the park with this model."
Bushey added that the Civic's new design includes Honda Sensing, which features side cameras to tell the driver when they're leaving their lane and shows whether there is a vehicle in the lane next to them.
"This year there's a touring model, which has never been offered before on a Civic," he said. "It comes with every feature you can think or want and it's a very sporty and sharp car."
According to Bushey, the 2016 Honda Civic boasts a more modern look, which fits every kind of person and lifestyle.
"The style is very modern and youthful but it's not over the top to where an older person would feel like they're driving something that's too young for them," he said. "It's also stylish enough that young people feel good when they're driving it. It needs to be seen and driven to be appreciated."