2016 Mercedes-Benz GLC shifts into a new class
November 13, 2015 - 9:21 am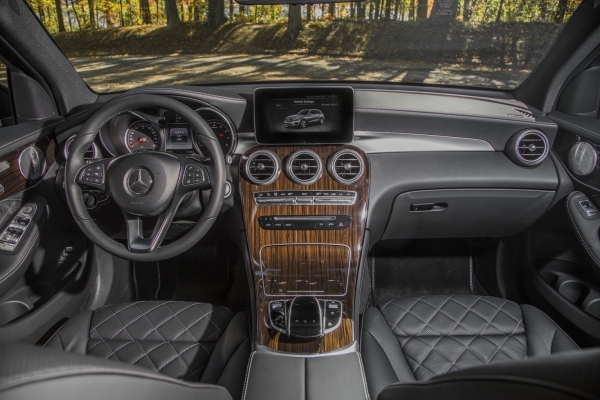 Change is apparent wherever we look, but does changing the Mercedes-Benz GLK name to GLC represent a change for the better?
Updating and modernizing models on a regular basis is a time-honored practice in the auto biz. However, changing a successful nameplate concurrently — thus surrendering hard-fought brand awareness — could be considered a risky gamble. Nevertheless, Mercedes-Benz is undertaking that kind of effort with a number of vehicles.
The compact five-passenger tall wagon that has done well since the 2010 model year as the GLK is henceforth to be known as the GLC. In this case, the "C" relates to the vehicle's connection to the C-Class sedan's platform and other components, which also expands on the lineup-within-a-lineup concept.
"Its segment, midsize and small SUV, is selling like hotcakes," said Sebastian Matyjasczyk, used car manager at Fletcher Jones Imports in Las Vegas. "A lot of customers are asking about it. They're hoping for it because the GLK has done well."
When asked why the automaker would overhaul a popular model such as the GLK, Matyjasczyk said, basically, it's automatic. He said that around eight years is the Mercedes life cycle. They receive a "midlife refresh" midway through that cycle. He also said the GLC will compete directly with the Lexus RX, Audi Q5, BMW X3 and Cadillac XRS.
"We're going to have a training event soon, and it's supposed to be phenomenal," Matyjasczyk said. "We're all waiting for it."
And what about its SUV ruggedness?
"It's going to be like Land Rover," Matyjasczyk said. "It will go off road, but it's really a luxury vehicle. And you're not going to find a nicer interior in that class. Plus, Benz is always pushing safety, so that's all in there, too, at that price point."
Although remaining on the smaller side compared to M-B's GLE- (formerly M-), GL- and G-Class wagons, the GLC that's now arriving stateside is 4.6 inches longer between the front and rear wheels than the GLK. The overall length grows by about the same amount.
But what really underscores the differences between the two is a completely redesigned shell that makes the GLC seem, shall we say, less nerdy. By contrast, the new body is better proportioned and is certainly more fetching to the eye. It's a round-hole GLC compared to the square-peg GLK, but the new model drops close to 180 pounds with a greater use of lighter-weight aluminum components.
The shape results in slightly more cargo room with the 40/20/40 split rear seat folded or upright, which is an important bonus resulting from the GLC's increased dimensions.
The redesigned cockpit-style cabin mimics the C-Class design with a large control panel/floor console separating the front seats and a 7-inch touch-screen display perched above a trio of prominent fresh-air vents. For a wagon that's focused on practicality, it doesn't get much sportier than this.
It's only when the driver fires up the GLC that "sporty" gives way to frugality. For 2016 the only available engine is a turbocharged 2.0-liter four-cylinder that generates 241 horsepower and 273 pound-feet of torque. That's a far cry from the previous 302-horsepower 3.5-liter V-6 that was the base gasoline engine in the GLK. The V-6 won't be returning, although a four-cylinder turbo-diesel and a plug-in hybrid model will become available in a year or two.
The turbo four-cylinder that powers the 3,900-pound GLC is sourced from the current C-Class sedan, but it doesn't share that model's seven-speed automatic transmission. Instead, an all-new nine-speed automatic selects the gears for you.
Fuel-economy numbers aren't yet confirmed, but they'll probably be similar to the C-300 sedan's rating of 25 mpg in the city and 34 on the highway when equipped with using the same engine backed by the seven-speed auto.
Rear-wheel-drive is standard for the GLC, but the permanently engaged 4MATIC all-wheel-drive setup is a $2,000 option that's worth every penny for those living where winter conditions and/or bad roads are the norm.
The base GLC 300, which lists for a bit less than $40,000 (including delivery charges), comes with plenty of standard stuff befitting of a luxury-oriented wagon. That includes climate control, power front seats and 19-inch wheels wrapped with run-flat tires.
A number of stand-alone options and groupings is how you'll get a panoramic sunroof, power-operated tailgate, navigation system, up-level interior trim, premium Burmester-brand surround-sound system, 20-inch wheels (part of an AMG upgrade package) and air suspension (in place of the usual shocks and steel springs). The latest in active-collision-warning and prevention aids can be added as well as an active-damping system that continually adjusts ride firmness based on how hard you're driving or how bad the roads are.
The GLC's revised mission that combines basic luxury with modest performance, improved fuel efficiency and exemplary styling should strengthen Mercedes-Benz's hand in a popular category. That is, of course, once buyers become familiar with the wagon's new sequence of letters.