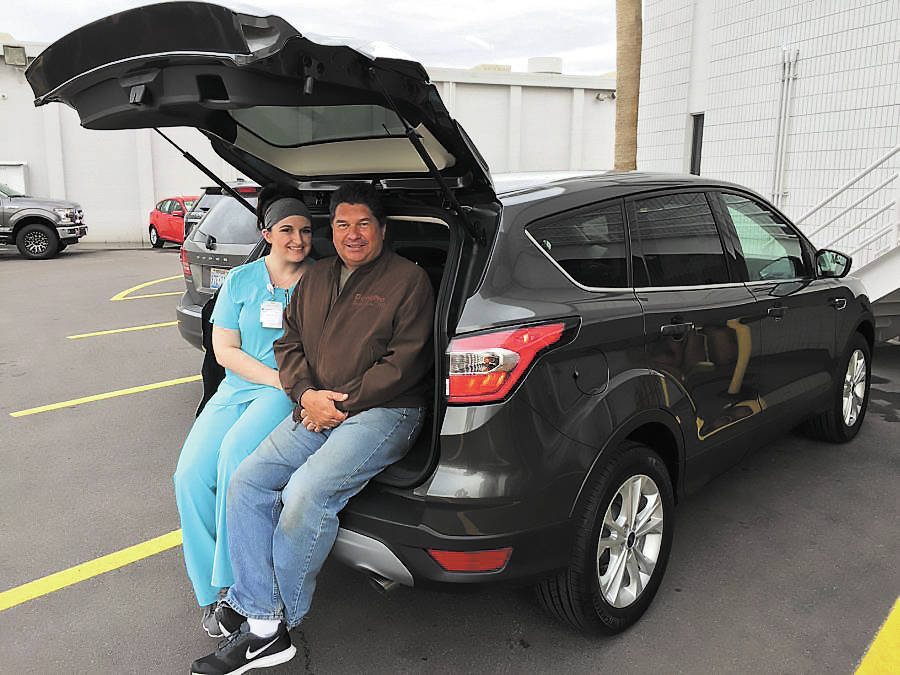 Billy Soehngen's family has purchased nine vehicles from Friendly Ford over the years. The purchases have included trucks, vans and sport utility vehicles.
So it was fitting recently that niece Jillian Harmon bought a 2017 Ford Escape sport utility vehicle with a four-cylinder turbo EcoBoost engine. The third-generation Escape fit perfectly for the certified nursing assistant, a native of Las Vegas who attended Clark County Community College and Nevada State College.
The Escape crossover is available as a 2.5-liter, inline-4 with 168 horsepower; a 1.5-liter, inline-4 with 179 horsepower; and a 2-liter, inline-4 with 245 horsepower. The vehicle gets up to 23 miles per gallon city and 30 highway.
Also included with the EcoBoost engines is the auto start-stop technology that helps optimize fuel consumption and reduces emissions during stop-and-go city driving. The vehicle is also available with an intelligent four-wheel-drive system along with the availability of a class 2 towing package that will tow up to 3,500 pounds.
Another vital reason for the success of the 2017 Escape is the upgrade to Sync3, Ford's next generation of voice-activated technology with an easy-to-use new design and features.
The vehicle's height attracts buyers.
"I like the fact that it sits up higher," Harmon said. "I also like the look of the Escape. I have always been a fan of Ford."
The 2017 Escape has available technology that can alert the driver to unintentional lane drive, warn of a vehicle in a blind spot, auto-maneuver the driver into a tight parking spot and open the available hands-free, foot-operated liftgate with just a gentle kick under the rear bumper.
The Soehngen family also has purchased four work vans from Friendly Ford.
"They treat us like family here," said Soehngen, 52, a local businessman. "The very first car we bought from Friendly Ford was a Ford Ranger in 1984, and we have been coming back ever since. We never worry about the deal we get at Friendly Ford because I know they will take care of us."
Situated at 660 N. Decatur Blvd., Friendly Ford has been at the same location since 1970 and is an 18-time winner of the prestigious President's Award, Ford's highest single honor for customer satisfaction.
Further information can be found by calling 702-870-7221 or by visiting www.friendlyfordlv.com.