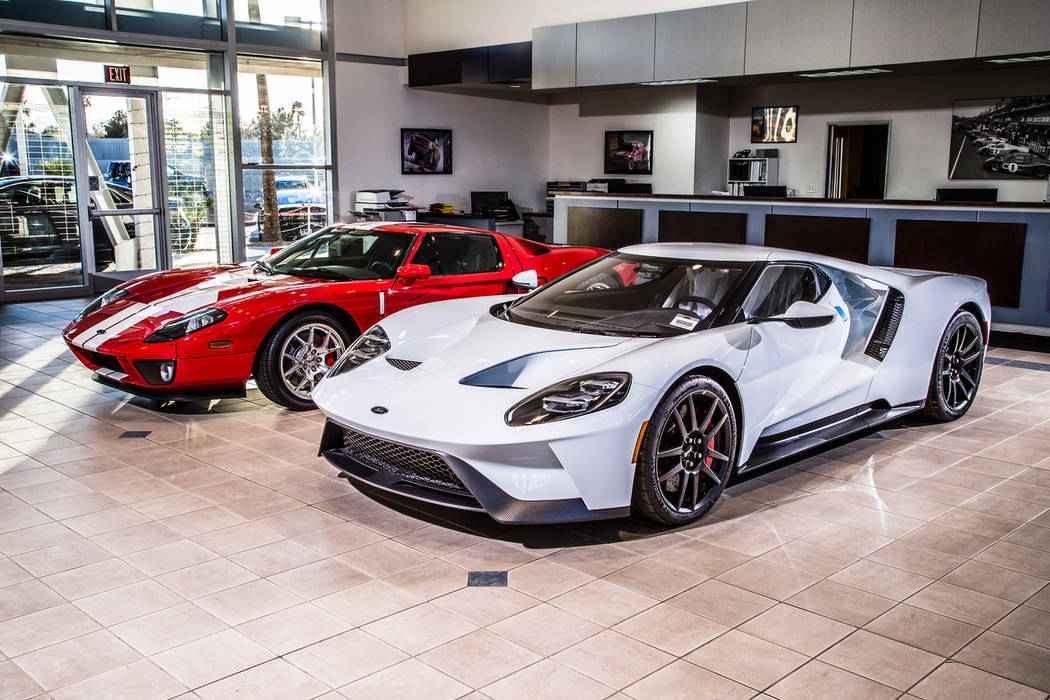 The all-new 2017 Ford GT has found a home at Team Ford Lincoln, located near U.S. 95 and Ann Road.
"This new Ford GT is the pinnacle of the all-new Ford Performance lineup. Team Ford Lincoln received an allocation for a 2017 Ford GT for winning the Triple Crown Award, Ford Motor Co.'s highest award for customer satisfaction. This is a very elite award to win and speaks volumes about our employees and their daily commitment to excellence for Team Ford Lincoln customers," said Chris Goeschel, general manager of Team Ford Lincoln.
The Team Ford Lincoln showroom has the new GT on display alongside a 2005 model Ford GT and one of the most famous Baja 1000 race vehicles ever, a 1970 Ford Bronco named "Big Oly," which is owned and was driven by Parnelli Jones in back-to-back wins at the 1971 and 1972 Baja 1000 as well as both the 1973 Baja 500 and Mint 400.
The new Ford GT is street legal, but it is race proven as well. It has a 3.5-liter twin turbo high-output engine that features 647 horsepower and 550 pound-feet of torque, which propels it from zero to 60 mph in 2.8 seconds and a top speed of 216 mph.
The new Ford GT was introduced to the public at the 2015 North American International Auto Show in Detroit. In 2016, the racing version of the new Ford GT won the world famous 24 Hours of Le Mans exactly 50 years since the last GT40 won in 1966.
"It's unlike anything you have ever seen before," Goeschel said. "If you're into cars and into performance … then you have to get over to Team Ford Lincoln and have a look. It's truly a work of art."
From its aerodynamically optimized shape to its multifunctional buttresses to its powerful 3.5-liter EcoBoost V-6 engine, everything about the Ford GT is designed to deliver pure performance, speed and agility.
The lightweight body is made of carbon fiber. Aluminum structures minimize the weight of the high-strength subframes. Whether on the road or on the track, every element of the Ford GT was designed to deliver the extraordinary speed and exceptional handling found only in purpose-built racing cars.
About the dealer
Team Ford Lincoln is located at 5445 Drexel Road, near U.S. 95 and Ann Road. Team Ford Lincoln features sales, service and parts with a selection of new and used vehicles, free arcade, free WiFi and Cobra Café. For more information, visit www.TeamFord.com for more information.