Businessman purchases Callaway Corvette off Findlay showroom floor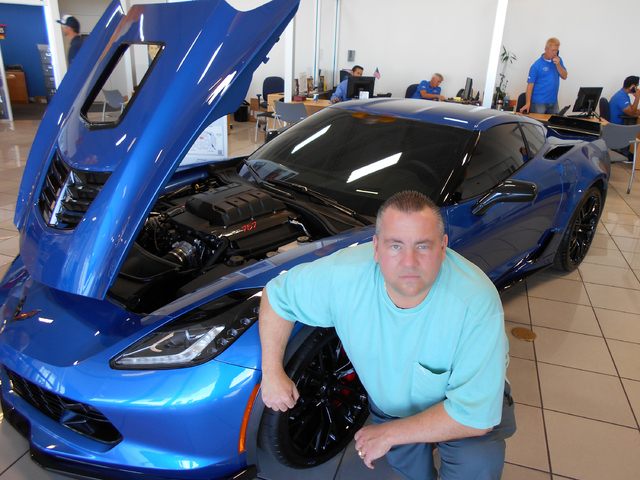 A true automotive beast showed up at Findlay Chevrolet last week but quickly exited the door. The 2016 Chevrolet Callaway Corvette ZO6 was purchased from the dealership the day it arrived.
Las Vegans Steve and Christina Polk, both longtime Las Vegans, bought the first ZO6 off the showroom floor.
Needless to say, there has been huge interest in the '16 Callaway Corvette Z06 since the day it was announced in 2015. In addition, it didn't take much time for word to spread that the model was at Findlay Chevrolet.
With a supercharged 6.2-liter, 376-cubic-inch V-8 engine with 757 horsepower, the Callaway is impressive-looking and its performance package boasts 777 foot pounds of torque. The vehicle was assembled at Callaway's Connecticut and California facilities.
Evidence of the raw power in the Z06 is that the vehicle runs from 0-60 mph in only 2.8 seconds. It has a quarter-mile elapsed time speed of 10.5 seconds at 131 miles per hour and a top speed of over 210 miles per hour.
The Callaway's standard equipment package includes the patented GenThree Supercharger with triple-cooled intercooler system; Callaway high-flow intake system; Callaway embroidered floor mats; Callaway door sill panels; exterior and interior Callaway badging; Callaway key fobs and Callaway Corvette Authenticity Document Package.
All his life, Steve Polk has been around GM performance vehicles. He bought the car and brought it back to participate in the Callaway training.
"I just told my wife that I wanted to visit Findlay Chevrolet to look at the Callaway," Polk said. "It was a no-brainer, and I didn't even drive it. I came in and saw it on the showroom floor and was very excited."
Originally from Chicago, Polk refers to the Callaway as the ultimate street fighter.
"It has brute power and unbelievable quickness," said Polk, one of four managing partners of Building Blocks for Business, a national benefits enrollment company based in Las Vegas. "I have been around some really fast cars all my life, but nothing like the Callaway Z06. Nothing accelerates like this car.
"What can you drive off the showroom floor with this kind of performance? There's nothing like it. This car will run circles around anything else."
Mike Chessnoe, Western regional manager for Callaway Cars, said the latest Callaway has been the best product launch to date because of the performance and the value."
"The Callaway 757 is the latest version of our Callaway powerfully engineered automobiles," said Chessnoe. "The Callaway is truly an American supercar."
Findlay Chevrolet is the only Callaway dealer in the state of Nevada.
Findlay Chevrolet is part of Findlay Automotive Group founded more than 50 years ago by the late Pete Findlay, whose son, Cliff, now oversees 28 automobile dealerships in Nevada, Utah, Idaho, Oregon and Arizona.