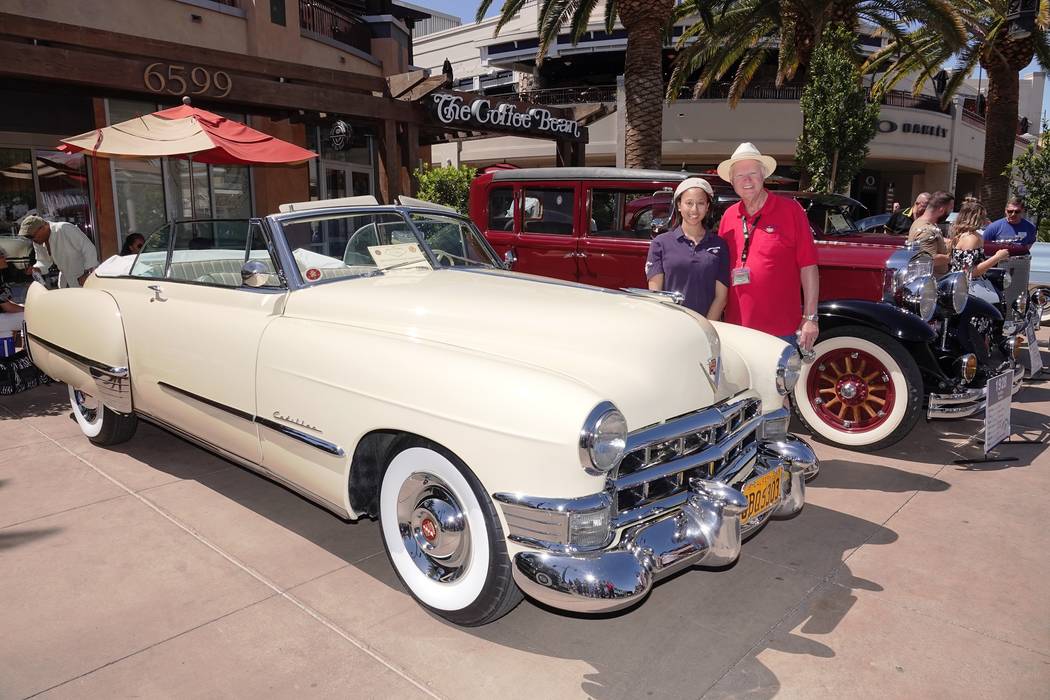 The 13th annual Cadillac Through the Years car show was held April 29 at Town Square Las Vegas and attracted a record number of both vintage Cadillacs and enthusiasts.
With 72 classic Cadillacs parked on the streets of Town Square Las Vegas, it was a true cruise through the years with nine of the 11 decades since Cadillac's beginning in 1903. In addition to the classic and modern Cadillacs, there was a clever mix of entertainers.
Presented by the Cadillac and LaSalle Club and Findlay Cadillac, the partnership agreement blended old with new and thousands of dollars in raffle prizes for attendees.
Among the entrants in the event was Chardonnay Knox, a student at the College of Southern Nevada majoring in journalism who displayed a 1949 62 Series cream Cadillac convertible and a 1941 7533F Cadillac Fleetwood limo.
The 1941 model won Top Vehicle pick for the 1940s decade.
"This show is special and this one was the best ever," said Knox. "I grew up around the Cadillacs and have gone to car shows all my life. We're starting to also get into muscle cars, but there's something about a Classic Cadillac that has so much mystique."
Chardonnay's father, Lyle, added, "I have owned the 1949 for more than 30 years after finding it in Ontario, California. I found the 1941 limo in a garage in San Francisco. Now that my daughter is older, she appreciates the value of the cars and how much time it takes to maintain them. Seeing Chardonnay driving one of these cars and getting compliments really makes my day."
D.R. Rawson, president of the Cadillac and LaSalle Club, raved about the event.
"The crowd was the largest ever," said Rawson. "The show included Cadillacs from nine decades. People came from as far away as Colorado, Arizona and California. In fact, Chardonnay has been an unofficial member, attending meetings and shows with her father since she was a little girl.
"The Cadillac Club is very appreciative of the support of Findlay Cadillac General Manager John Saksa and the Findlay organization," Rawson said. "It's a highly coordinated activity that requires a team effort."
Saksa was equally pleased with the latest Cadillac Through the Years.
"As usual, Cadillac Through the Years was a home run," said Saksa. "It was colorful, it was classy and it was an event that people will remember for years."
Further information regarding the Cadillac and LaSalle Club can be found by visiting www.lasvegasclc.com, or by calling 702-701-0378.