Centennial Subaru highlights opening with donation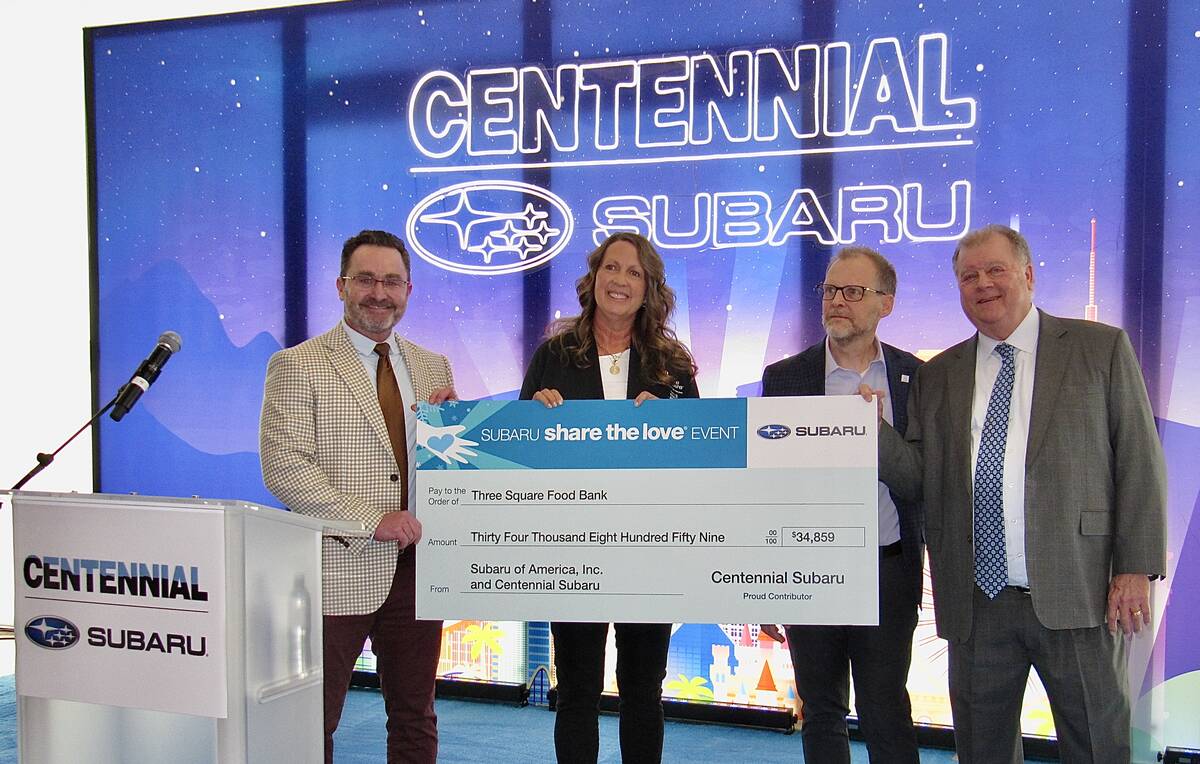 Las Vegas Centennial Subaru celebrated its grand opening event April 1 with gourmet-catered food and cocktails, DJ-driven music, roaming Elvis Presley and Marilyn Monroe impersonators, Las Vegas showgirls, festive fireworks and an official red-ribbon cutting. But what stole the show was a generous donation of $34,859 to the Southern Nevada-based Three Square Food Bank.
The donation was made possible through Subaru's Love Promise national campaign called the Subaru Share the Love Event, in which Centennial Subaru awarded $500 to Three Square in the name of every customer who purchased a vehicle. Subaru of America also donated to the charity.
"We really want to be more than just a car retailer," Centennial Subaru General Manager Ryon Walters said. "My favorite part is Love Promise, to be part of the community. It's been quite a journey to get to this point, and we are very excited to finally cut the ribbon and give this wonderful donation to Three Square Food Bank. I'm told this $34,859 will provide 100,000 meals to needy people."
"Here you are on a day that is so important to Centennial Subaru, and on this day you are giving back to the community and thinking of those who are less fortunate," said Michelle Beck, Three Square interim president and CEO. "Thank you so much."
Since its opening in 2007, Three Square has provided more than 528 million pounds of food to hundreds of thousands of people in need. To donate, or learn more about Three Square Food Bank, visit threesquare.org.
"We told Subaru that we would build you the finest Subaru facility in the United States of America," Ascent Automotive Group Chief Operating Officer Lee Butler said of the $40 million, three-story retailer. "I think we can agree we've done that.
"We picked Subaru because, philanthropically, they do business the way we do it," Butler added. "We don't go out looking for additional franchises. This has no interest to us. We only want quality. We have Lexus, and now we are fortunate to be a partner with Subaru of America. And we are very grateful for this and proud to be here in Las Vegas."
Las Vegas Centennial Subaru is located at 6350 Centennial Center Blvd.
About the dealer
Centennial Subaru's parent company is Ascent Automotive Group, a platform comprised of various retailers located across America with a focus on next-level customer service and care. AAG is also the parent company of Lexus of Las Vegas and Lexus of Henderson.