Centennial Subaru honored with Love Promise award
September 29, 2023 - 8:00 am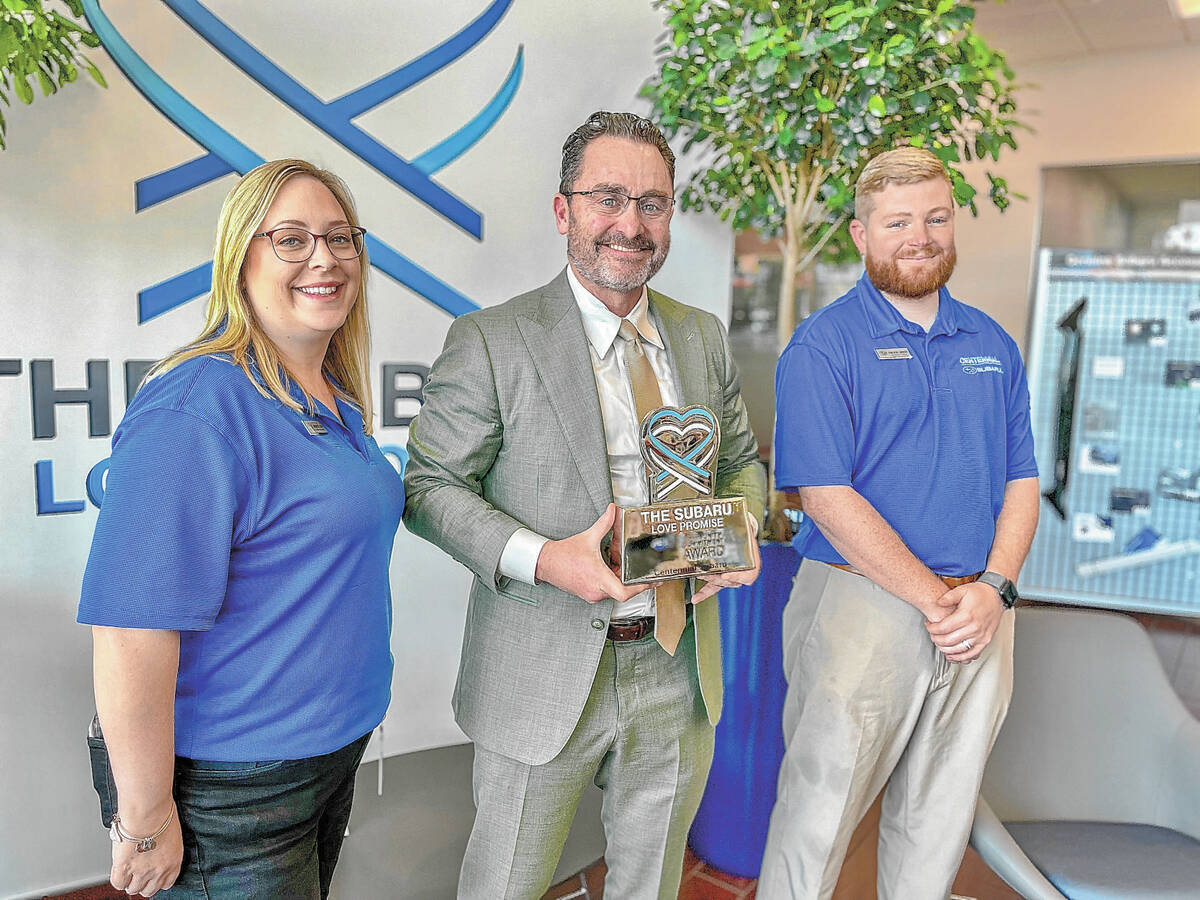 Centennial Subaru was recently honored with Subaru's Love Promise 2023 Community Commitment Award for outstanding commitment to the Southern Nevada community. Subaru Corp. and Subaru of America Inc. recognized the dealer for its support of local community with time, resources and love.
"We deeply appreciate the opportunity to have a positive impact on our community by assisting those who are in need," General Manager Ryon Walters said. "Our ultimate goal is to bring hope and encouragement to those who may be experiencing challenging circumstances.
"It is an honor to receive recognition for our work, but we attribute our success to our team of dedicated associates who understand the significance of giving back," Walters added. "At Centennial Subaru, we take pride in our role as more than just a car dealer. And we are proud supporters of the Subaru Love Promise initiative. We remain steadfast in our commitment to serving our community and making a meaningful difference in the lives of others."
Additionally, Subaru and its retailers were recognized by Forbes Magazine as the No. 1 automotive Best Brands for Social Impact in 2023.
"Giving back is at the core of everything we do at Centennial Subaru, and we take tremendous pride in the work we do for our customers and our communities," Walters said. "We will proudly continue to support them and the causes they are about."
It should be noted the significance of the award is that it was earned in the first year of operations. The dealership opened in late December 2022, which means it had to hit the ground running, build community relationships from scratch and compete against other stores that have been open longer. This is a testament to the hard work of the Centennial Subaru management team, employee volunteers and Love Promise coordinator Dominick Gagliano.
About the dealer
Centennial Subaru is located at 6350 Centennial Center Blvd. and can be reached at 702-909-1654. Centennial Subaru is part of the Ascent Automotive Group, a platform comprised of various retailers located across America with a focus on next-level customer service and care. AAG also is the parent company of Lexus of Las Vegas and Lexus of Henderson.