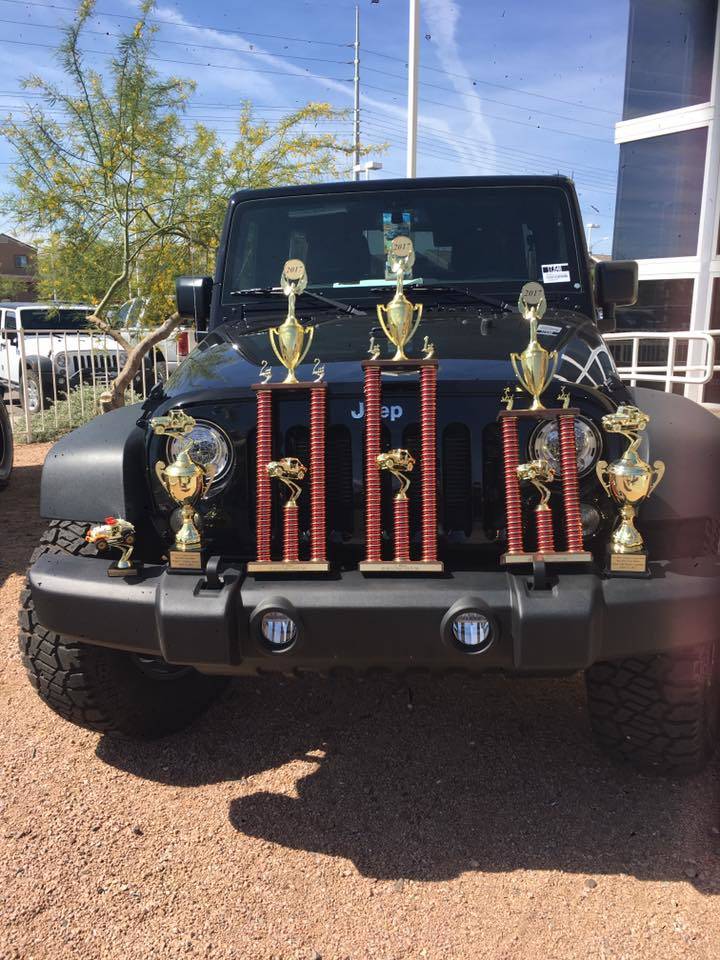 Chapman Chrysler Jeep and the Chapman Custom Jeep parts department held their fourth annual Big Bad Jeep Show on April 22. With the largest attendance to date, more than 30 Jeep vehicles participated in the show.
Jeep enthusiasts enjoyed vendor booths, live music by local band ThrillBilly Deluxe, a taco truck, custom Jeeps and prizes and giveaways. Attendees were invited to participate in a dunk tank fundraiser for charity, with the proceeds benefiting local veterans organizations.
"The attendance at this year's Big Bad Jeep Show shows the dedication and support of the Jeep community in Southern Nevada," said Ben Fishman, head of the Big Bad Jeep Show and parts manager at Chapman Custom Jeeps. "We had some incredible vehicles as part of this year's show, and it's been exciting to see this event grow year after year, bringing local Jeep enthusiasts together to showcase the hard work they have put into their rides, with a little competition on the side."
Individuals were encouraged to enter their Jeep vehicle for the chance to win up to $500 in cash. Jeff Jorgensen took home the first-place award with a decked-out black and maroon 2003 Jeep TJ "Whoo-Hoobicon." Jorgensen and his wife frequent nearby trails and ensure their Jeep is just as functional as it is attractive.
Bill Burgos won second place with his remodeled yet timeless 1987 Jeep. The "All-American" 2016 Jeep JK, owned by Eric Naranjo, snagged third place. Naranjo personalized his Jeep by adding all American-made parts, giving the Jeep its name.
The People's Choice award was given to Star Capers and her vivacious pink 2017 Jeep JK that was even fitted down to the seats, customized with star monograms. Louis Erickson won the coveted Chapman's Special Edition "WTF" award with his 1984 Jeep J10, modeled after the Jurassic Park Jeep Wrangler used in the movies to transport staff.
Jeep apparel and raffle tickets were available for purchase to win prizes. Participating vendors included AEV, DV8, Rock Slider, Light Force, TNT Motorsports, Lead Dog Trailers, Logandale trails/Partners in Conservation, Tayga Flashlights and Magellan GPS.