Chevy Bolt EV is Motor Trend Car of the Year
December 2, 2016 - 8:00 am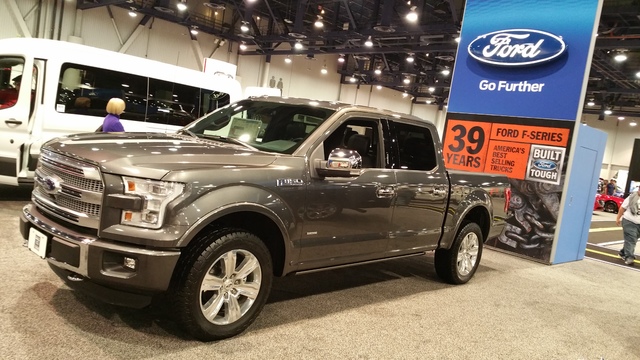 The Motor Trend International Auto Show at the Las Vegas Convention Center has been a Thanksgiving weekend family tradition for years. This past week's car show, Nov. 25 -27, gave the general public a firsthand preview of more than 350 new 2017 model cars and trucks from over 20 automotive manufacturers that will soon be available at local dealerships. Vintage custom cars were also featured throughout the showroom floor.
Each exhibit was interactive, allowing car enthusiasts to sit in the driver's seat, talk with regional sales representatives, slam the doors and look under the hood of each vehicle. GM, Ford and Toyota also offered test drives of available 2017 models in front of the North Hall of the convention center.
Auto manufacturers who participated in this year's show included GM, Ford, Fiat Chrysler, Toyota, Honda, Subaru, Mazda, Volkswagen and Hyundai. Each company featured a variety of product divisions that included Lexus, Porsche, Lamborghini, Cadillac, Chevrolet, Buick, GMC, Lincoln, Acura, Jeep and the new Genesis luxury sedans from Hyundai.
Truck divisions from GM, Ford, Toyota and Fiat Chrysler also featured their latest product offerings.
New technology trends showcased in 2017-model vehicles featured more electrification, advanced driver assistance systems and the "lightweighting" of fabrication materials to improve gas mileage.
The Motor Trend Car of the Year award for 2017 recognized the Chevrolet Bolt EV, GM's first all-electric car that provides a range of 238 miles from its lithium-ion battery pack before needing a recharge.
The Bolt EV is the first mass-produced electric car in its class and price range to exceed more than 200 miles from its lithium-ion battery pack, which has an energy capacity of 60 kilowatt-hours. The structure of the battery pack is fitted into the floorboard beneath the riders' feet for a low center of gravity. Base price is $37,495, but the car is also eligible for a federal tax credit of $7,500 that can be deducted from personal income tax returns.
The electric car's battery pack can be recharged from the SAE Combo connector located just in front of the driver's door. This new standard electronic feature from SAE International allows three levels of recharging speeds from just one connector. These include AC Level 1, AC Level 2 and DC Fast Charge. A dedicated DC Fast Charge station can replenish the Bolt EV battery pack for a range of over 200 miles in less than one hour.
There are 12 Terrible Herbst service stations and convenience stores in the Las Vegas Valley that provide DC Fast Charge sites to electric car owners for a fee. The Nevada Electric Highway that is being built between Las Vegas and Reno on U.S. Highway 95 also will include DC Fast Charge stations that will be located every 100 miles from Las Vegas: in Beatty, Tonopah, Hawthorne, Fallon and Reno. DC Fast Charge stations at the Beatty and Fallon sites are already online and can be found through a downloadable map app like plugshare.com.
The Bolt EV also features an aluminum body for lighter weight, with plenty of headroom in all passenger seats. The electromagnetic torque of the motor and drive train can accelerate the Bolt from zero to 60 miles per hour in less than seven seconds.
The Tesla Motors Model S and Model X already exceed 200 miles of range with their large-capacity battery packs from 70 to 100 kilowatt-hours but are priced above $70,000. The company's upcoming Model 3 sedan with a 60 kilowatt-hour battery pack will be priced in the mid-$30,000 range. However, the Model 3 will not be available to car buyers until at least the 2018 model year.
Toyota re-entered the plug-in hybrid electric car market by unveiling the Prius Prime during the Motor Trend Car Show. The company has improved its lithium-ion battery technology and hybrid gasoline/electric drive train to now offer a total range of 640 miles from the combined battery pack and gasoline tank power sources. The electric-only range of the Prime has doubled from the previous range of the earlier Prius PHV model to about 25 miles before the gasoline engine takes over propulsion of the drive train.
The Prius Prime also showcased Toyota's new advanced driver assistance systems, that will be featured across many of the company's 2017 product lines, including a precollision warning system, pedestrian detection system, lane-departure alert, dynamic radar cruise control and automatic high-beam headlight adjustment.
Hyundai premiered its new 2017 Ioniq platform with three different variations for fuel-efficiency that included hybrid, plug-in hybrid and pure electric models.
"Lightweighting" has emerged as a new fabrication technology trend as more automotive manufacturers have begun to move away from all-steel bodies and chassis toward more extensive use of aluminum, alloys and composite materials. The popular Ford F150 truck line has shaved an average of 750 pounds from its vehicle bodies by shifting to aluminum components and assembly processes.
Ford also featured a display of the components inside its award-winning EcoBoost engine.
The worldwide automotive industry is healthy, innovative and continuing to offer new transportation experiences, as showcased during the Motor Trend International Auto Show in Las Vegas.