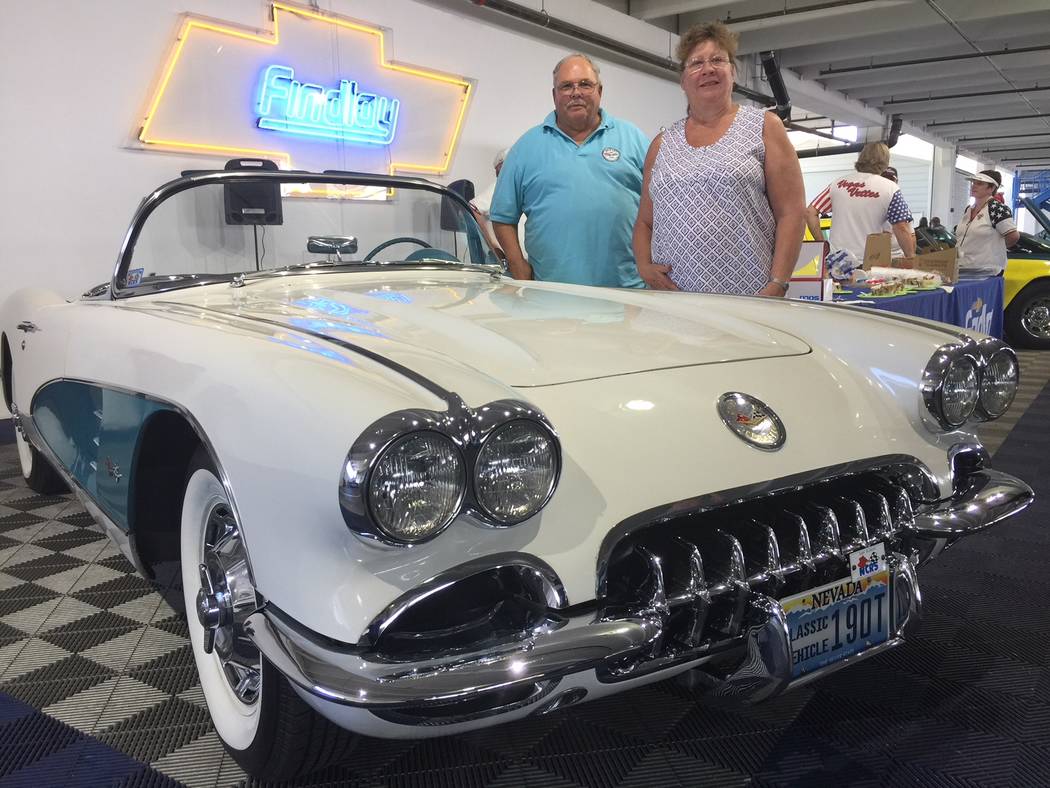 Linda and Steve Ciaccio are transplants from New Jersey who moved to Southern Nevada about four years ago. When they left the East Coast for their new home, they brought with them their prize possessions, which included a 1960 Corvette.
The Corvette was among the models that were highlighted during the 65th Corvette birthday party presented at Findlay Chevrolet on June 30. The prize automobile was among the oldest Corvettes on display at the dealership.
With 119,000 miles, the couple's classy Ermine White showpiece gets looks every time it's seen cruising the Las Vegas Valley.
"The reason I got into this car was that I used to drag race," Steve Ciaccio said. "I saw this one sitting in a dirt field in New Jersey during the fall of 1974. It's a fun car with lots of history."
The Corvette is an award-winner, as evidenced by the fact that it has won 10 National Corvette Restorers Society Top Flight Awards dating back to 1988.
"We paid $2,100 for the car and thought we paid too much for it," Steve Ciaccio said. "It could now go for anywhere from $60,000 to $80,000, depending on the buyer. We have turned down so many offers for the car."
Linda Ciaccio said the Corvette isn't going to be sold anytime soon.
"This car is our baby," she said. "I told Steve not to sell it, because he'd never find anything else like this again."
The couple have taken their Corvette on long trips. While living in New Jersey, they went to Mystic, Connecticut, numerous times; Boston; Charlotte Motor Speedway in North Carolina; Virginia Beach, Virginia; Lake Placid, New York; and Windsor Ontario, among others.
The trips have all been without air conditioning.
"We just roll down the windows," Linda Ciaccio said. "Besides, if we put a Vintage Air System into the car, it would affect the integrity of the car."
"This car has never been trailered," Steve Ciaccio said. "It's a 'driver' that we have put 64,000 miles on it since getting it out of the field."
Among the passengers who have ridden in the Corvette was the Beach Boys' Al Jardine on June 3, 1983, at the Six Flags Great Adventure Theme Park in Jackson, New Jersey.
"The Beach Boys were the nicest people ever," Linda Ciaccio said.
Findlay Chevrolet certified Corvette technician Paul Patane said the show was very impressive.
"The show itself was really cool," he said. "There were cars there representing all generations from classic to cutting edge. It was also nice having different Corvette exclusive car clubs represented. We had lots of variety."
The 65th anniversary of the Corvette at Findlay Chevrolet included food, music, numerous prizes, car pool karaoke and a display of new and classic Corvettes provided by the Las Vegas Corvette Association. Approximately 95 Corvettes were displayed.
About the dealer
Headed by General Manager Doug Fleming, Findlay Chevrolet is part of Findlay Automotive Group founded in 1961 by the late Pete Findlay. The umbrella group includes 32 dealerships in Nevada, Arizona, Utah, Oregon and Idaho. A 33rd dealership, Findlay Mazda, is now under construction in the Valley Automall. Further information regarding Findlay Chevrolet can be found by calling 702-982-4000 or by visiting www.findlaychevy.com. The dealership is located at 6800 Torrey Pines Drive.