February 5, 2016 - 3:58 pm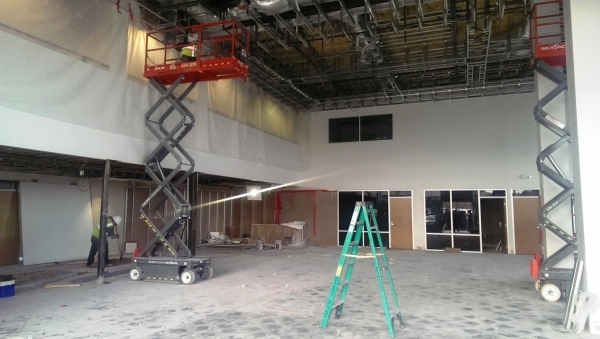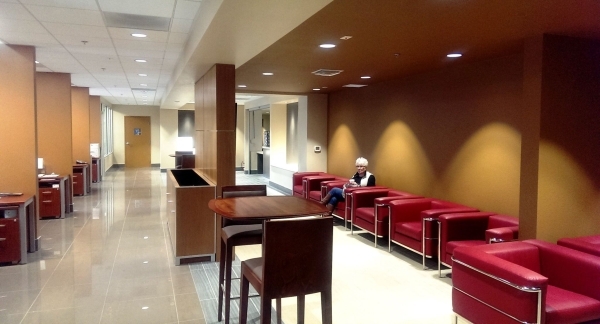 Findlay Acura undergoing $2 million remodel in the Valley Automall
Findlay Acura is undergoing a $2 million face-lift in the Valley Automall, and with all of the construction that started in December it's still business as usual at the dealership.
The dealership, which was opened in 2007, is expanding and remodeling all at once at 315 Auto Mall Drive. The extensive construction project includes expansion of the service waiting area along with the remodeling of the sales and finance departments.
Findlay Acura General Manager Kevin Hicks said the dealership has the largest inventory it has had since its inception, along with strong availability of new vehicles. He also said the remodel should be concluded sometime in late February or early March.
"This dealership will be one of the nicest Acura stores in the country when it's concluded," Hicks said. "Our customers are still buying cars during the remodel and they will be proud of what we're about to unveil in a few weeks."
Hicks also said special incentive pricing is being offered on new and pre-owned vehicles during the remodel process.
In addition, Hicks said anyone purchasing a vehicle — new or used — during the construction will receive two years of complimentary maintenance.
Sales were excellent at the dealership in 2015, and executives anticipate even bigger results in 2016 especially after the remodel has been concluded.
"Findlay Acura grew by 10 percent in 2015," Hicks said. "All of our models grew across the board."
The dealership lineup of models includes the MDX, RDX, TLX, ILX and RLX.
Findlay Automotive Group was founded more than 50 years ago by the late Pete Findlay, whose son, Cliff, now overseas new and pre-owned vehicle dealerships in Nevada, Idaho, Oregon, Utah and Arizona.
Findlay Automotive Group teams with Cox Media to sponsor iChoose to Drive
The iChoose to Drive campaign uses Clark County high school students to bring awareness to the dangers of texting and driving. The program was recently launched during a Teacher Kick Off Party Jan. 27 at Public School 702 restaurant in Downtown Summerlin.
Sponsored for the third consecutive year by Findlay Automotive Group and Cox Media, the campaign is open to teens ages 13-18 who create, write and produce 30-second public service safety videos. The winning team and the winning team's school will each receive $1,000 checks from Cox and Findlay Automotive Group at the conclusion of the campaign.
With increased usage of cellphones, texting while driving continues to be a huge concern. Statistics from previous events reveal that the 15- to 20-year-old age group accounts for 6 percent of all drivers but 10 percent of traffic deaths and 14 percent of police-reported crashes with injuries.
In addition, an automobile accident is more likely to happen while texting and driving. Also, five seconds is the minimal time your attention is taken away from the road when texting and driving. According to statistics from various national sources, 21 percent of drivers 15 to 19 years of age are distracted by the use of a cellphone.
In Nevada alone, there are more than 3,500 distraction-related crashes, and drivers under the age of 20 are the largest segment of distracted drivers. More frightening is the fact that 48 percent of kids ages 12 to 17 have been in a car while the driver was texting.
Findlay Automotive Group CFO Tyler Corder said the company strongly endorses working the iChoose to Drive campaign.
"We think teen distracted driving is a serious issue in Las Vegas," he said. "The iChoose to Drive program is an important step to attempt to educate teens about the dangers of texting and driving."
Noted singer, comedian, ventriloquist and impressionist Terry Fator lent his talents to the campaign this year.
"We'd especially like to thank Terry Fator for getting involved this year," Corder said. "He fully supports the program and we're thrilled that he agreed to spend some time with us creating the TV spot."
Cox Media and Findlay Automotive Group will honor the top entries of iChoose to Drive sometime in April at a yet-to-be-determined Findlay Automotive Group dealership.
"We commend Findlay Automotive Group for joining with Cox Media to bring attention to this important campaign in the community," said Michael Parisi, vice president of Cox Media in Las Vegas. "The students certainly get behind the program through the amazing videos that we see each year."
Further information regarding iChoose to Drive can be found by visiting www.ichoosetodrive.com.