December 14, 2015 - 5:37 pm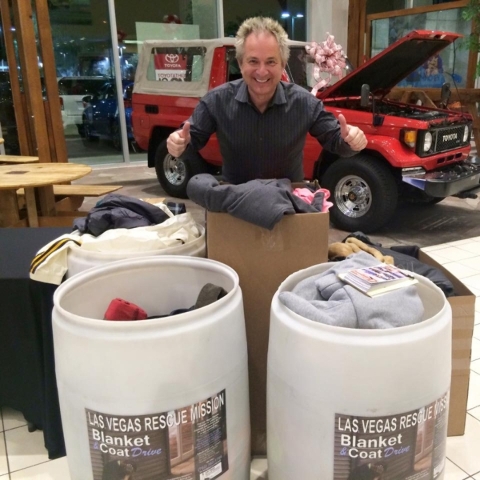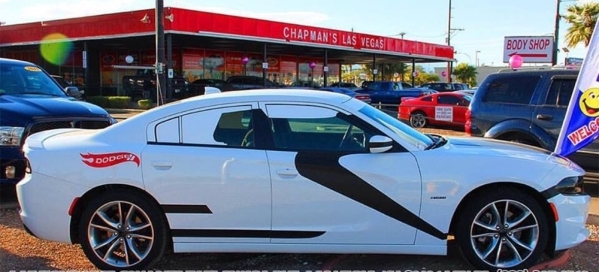 Chapman Dodge transforms vehicle into stormtroopers
A short time ago, in a galaxy not far away, Chapman Dodge Chrysler Jeep Ram transformed its line of vehicles into stormtroopers in celebration of the newest "Star Wars" movie, "Star Wars: The Force Awakens." Patrons can feast their eyes on a Hot Wheels Star Wars First Order Stormtrooper Dodge Charger, modeled after the new Hot Wheels line of "Star Wars" character cars.
"This force is alive here at Chapman and this is a way for us to have some fun with our vehicles, with a timely theme of a movie franchise that is loved by so many," said Don Hamrick, general manager of Chapman Dodge Chrysler Jeep Ram. "It's really a great time to take advantage of the opportunity with the exclusive incentives we're able to package up for our customers."
Mattel partnered with Dodge on its new Hot Wheels line of "Star Wars" character cars. Donning black and white features, the Dodge Charger is outfitted after the First Order Stormtrooper cars. Available in a variety of trim levels, the Charger boasts an eight-speed automatic transmission. Safety features include anti-lock brakes, traction control, stability control, brake assist, active head restraints, curtain airbags and more.
Chapman is offering "forceful savings," in celebration of the newest movie launch, with up to $12,000 off a vehicle, no payments until March 2016, zero-percent financing for 72 months and more. The award-winning Chapman customs team can transform any vehicle with its custom aftermarket offerings.
In addition to the Mattell partnership, Fiat Chrysler Automobile launched a co-branded advertising campaign with Disney and Lucasfilm that puts "Star Wars: The Force Awakens" and Chrysler, Jeep, Dodge, Ram and Fiat brands in the same corner of the galaxy. The global effort includes seven co-branded U.S. television spots.
Stocked with a lineup of the latest Jeep, Dodge, Chrysler and Ram models, Chapman boasts an extensive selection of new and pre-owned vehicles to fit any budget. The dealership is family-owned and operated.
Dealerships are open for sales from 8 a.m. to 9 p.m. Monday through Saturday. Parts and service are open from 7 a.m. to 6 p.m. Monday through Friday and 8 a.m. to 2 p.m. Saturday.
Coat drive at Findlay Toyota helps Las Vegas Rescue Mission
An inaugural coat drive benefiting needy individuals and families in Southern Nevada proved very successful during a two-day drive at Findlay Toyota in the Valley Automall.
Created by Ila Kripalani of Security National Mortgage and Nirav Goyal of AYS Realty, the drive ended in the collection of coats donated by residents of Southern Nevada.
The collection was donated to members of the Las Vegas Rescue Mission at the conclusion of the event.
"We are going to continue doing community-oriented events with Findlay Toyota," said Kripalani, a loyal customer of Findlay Toyota who has purchased two vehicles from the dealership. "This dealership is so busy that it lends to events like this one."
The Las Vegas Rescue Mission has six buildings at 480 W. Bonanza Road. It provides meals and shelter every day. Further information is available at 702-382-1766.
General Manager Rich Abajian leads Findlay Toyota. Further information is available by calling 702-566-2000 or by visiting www.findlaytoyota.com.
Findlay Toyota is part of Findlay Automotive Group founded more than 50 years ago by the late Pete Findlay, whose son, Cliff, now spearheads 28 automobile dealerships in Nevada, Utah, Arizona, Idaho and Oregon.