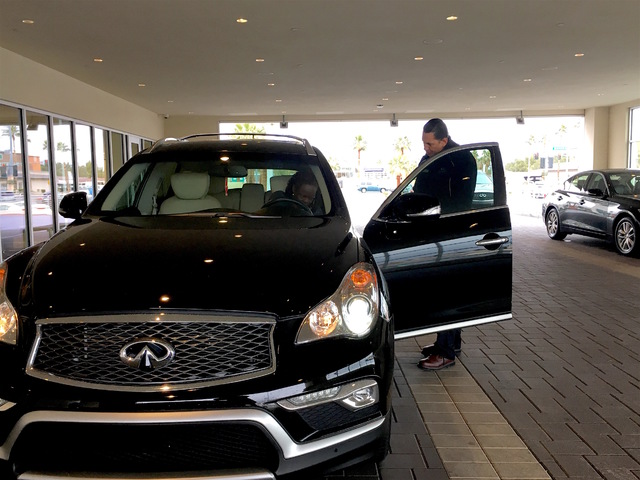 Clients who pull into the covered service drive at Park Place Infiniti, 5555 W. Sahara Ave., most likely will be greeted by Pedro Ponce.
As the dealership's lead valet, Ponce says he relishes the chance to delight people with unexpected and personalized touches of hospitality. From helping clients set up their mobile devices in the luxury lounge to ensuring the complimentary loan car truly fits a customer's needs, Ponce says he goes at least two steps beyond expectation.
"The reason we do so well here is because we are truly dedicated to the client," Ponce said. "I am very proud that Park Place Infiniti gives me the opportunity to represent them and be the first impression clients have when they come in. We are a high-end dealership and that means taking care of people every step of the way. That's what gives us a 'wow!' factor."
Park Place Infiniti General Manager Rob Schweizer said he takes pride in employees such as Ponce, who are "experts in excellence." The dealership, which recently completed a multimillion-dollar renovation, is focused on providing a service experience that reflects the luxury and quality of the Infiniti and Park Place brands.
The expansive, well-appointed client lounge provides comfortable seating and televisions. The beverage station features fine china and homemade pastries.
For clients who need to stay connected while they wait, the dealership provides multiple docking stations and work tables. For others who don't mind exploring, they can peruse the latest Infiniti models in the adjoining state-of-the-art showroom, which also features an art gallery.
"Starting with Pedro, the minute you drive up, you're going to get superstar treatment," Schweizer said, adding that clients can expect the same level of service from every member of the Park Place Infiniti team.
As for Ponce, Schweizer said the lead valet's diverse professional background gives him a unique talent for providing intuitive customer care.
Ponce readily admits to having an unconventional background for a career in the auto retail industry. When he was younger, he worked as a cook in restaurants on the Strip, where he picked up the knack for sensing what people need.
He later developed a keen eye for detail, working for 15 years as an offset printer at two major print shops in town until he was laid off in the wake of the recession. After a stint as a driver for the Salvation Army, he found what he says is the perfect job for him.
"Somehow, it all comes together for me here at Park Place Infiniti," Ponce said. "I love what I do. Whether it's helping a new client or welcoming a familiar face, we are more like friends or family. Every day, my day goes great."
Founded in 1987 by Ken Schnitzer, Park Place Dealerships represents luxury brands including Lexus, Mercedes-Benz, Porsche, Volvo, Jaguar, Rolls-Royce, Bentley, McLaren, Maserati, Lotus and smart. In June 2012, Park Place purchased the Infiniti dealership in Las Vegas. For more information, visit, parkplaceinfiniti.com.