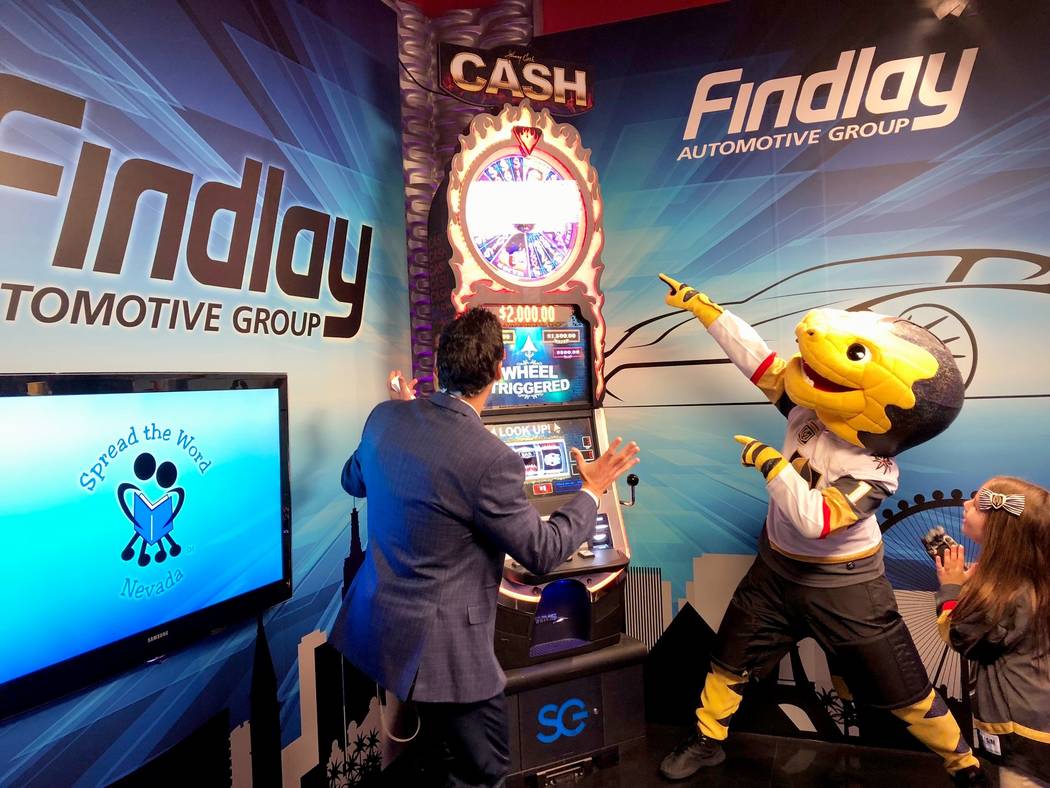 Findlay Automotive Group has generated more than $200,000 for Southern Nevada nonprofits by presenting the Findlay Celebrity Spin Zone segment on KVVU-TV, Fox5.
The Spin Zone segment, which airs on the "More" show, recently celebrated its third year as a partnership between the Henderson-based station and Findlay Automotive Group.
Each month, Findlay selects a new charity to be featured. Throughout the month as celebrities visit the "More" show, they spin the slot machine in the Fox5 studio. At the end of the month, Findlay donates the total amount of the spins to the featured charity.
One of the charities receiving donations was Spread the Word Nevada, which received a donation of $6,150 from Findlay Automotive. Spread the Word Nevada helps advance childhood literacy within low-income communities by providing books for children who otherwise don't have access to books. The charity is changing lives one book at a time.
Spread the Word Nevada has donated 4.2 million books since 2001. Approximately 52,000 books are given to students each month in an effort to inspire a lifelong love of learning. Nearly 457,000 students have been served by Spread the Word Nevada since 2001. To date, the agency has adopted 51 Clark County elementary schools.
Also receiving support was Goodie Two Shoes Foundation, which was founded by former San Diego Chargers football player Tony Berti and his wife, Nikki. The Findlay Celebrity Spin Zone generated a check for $7,000 to Goodie Two Shoes, which each year visits local schools to outfit more than 10,000 in-need students with new shoes and socks.
"It's always great when you can go into a situation where you know you're guaranteed a donation," Nikki Berti said. "It's almost like an ATM machine and, in the end, it's a fantastic donation."
Goodie Two Shoes has been outfitting youngsters with shoes for 15 years.
Fox5 and Findlay Automotive Group executives praised the Celebrity Spin Zone and what it does for Southern Nevada charities.
"Fox5 understands that giving back to our community is critical. The Celebrity Spin Zone in the 'More' show was created as another way to give back by showcasing local charities and the amazing work they do in our community," said Fox5 Director of Marketing Terri Peck.
"Yes, it's fun to see celebrities get a taste of Vegas in our studio but it's more rewarding to know that their spin is making a difference thanks to the Findlay Automotive Group. Tyler Corder and the Findlays sincerely care about the work being done in this community. Their unwavering financial support of these nonprofits change lives. We are honored that we can be a small part of what they do every day."
Findlay Automotive Group CFO Tyler Corder concurred, adding, "The Findlay Celebrity Spin Zone is a wonderful partnership with Fox5. It provides an opportunity to highlight some great charities. The charities love the exposure and, of course, they appreciate the donations that we provide at the end of each month. It's a fun way to support the great organizations that are doing good work in our community."
About the dealer
Henderson-based Findlay Automotive Group includes 32 automobile dealerships in Nevada, Utah, Arizona, Idaho and Oregon.