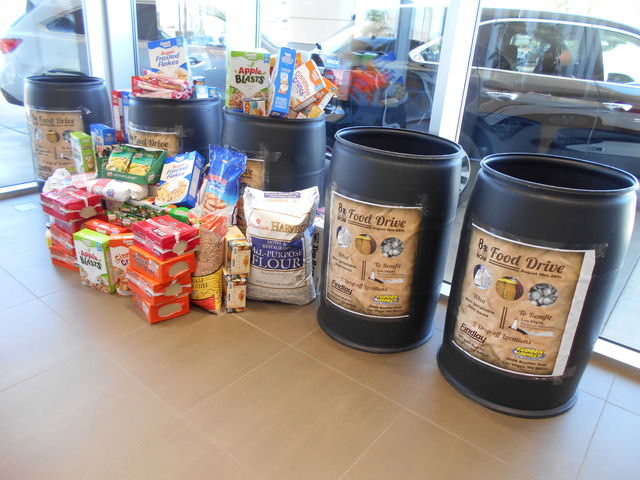 Findlay Automotive Group has joined with Driver's Edge, a long-standing driver safety course with deep roots in Southern Nevada.
With a donation of $5,400, Findlay Automotive Group has re-established a relationship with Driver's Edge that actually started about 14 years ago.
"We had our first event back in 2002 at Sunset Station," said Jeff Payne, a 26-year resident of Las Vegas who founded Driver's Edge. "The Findlays provided both Saturns and Toyotas for our first events."
Since the inaugural Driver's Edge event, an estimated 115,000 teenagers and their parents have received invaluable instruction about the challenges of driving. Instruction is conducted at Las Vegas Motor Speedway. With no charge for those taking the course, the instruction is worth as much as $500. Because the course is offered free of charge, donations are vital in ensuring the program continues.
The half-day program for drivers ages 21 and younger (with a valid license or permit) teaches real-life emergency avoidance and response techniques and overall driver safety. The course is taught by driving professionals utilizing behind-the-wheel and classroom experiences.
The agreement with Findlay Automotive Group was promoted through Findlay's sponsorship of Fox 5's Celebrity Spin Zone, which airs at 9 a.m. Monday through Friday.
Driver's Edge was specifically developed to address the high number of youth-related automobile collisions and fatalities that occur each year.
The next classes offered by Driver's Edge at Las Vegas Motor Speedway are set for Sept. 17-18, Oct. 22-23 and Dec. 3-4. Further information can be found by visiting www.driversedge.org.
Findlay Automotive Group was founded in 1961 by the late Pete Findlay, whose son, Cliff, now spearheads 28 automobile dealerships in Nevada, Arizona, Utah, Oregon and Idaho.
Further information can be found by visiting www.findlayauto.com.
Mandarin Oriental offers Porsche test drive
Mandarin Oriental is offering an exclusive test drive experience with Porsche Cars North America from Sept. 10 to Oct. 8. Hotel guests are invited to enjoy a two-hour drive around Las Vegas with their choice of two Porsche e-plug-in hybrid vehicles, the Panamera S E-Hybrid or the Cayenne S E-Hybrid.
Whether cruising down the famed Las Vegas Strip with its legendary fountains and glittering lights or exploring the winding roads of the surrounding desert, guests will be able to enjoy the city's scenery on driving routes created specially by the hotel's concierge team.
Guests can book the Porsche Test Drive Experience on a complimentary basis throughout the week at 9 a.m., 1 p.m. and 4 p.m, excluding Mondays. Reservations are recommended prior to arrival by calling 702-590- 8881 or emailing molas-reservations@mohg.com. Guests may also book onsite at the Porsche registration desk.
Findlay Acura participating in charity events
Findlay Acura in the Valley Automall has a lot going on in the coming weeks. These events that will benefit those in need of assistance as well the dealership's customers.
A food drive running through Aug. 26 benefits the Las Vegas Rescue Mission, which serves about 1,000 meals every day to the hungry. It also provides 172 emergency shelter beds.
The food drive is being run in conjunction with KLAS-TV, Channel 8, and Sudden Impact, an auto body and collision repair shop at 3595 Boulder Highway.
Findlay Acura is also hosting a blood drive from 9 a.m. until 2 p.m. Aug. 26 benefiting the American Red Cross.
Individuals donating to either cause will receive a free oil and filter change compliments of Findlay Acura.
Further information regarding these events may be found by calling Findlay Acura at 702-982-4100. The dealership is situated at 315 Auto Mall Drive in Henderson.