Findlay Automotive partners with Future Smiles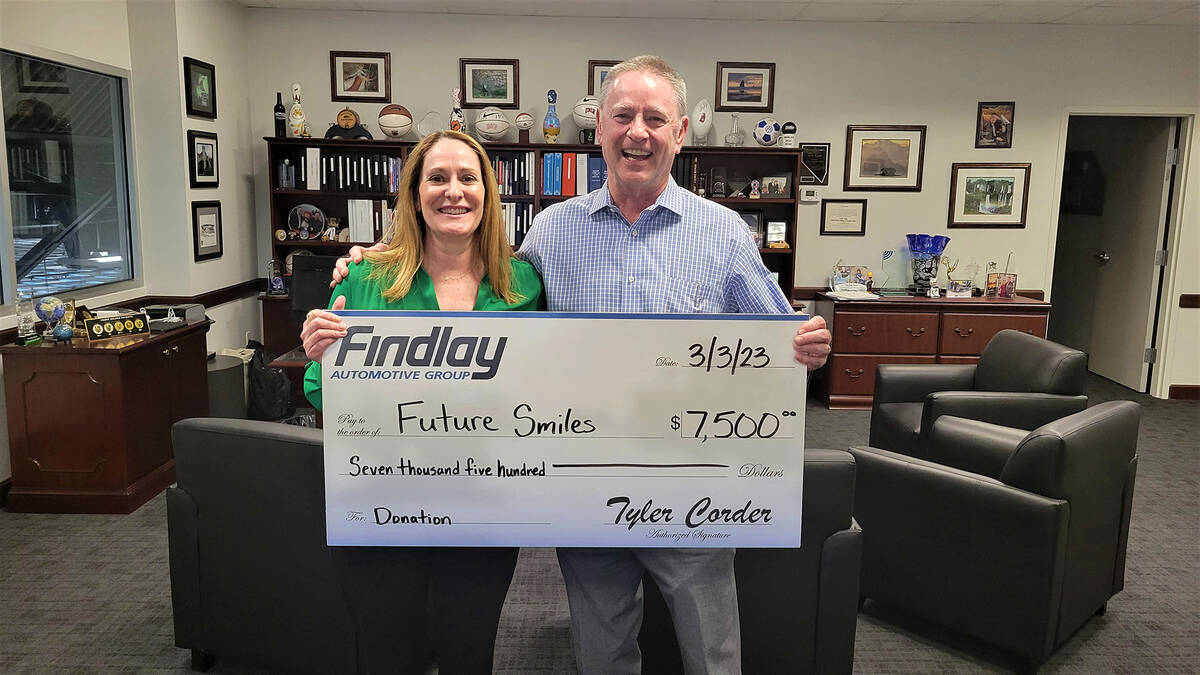 The Findlay Automotive Group has partnered with Future Smiles, a Southern Nevada nonprofit that provides vital oral health care to vulnerable youth. Having healthy smiles and good oral health helps children enjoy a life of confidence, dignity and success. Future Smiles has served over 500,000 youth since its inception in 2009
Future Smiles' School Sealant Program is a mobile service that includes a prevention team of dental hygienists and dental assistants who go to schools to provide preventative dental care. The unique mobile service model was created to break down a common barrier that hinders children from seeing a dental professional. In many cases, these children come from homes that cannot afford dental care.
Portable dental units on wheeled carts are transported directly into schools. With the mobile system, the classroom simply becomes the dental office and children can receive the attention that they need.
Findlay's CFO, Tyler Corder is thrilled to be working with Future Smiles for the first time.
"We were recently introduced to Future Smiles and immediately knew this was a cause Findlay Automotive wanted to support," he said. "The fact that so many students in Clark County never get to see a dentist is unacceptable. Future Smiles takes their program directly into the schools to ensure these students receive dental care.
"Good oral health care is vital to the future wellness, success and confidence for these students. Ultimately, this program helps our young people have a brighter future."
Terri Chandler, a dental hygienist with more than 40 years of experience, founded Future Smiles because of her passion for public health. Along with two colleagues, Chandler decided to start offering a dental hygiene program at three Southern Nevada schools. With support and donations from individuals and corporate entities, Future Smiles has been able to grow and now offers dental health services on school campuses throughout the Las Vegas valley.
"Dental health is often not considered when people and policymakers talk about getting funding to kids in need," Chandler said. "Basic needs like food and health care often come first but a lack of dental care can lead to larger problems, especially for children who might be in pain because of their teeth."
Chandler said Future Smiles has been in desperate need of a vehicle because employees have been using their cars to transport the mobile dental office to schools.
"When Tyler found out about this, he helped get us a vehicle and got involved with our organization," she said. "It means everything to us. The donation from Findlay will directly help uninsured children. Thirty percent of the children in schools won't receive dental care because of lack of insurance. Findlay's donation will cover the cost and help these children. The donation from Findlay is significant and we are so thankful."
To learn more about Future Smiles visit www.futuresmiles.net.
About the dealer
Findlay Automotive Group began with one location more than 60 years ago. The group now includes 35 dealerships in Nevada, Arizona Utah, Idaho and Washington. Learn more at www.FindlayAuto.com.