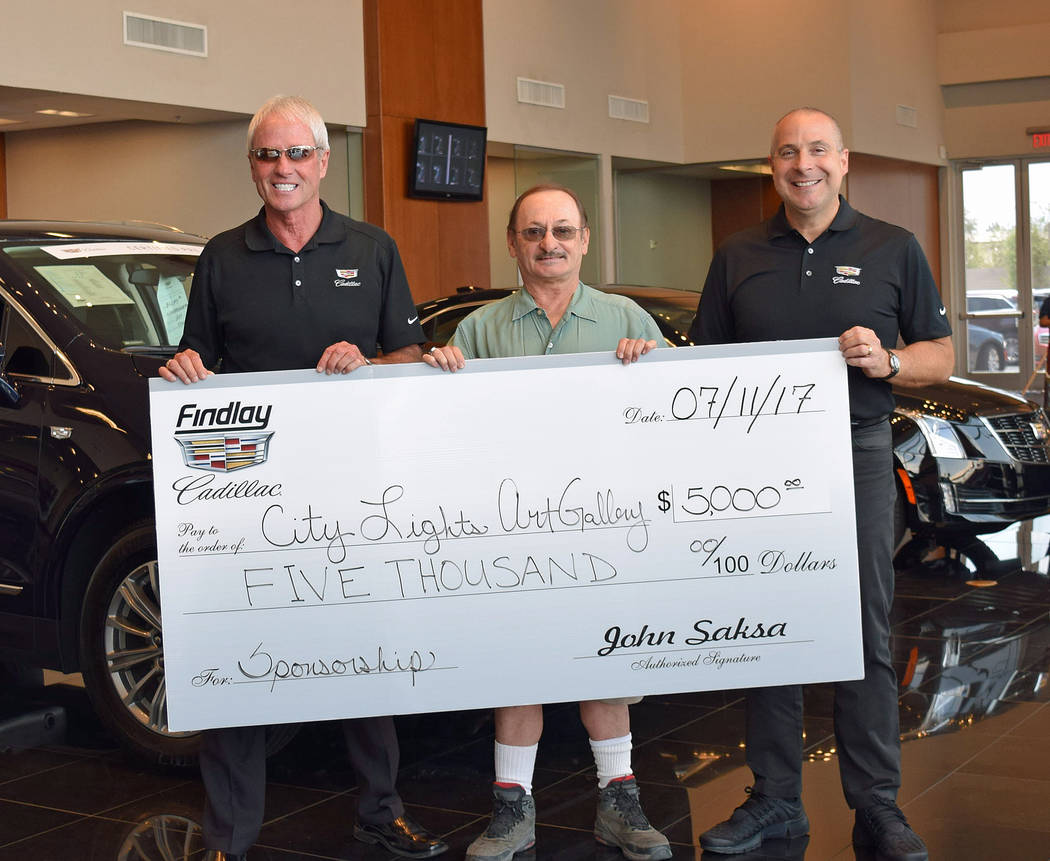 Findlay Cadillac recently donated $5,000 to the City Lights Artists Co-op, an organization that provides scholarships to local high school seniors who want to pursue a college degree in art.
The nonprofit City Lights Artists Co-op, headed by President Tommy Tucker, owns and operates City Lights Art Gallery at 3 E. Army St. in Henderson. Tucker said the donated funds would be dispersed in five $1,000 increments to five students over the next few years.
Tucker explained that Pat Wall, a member of the City Lights Artists Co-op, was instrumental in securing the donation. He added that scholarships have been granted during each of the past four years.
"This is the largest donation the gallery has ever received," said Tucker, who opened the location in 2003. "It's a huge shot in the arm and we appreciate it big time."
He added that the gallery is partnering with Findlay Fiat for a promotion called Art Train at the Nevada Southern Railway in Boulder City on Sept. 30. Tucker said there will be 20 pieces of art at the train station and another 80 pieces on the train.
"All of the funds from the sale will be donated to the gallery," he said.
Also on display at the Art Train event will be a red Fiat. A $25 donation to the City Lights Artist Co-op Scholarship Fund will enable participants the chance to win the car.
"We have permission to collect 200 $25 donations for a chance to win a red 2017 Fiat," Tucker said. "Those making donations have a chance to win the car by picking a five-digit code."
The red Fiat will be on display at Findlay Fiat, 210 N. Gibson Road in Henderson, through Oct. 6. If a donor correctly chooses the five numbers that open the door lock during the week of Oct. 2-6, he or she wins the car.
Both Findlay Fiat and Findlay Cadillac are spearheaded by general manager John Saksa, who praised the gallery for its dedication to local youth.
"Tommy and his staff work hard to give young people a huge break, and we're proud to be a part of the program," Saksa said. "This particular scholarship could very well be the deciding factor in a graduating senior being able to go to college to study art."
More information regarding the gallery can be found by visiting www.citylightsartgallery.com or by calling 702-260-0300.