Findlay Cadillac, Honda Henderson support Boulder City Jamboree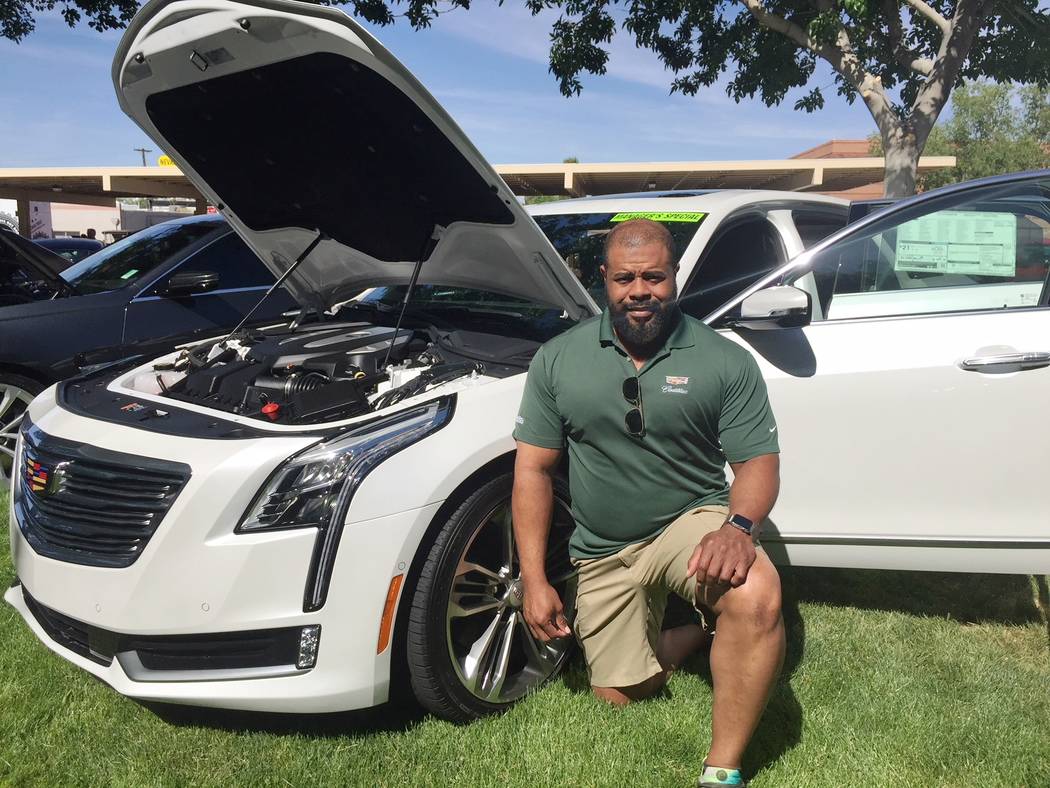 Earlier this month at Veteran's Memorial Park in Boulder City, the annual Boulder City Spring Jamboree dominated the grounds in the middle of the charming city.
There was a wide assortment of artwork and food, as well as a car show where representatives from two Findlay Automotive Group stores were there to answer questions about their new vehicles.
The environment could not have been better, and while Saturdays usually generate big sales at their dealerships, Findlay Cadillac internet manager Sergio Brooks was telling attendees about his favorite models from the dealership located at 993 Auto Show Drive in the Valley Automall.
It marks the second consecutive weekend that someone from Findlay Cadillac was out in the community following the 13th annual Cadillac Through the Years, which drew record crowds and participants to Town Square Las Vegas.
Co-sponsored by Findlay Cadillac and Findlay Honda Henderson, the Jamboree has a substantial following. The Jamboree has been a part of Boulder City since 1977 and is considered one of Boulder City's most popular events.
Brooks, a veteran automotive sales executive, knows the value of getting out of the office to generate business.
"We love going into the community to show the latest of features now offered by Cadillac," he said. "Boulder City is so beautiful anyway, and this is the perfect setting."
In this case, Brooks was showing off a 2018 Cadillac CT6 Platinum, a model that proves that Cadillac is no longer your grandpa's car.
"Cadillac has always been all about comfort, but the latest models are evidence that the vehicle is performance-driven, too," he said." The 2018 CT6 has an optional turbocharged V-6 that puts out 404 horsepower. With a state-of-the-art touch screen and an array of convenient technical options, it's both smart and powerful.
While the Jamboree in Boulder City was a monumental success, there is no shortage of other events sponsored by Findlay Cadillac in the next few weeks.
With benefits from local schools to sponsoring performances at the highly touted Smith Center, Findlay Automotive Group personnel are all over Southern Nevada working events and establishing a massive network of clients.
"That's what we do best," said Brooks. "Whether it's showing off new Cadillacs in Boulder City or providing support for music classes at various elementary, middle or high schools, we have Southern Nevada covered."
Findlay Cadillac General Manager John Saksa said the community events sponsored by the dealership are long and certainly noteworthy.
"The interest in Cadillac — whether by someone in their 20s or retirees in their 60s for 70s — is immense," Saksa said. "Wherever our people go, there is a sincere interest in Cadillac."
About the dealer
Findlay Cadillac is part of Findlay Automotive Group, which is now in the process of constructing its 33rd dealership. The company was founded in 1961 by the late Pete Findlay, now has dealerships in Nevada, Utah, Arizona, Oregon and Idaho. Further information regarding Findlay Cadillac can be found by visiting www.findlaycadillac.com or by calling 702-558-2600.