Findlay Cadillac-supported Toys for Tots concert set for Dec. 15
December 7, 2018 - 8:00 am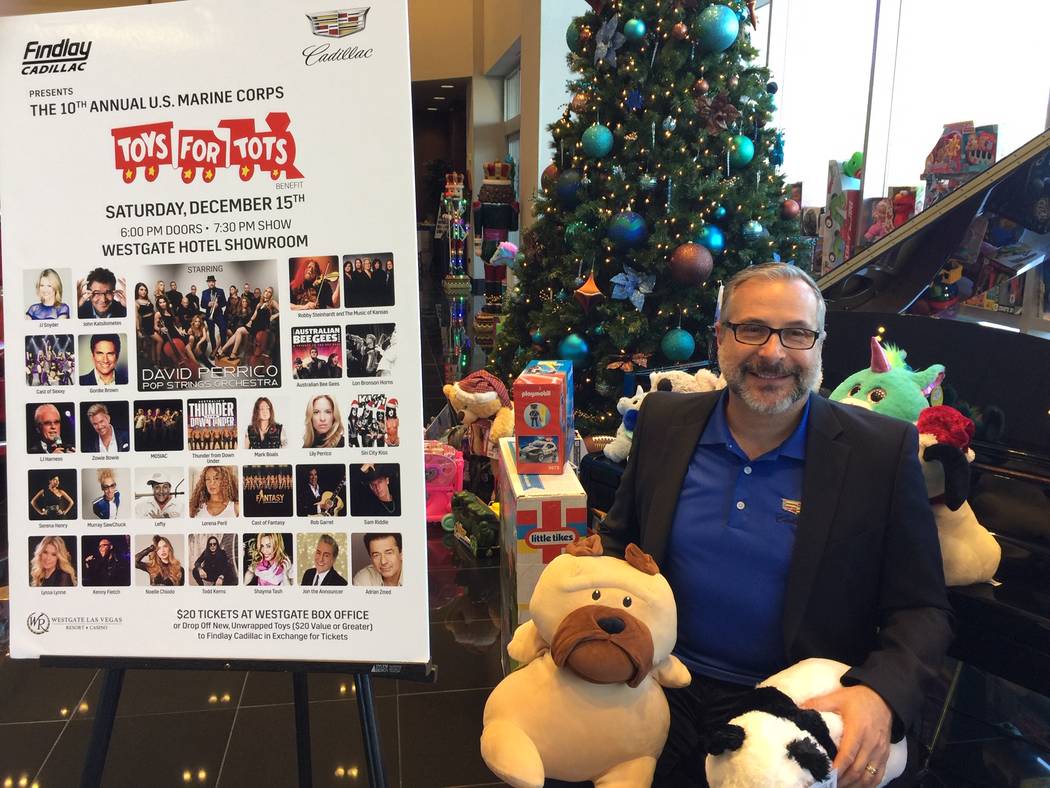 The ninth annual U.S. Marine Corps Reserve Findlay Cadillac-sponsored salute to Toys for Tots was a home run last year, and officials expect even bigger results this year when the event is presented Dec. 15 in the Westgate's International Theater.
Toys for Tots collects thousands of new, unwrapped toys for children while presenting a blockbuster concert in the same hotel showroom that presented yesteryear performer Elvis Presley and currently hosts Barry Manilow.
The red carpet will start at 6 p.m., while the show is set to begin at 7:30 p.m.
This year's list of entertainment will include David Perrico's 26-piece pop strings orchestra; Robby Steinhardt of Kansas, who will be performing recording hits "Carry on Wayward Son" and "Dust in the Wind"; Las Vegas' Zowie Bowie; the Australian Bee Gees; Neil Diamond tribute artist Rob Garrett; magician Murray Sawchuck; Las Vegas headliner Gordie Brown; country rock artist Sam Riddle; and Lorena Peril and the cast of "Fantasy."
Findlay Cadillac general manager John Saksa has been a key component to the event, according to L.J. Harness, Findlay Cadillac marketing, promotions and community involvement manager.
"John has illustrated compassion and understanding related to the importance of giving back to our community," said Harness, whose own expertise as a professional drummer has seen him perform throughout the United States for the past 57 years.
"We have many local charities that support John's belief that every child should have a toy under the tree on Christmas morning."
Harness said the dealership is also proud of its relationship with the Marine Riders of Las Vegas.
"They are Marine veterans that continue to give their service to our country while paying it forward, as illustrated by Toys for Tots each year.
"The success of the toy drive and show is the result of the passion of the local residents, along with the Las Vegas entertainment community and the media all coming together for a great cause," Harness added. "What's donated in Vegas stays in Vegas."
Saksa said that the 10th annual event also comes with support that will make this show the best ever.
"The outpouring of toys is already proving that," said Saksa, who has been with Findlay Automotive Group for 19 years. "It really warms our hearts to see what a wonderful, generous community we all live in."
Harness' fiancee, Tiffani Foote, co-produces the show with Perrico. Last year's show drew a crowd of 1,546, the largest ever for a Toys for Tots event.
"It's an unbelievable performance," Harness said, "and with this being the 10th year of the show, we are expecting record attendance and donations."
To receive show tickets, drop off a new, unwrapped toy valued at $20 or greater at Findlay Cadillac, 993 Auto Show Drive in the Valley Automall. Tickets also can be purchased through the Westgate box office.
About the dealer
Findlay Automotive Group was founded in 1961 by Pete Findlay and now includes an umbrella of 33 dealerships in Nevada, Utah, Oregon, Idaho, California and Arizona. Further information can be obtained by calling 702-558-2600 or by visiting www.findlaycadillac.com.