Findlay Chevrolet celebrates Corvette birthday June 30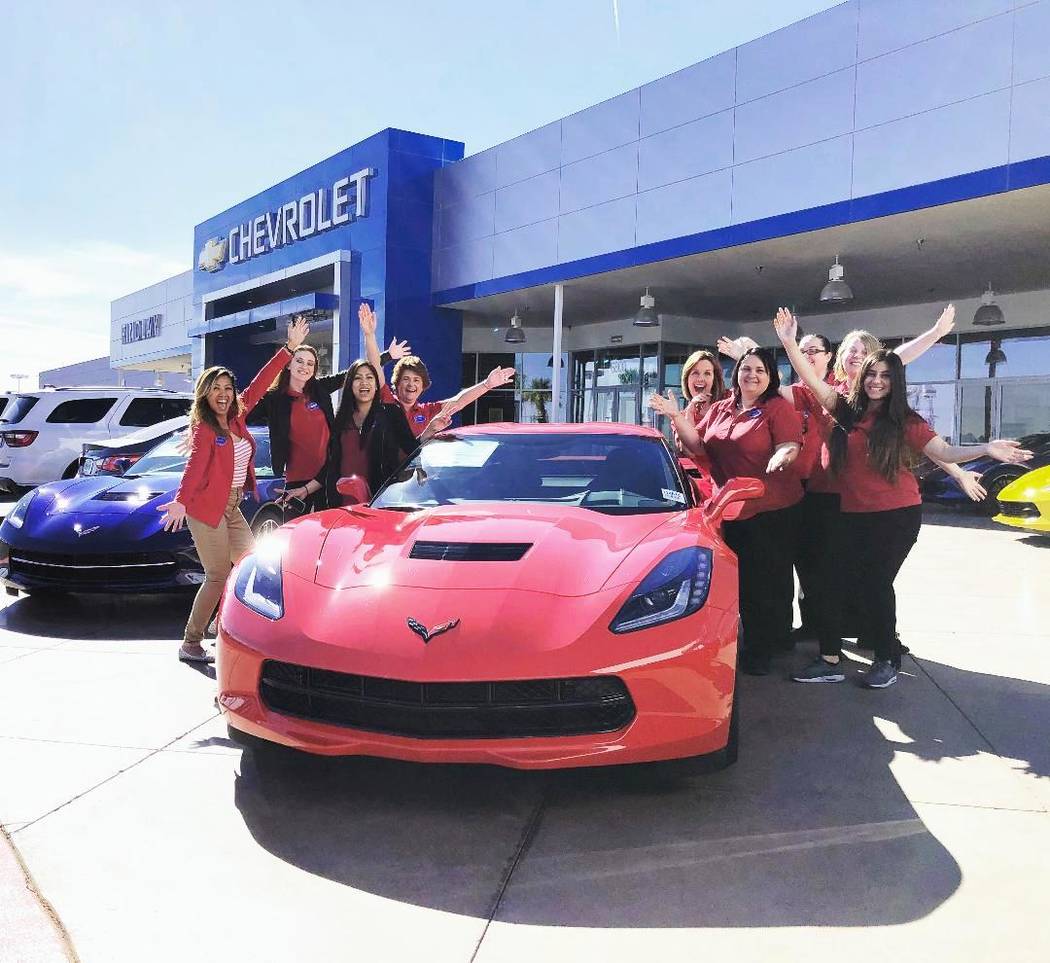 The Chevrolet Corvette has been an iconic member of the General Motors line of models since it was first released in 1953. The history of the Corvette has covered seven generations, with the first model, a convertible, introduced in the GM Motorama in 1953. Myron Scott, creator of the All-American Soap Box Derby, is credited with naming the vehicle after a type of small, maneuverable warship.
In fitting fashion, the Corvette will be honored June 30 from 9:11 a.m. at Findlay Chevrolet, 6800 s. Torrey Pines Drive, celebrating the first Corvette to roll off the assembly line on June 30, 1953.
The first Corvette was built at a temporary General Motors facility in Flint, Michigan. The base price for the first Corvette was $3,498 while the engine was rated at 150 horsepower at 4,200 rpm with a six-cylinder Blue Flame engine with a two-speed Powerglide automatic transmission.
Sixty-five years later, the Corvette has continued to evolve, becoming a world-class technological marvel. The current top dog Corvette, the latest iteration of the ZR1, boasts 755 horsepower, a zero-60 time of three seconds and a top speed of 212.
Findlay Chevrolet's 65th anniversary of the Corvette celebration will include food, music, numerous prizes, car karaoke and a display of modern and classic Corvettes provided by the Las Vegas Corvettes Association, several other local Corvette clubs and 'Vette owners not affiliated with any club.
An estimated 55-60 Corvettes are expected to be in attendance for what promises to be a nostalgic look back at various years of the classic 'Vette.
Now in its 45th year, the Las Vegas Corvettes Association was started in 1973 and has nearly 170 members in Southern Nevada. The club is currently headed by long-time Las Vegan and Corvette enthusiast Skip Kelley, who has a 1967 Corvette Stingray Coupe that he purchased in 1989 after finding the car in the classified ads.
The Las Vegas Corvettes Association presents a broad variety of social and community events, and has a couple of rather unique programs.
The Racer's Edge program gives members an opportunity to challenge their skills while driving their cars in competition.
"Garage Gang lets us work together, helping one another with most any project from putting on a simple accessory to installing an entire Corvette engine," Kelley said.
Like everyone who has discovered that classic cars can be addictive, Kelley is an admitted "car nut" who loves the handling, the feel, the looks and the sound of a Corvette.
"I love to play with my 'Vette — auto crossing, drag racing, track day road racing — all things the Corvette was engineered to excel at," said the 58-year-old Kelley.
Along with taking his 'Vette to drag races or road course events, Kelley loves taking the car for a ride on any given day.
"I am always encouraging members of our association to cruise in their Corvettes," Kelley said. "It doesn't matter where. Just get out and enjoy your car and each other. There's no better way to recharge than to take a Corvette for a ride."
About the dealer
Headed by general manager Doug Fleming, Findlay Chevrolet is part of Findlay Automotive Group founded by the late Pete Findlay in 1961. The umbrella includes 32 dealerships in Nevada, Oregon, Utah, Arizona and Idaho. A 33rd dealership, Findlay Mazda, is currently under construction in the Valley Automall. Further information regarding Findlay Chevrolet can be found by calling 702-982-4000 or visiting www.findlaychevy.com.