Findlay exec looking forward to Big City Showdown
January 12, 2018 - 8:43 am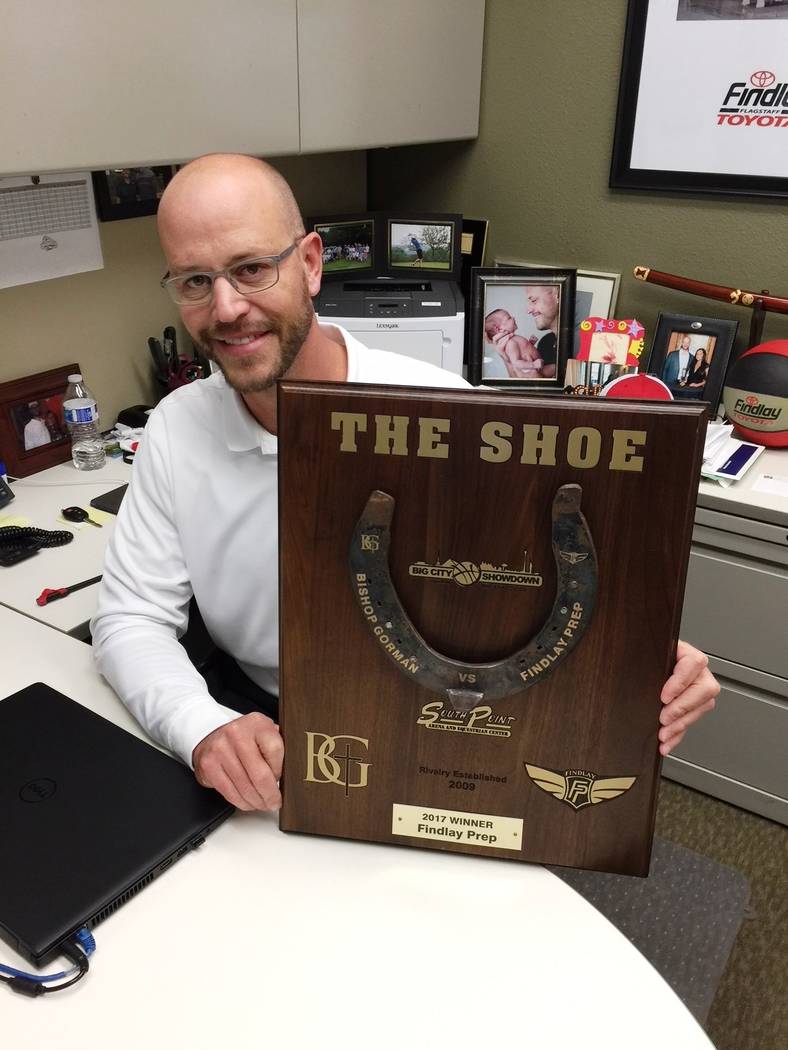 Findlay Automotive Group Director of Operations Robby Findlay knows what he will be doing Jan. 20. The 37-year-old, fifth-generation Nevadan will be in attendance for the annual Big City Showdown boys high school basketball game between the Findlay Prep Pilots and Bishop Gorman Gaels set to begin at 7 p.m. at South Point Arena.
Findlay admits that he's in a unique position as he watches this matchup, since he assists Findlay Prep but also played on the 1997 Bishop Gorman team that won the state 4A championship. After graduating from Bishop Gorman in 1998, Findlay boarded an airplane to play for Maine Central Institute, which was coached by the legendary prep coach Max Good.
"I will never forget how frightened I was to fly across the country without knowing a soul," Findlay said. "I showed up on the first day, and there were 15 kids on the team. Twelve of them had Division I scholarships."
As time went on, Findlay said, "I became a better basketball player, and I also became tougher both mentally and physically."
The mental toughness was necessary as Findlay went on to graduate from Brown University of the Ivy League in 2003.
With his high school and college basketball history, Findlay sees the Findlay Prep basketball program as a way of assisting younger players during their climb.
Regarding the mission of Findlay Prep, Findlay said, "The most important thing was that it's our way of giving back to the basketball community and helping out some kids who are sometimes in some very difficult situations. We want them to become better students, better basketball players and better people."
Findlay's three children all attend Henderson International, the home of Findlay Prep.
The annual showdown between Findlay Prep and Bishop Gorman started several years ago. The idea to pit the two schools against one another annually was the result of the combined effort of two longtime residents and businessmen, Cliff Findlay of Findlay Automotive Group and Michael Gaughan of the South Point.
"Last year, the matchup featured Charles O'Bannon and P.J. Washington in a great game," Robby Findlay said. "It came down to the last second. No matter where each team is ranked nationally or who has the most McDonald's All Americans, it always comes down to a last-second shot."
With the growth of Findlay Prep, there is also room for future competition with similar schools.
"We are planning to host a national powerhouse tournament as well as a full-season documentary," Findlay said.
Findlay Prep has produced an impressive list of more than 50 Division I basketball players and 14 NBA players.
"Earlier this week, we had P.J. Washington (his father, Paul, is the head coach of Findlay Prep), who led Kentucky in its win over LSU, which also had a former Findlay Prep player in Skylar Mays; Oshae Brissett, who scored 16 points to lead Syracuse; and Markus Howard, who had 52 points for Marquette in the team's win over Providence."
A popular player in this year's Findlay Prep-Bishop Gorman game will be the Pilots' 7-foot-2 Bol Bol, who will attend the University of Oregon next year.
"A lot of fans will come out just to see Bol Bol. … Those same fans will probably end up seeing five to 10 future college stars in the same game. It's definitely a showcase of some of the best prep players in the country."
About the dealer
Founded in 1961 by the late Pete Findlay, Findlay Automotive Group now includes 31 automobile dealerships in Utah, Nevada, Arizona, Idaho and Oregon. Operations are now overseen by Findlay's son, Cliff.