Findlay North Volkswagen hosts community car seat check event
September 16, 2016 - 7:00 am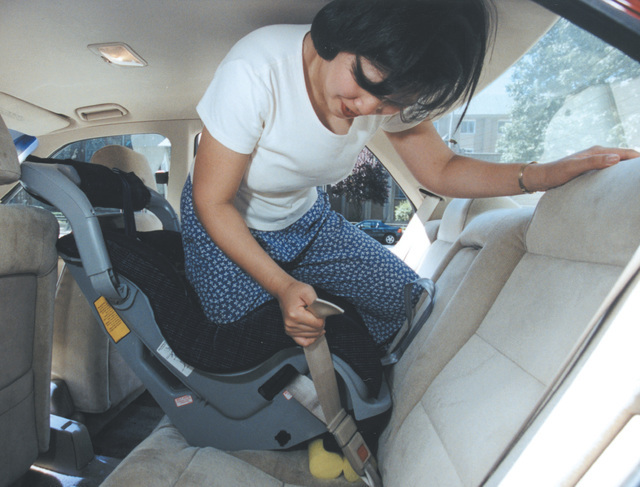 The community is invited to stop by Findlay North Volkswagen at 7500 W. Azure Drive on Saturday, Sept. 24, for food, fun and a free car seat check or installation. The event will take place from 1 to 4 p.m.
Car crashes are a leading cause of death in children 1 to 13 years old, but many deaths and injuries can be prevented by proper use of car seats, boosters and seat belts.
"As children grow, car seats need to be refitted, adjusted or replaced, depending on their needs," said certified installer Sarah Lee Marks. "Our team of volunteers from CCSD School Police, NHP Command Center, SafeKids Clark County and Car Seats for Christy are all dedicated to saving lives, one car seat at a time."
While there is a lot of information available online, trying to understand the often complex diagrams and instructions from the vehicle owner's manual to the car seat manufacturer's instructions can be confusing. The certified installers will be checking to ensure all car seats are properly fit and secured. Attendees can drive to the dealership without an appointment, enjoy some refreshments and learn handy tips and techniques to getting their seat secured properly, in the safest position for their child, in their vehicle.
"We will check for recalls, expiration dates and worn parts, while providing hands-on education to everyone responsible for the safe transport of children on our roadways," Marks said.
Doug Fleming, general manager of Findlay North Volkswagen, announced additional donations for the local charity Car Seats for Christy.
"We invite everyone in the area to stop by and take a test drive in one of our new, certified or pre-owned vehicles during the (car seat check) event," he said. "Once you complete the behind-the-wheel vehicle evaluation, Findlay VW North will make a donation to Car Seats for Christy on your behalf."
Car Seats for Christy, a 501(c)3 organization, was started by co-workers and friends of Southwest Gas employee Christy Barnhart Hebert, a single mother of two who lost her life in a January 2004 car crash. Her daughters' lives were spared thanks to the car seat restraints their mother was so committed to maintaining. As a living tribute to Hebert, her friends continue to promote the message of car seat education and provide restraints to those in need. Test-drive donations will allow this work to continue.
2016 Mercedes-Benz Dealer Championships Golf Tournament
Mercedes-Benz of Henderson has announced the details of the 2016 Mercedes-Benz Dealer Championships Golf Tournament. The tournament is being held Wednesday, Oct. 5, at DragonRidge Country Club, located at 552 S. Stephanie St. in Henderson.
A portion of the proceeds benefit Keep Memory Alive and the Cleveland Clinic Lou Ruvo Center for Brain Health, which treats patients with Alzheimer's, Huntington's and Parkinson's diseases and more. This year marks the 23rd anniversary of the event.
"The dealership is proud of its participation and the contribution it makes to Keep Memory Alive," said Gus Hoppel, general manager of Mercedes-Benz of Henderson. "This tournament is a great opportunity for us to support and build the community here in Southern Nevada. It's always a lot of fun."
The tournament begins with a 9 a.m. registration and kicks off with a 10 a.m. shotgun start. A barbecue lunch will be served during the round, with prizes and awards immediately following. Awards and prizes will be given for closest to the pin and hole-in-one, and winner trophies will be presented. A raffle will be held, with sales benefiting Keep Memory Alive. The entrance fee is $1,600 for a Best of Friends foursome and $800 for a Best of Friends twosome. Registration deadline is Sept. 28. Reservations and sponsorship information are available by calling 702-798-1819, or by emailing pr2@amsinclv.com or annies@amsinclv.com.
The Mercedes-Benz Dealer Championships is a nationwide amateur-only golf program for men and women ages 21 and older. A Two Man Best Ball team will advance to Pinehurst Resort in Pinehurst, North Carolina, Oct. 16-20, to compete in a two-round Sectional tournament. The top three teams from Pinehurst will advance to the National Final at the West Lake Country Club in Augusta, Georgia, in April, where the teams will compete in a single-round event. This once-in-a-lifetime experience includes an invitation to participate in activities surrounding Mercedes-Benz U.S.A.'s global partnership with the Masters Tournament.
Race for Breast Cancer Awareness at Exotics Racing
OK, so it may not be a dealership, but it does have motorized vehicles you can drive, and it's supporting a good cause. Exotics Racing, which has a permanent location at the Las Vegas Motor Speedway, has announced that $5 from every full-price Driving Experience or Ride Along Experience booked through its website, and used during the month of October, is being donated to the Susan G. Komen Foundation. Also for the occasion, each supercar will be wrapped with a symbolic breast cancer ribbon.
The Driving Experience puts participants of any skill level behind the wheel of some of the world's fastest and most desirable cars to drive around Exotics Racing's state-of-the-art racetracks. Available cars include the 660 horsepower Ferrari 488 GTB, the 700 horsepower Lamborghini Aventador, and so many others from Aston Martin, Porsche, McLaren and more. Driving Experiences start at $199. The Ride Along Experience takes a passenger for two high-speed laps in a Corvette Z06.
"We are so pleased to be working with the Susan G. Komen Foundation of Nevada and California," said Exotics Racing CEO Romain Thievin. "As a race car driver, I'm obsessed with getting to the finish line first, but raising breast cancer awareness to beat this terrible disease is a race that we all need to win."
In addition to the $5 per Ride Along and Driving Experience donation, Exotics Racing will carry sponsored merchandise, including lanyards. All benefits from the lanyards sales will go toward the Susan G. Komen Foundation. Donation boxes also will be present at the venue.
The Susan G. Komen Foundation works to raise awareness and improve access to routine mammograms as well as other treatments to reduce the number of late-stage diagnoses. Its efforts, which include local and national cultural outreach, have helped to lessen the burden of breast cancer treatment for afflicted women and their families.
To learn more about Susan G. Komen in Nevada, visit komennevada.org/about-us/history/our-community-need. To find out more about Exotics Racing, or to book a Driving Experience or other supercar experience, visit exoticsracing.com.
Park Place Infiniti Undergoes Another Renovation
Strong car sales and an improving local economy are fueling another multimillion-dollar renovation at Park Place Infiniti's dealership on West Sahara Avenue.
"This latest project is another example of how Park Place is committed to investing in Southern Nevada. We've been bullish on Nevada's economy and have been seeing rising auto sales over the past couple of years," said Rob Schweizer, general manager of Park Place Infiniti.
"We've seen a trend with people seeking to upgrade to a new luxury vehicle, as opposed to holding onto their vehicle longer."
In light of an improving market for local car sales, Schweizer said continuing to invest in the dealership at 5555 W. Sahara Ave. is the smart move for long-term success.
The latest round of renovations to the 6-acre property includes creating a new main entrance and refurbished facade for its pre-owned vehicles sales center so it resembles the adjacent, recently expanded state-of-the-art showroom for new Infiniti models. Construction being completed by Boyd Martin Construction LLC includes building a 6,000-square-foot display area near the doors to the new entrance. To create greater accessibility for clients, the project also includes 18,000 square feet of improved, additional parking. Construction is expected to be complete this fall.
"Park Place is committed to offering clients an exceptional purchase and ownership experience, and that starts with giving clients a well-appointed dealership, which reflects the luxury of an Infiniti," Schweizer said.
In June 2012, Park Place purchased the Infiniti dealership in Las Vegas. In 2014, an expansion project at Park Place Infiniti included a state-of-the-art showroom, luxurious client lounge, spacious new drive-in service canopy and an expanded garage.
Founded in 1987 by Ken Schnitzer, Park Place Dealerships represents luxury brands including Lexus, Mercedes-Benz, Porsche, Volvo, Jaguar, Rolls-Royce, Bentley, McLaren, Maserati, Lotus and smart. For more information, visit parkplaceinfiniti.com.