Findlay Toyota GM Barr named LLS Man of the Year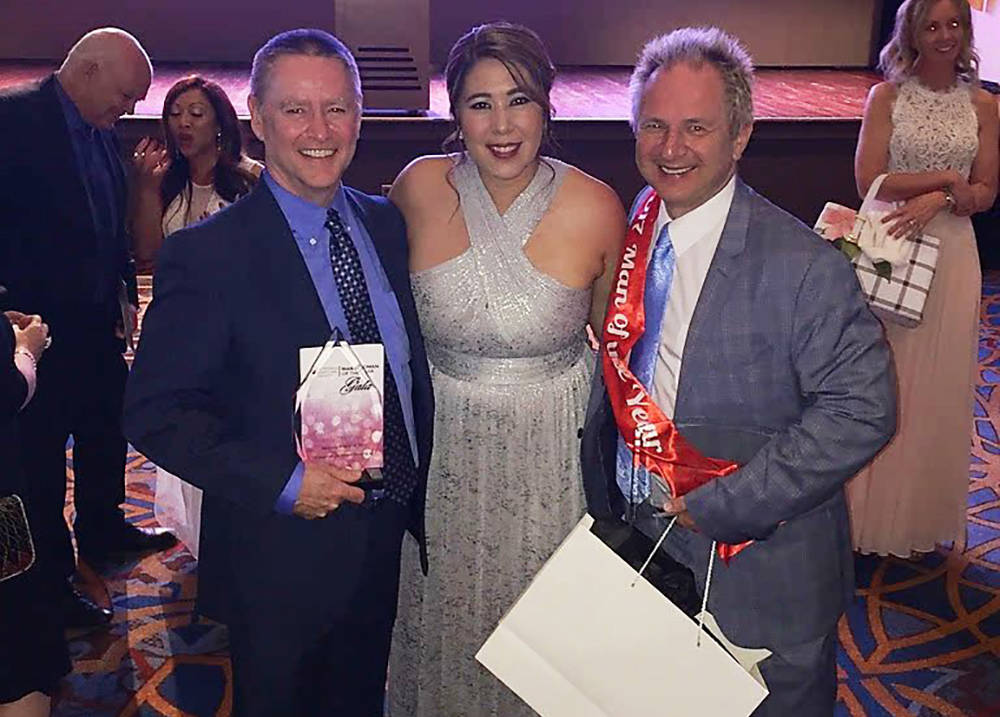 John Barr was a competitive soccer player in his homeland of Portsmouth in Hampshire, England, but it's a baseball phrase that might better tell the story of the man's triumphant victory to be named the Leukemia and Lymphoma Man of the Year on May 13 at the JW Marriott.
Barr's participation in the annual fundraiser contributed to a record amount of money being raised for the Leukemia and Lymphoma Society of Southern Nevada's annual gala.
In short, Barr "hit it out of the park" with a heartfelt effort to stop blood cancers in their tracks. His campaign manager, Stephanie Bernas, brought new meaning to what could be described as "philanthropic automotive marketing."
From a golf tournament at TPC to a "Dunk John Barr" contest in front of the dealership, Barr and his team were dedicated to their fundraising efforts nonstop for several weeks. Findlay Toyota turned the gathering into a huge success for the Leukemia and Lymphoma Society of Southern Nevada.
Barr, who said earlier that the campaign was something he felt he had to do, raised funds by running from one special event to another as Bernas set his schedule and pointed the way to what would become a landmark shot in the arm for blood cancer research.
"When we see people suffering from diseases like cancer, it becomes our duty to reach out and help them," Barr said. "Cancer can bankrupt people, not to mention cost them their lives, and I truly feel we need to keep raising money to knock the disease out of the park."
LLS Executive Director Elizabeth Hunterton said Barr raised the highest amount of money of any candidate in Southern Nevada, and the efforts of Barr and all the other candidates raised more than $330,000 overall for the local Leukemia and Lymphoma Society.
"It was an honor to be a part of such a magical evening that brought the community together in such an impactful way," Hunterton said. "Every three minutes, somebody is diagnosed with cancer. Every nine minutes, someone loses their life to cancer. Events like this help relieve the financial burden, since LLS locally provides about $375,000 in co-pay assistance.
"The crown jewel of what we do is fund the cutting-edge research that allows us to be able to say we have been a part of every major blood cancer breakthrough in the last 60 years. Half of the cancer treatments on the market started with treatments for blood cancer, so contributing to LLS makes an impact across the spectrum."
Hunterton said Findlay Automotive Group has been relentless in helping LLS for the past several years.
It's worth noting that last year's LLS Woman of the Year was Sarah Wilbur, the finance director at Findlay Kia.
"They genuinely care about this community," Hunterton said, "and they have shaped our community for the better in a truly immeasurable way. (Findlay CFO) Tyler Corder was our board president and has been involved for a long time."
Corder praised Barr for his dedication to the cause.
"I'm extremely proud of John and how he embraced the cause," Corder said. "He was inspired at last year's event and really committed himself to do something to help find a cure for blood cancer. John has a great heart, and we're proud to have him in the Findlay family."
"Not only did John commit himself to the cause, but he enlisted support from everyone around him," Corder added. "Our Findlay Toyota marketing staff, Stephanie Bernas and Kaitlyn Matsubara, really stepped up and helped John raise funds. John was clearly the point person, but a lot of Findlay staff, customers and vendors also jumped on board. It was truly a team effort."
The Woman of the Year was Lea Johnson, who works for Regal Cinemas.
About the dealer
Findlay Automotive Group was founded in 1961 by the late Pete Findlay, whose son, Cliff, now oversees 32 automobiledealerships in Nevada, Utah, Arizona, Oregon and Idaho.