Fourth sedan added to luxury car lineup
December 14, 2015 - 5:36 pm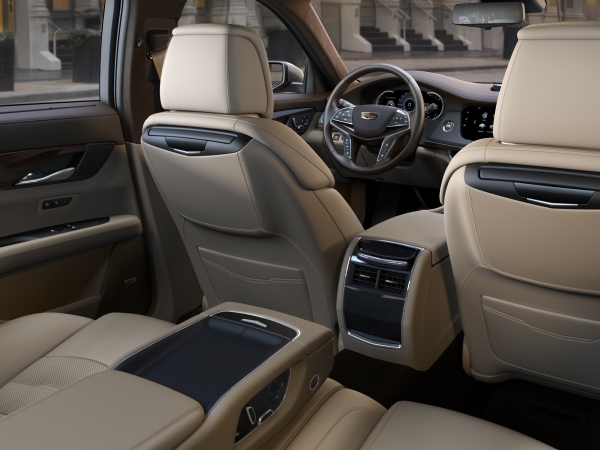 If there are niches to fill in the luxury car category, Cadillac appears determined to build product. The CT6 thus becomes the fourth sedan brand in its lineup. And with yet a higher-end model in the planning stages, General Motors' premium division isn't finished by any stretch.
The CT6 is using a combination of luxury appointments, prodigious power, knife-edgy design and, last but not least, lithe and lightweight construction. To this point, Cadillac claims that the CT6 tips the scales below the Mercedes-Benz E-Class and BMW 5-series sedans and weighs about the same as the smaller Cadillac CTS (the CT6 has close to eight more inches grafted in between the front and rear wheels).
Assisting in the pound-paring quest is a 100-percent aluminum body and front suspension. Preventing the CT6 from becoming corpulent ensures that the three available power teams will provide the driver with plenty of kick.
They include a 265-horsepower turbocharged 2.0-liter four-cylinder, a 335-horsepower non-turbo 3.6-liter V-6 and a 400-horsepower twin-turbocharged 3.0-liter V-6. All are connected to eight-speed transmissions. All-wheel-drive is available, but only with the 3.6- and 3.0-liter V-6s.
All-wheel-steering can be had as well.
Naturally the CT6 comes brimming with content and also provides a significant number of extra-cost luxury and safety amenities. Among the most unique are "Quadzone" climate control, articulating heated and cooled rear seat with message, surround-view security camera that can record a 360-degree view of the car, a rear camera mirror that replaces the traditional mirror and a Bose "Panaray" sound system with 34 — yes, 34 — strategically positioned speakers.
Phil Baumann, a certified technology expert at Cadillac of Las Vegas, said the CT6 is the most revolutionary car the company has produced in the last 50 years.
"A lot of people, especially existing Cadillac owners, have been asking for this car," he said. "It's larger in size so it's very comfortable and roomy. There's a foot rest in the back along with individual heating and cooling seats."
Baumann added that the safety features on the CT6 are unlike any other on the market.
"The 360 degree view camera gives you an overall view of nearby pedestrians and other cars in the front, sides and rear," he said. "It also has crash avoidance so if you're coming up to a vehicle or intersection with cross traffic and the sensors think there will be an imminent collision, the car will slow down or stop."
Cadillac of Las Vegas, which is located at 5185 W. Sahara Ave., anticipates it will begin selling the CT6 within the next six months.
"Both Cadillac and this dealership hope that it will be the flagship vehicle and become the number one seller of all time," Baumann said. "We're banking on the fact that it will blow away everything else in the market."