Friendly Ford celebrates 47th anniversary with three major awards
Updated April 14, 2017 - 9:02 am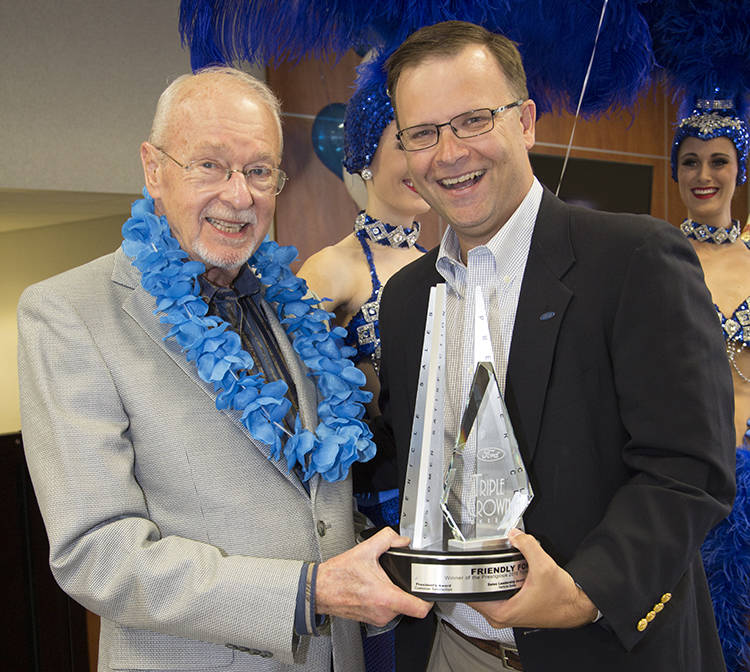 Friendly Ford celebrated its 47th year in business April 7 with a large crowd that included dignitaries and longtime friends visiting the dealership at 660 N. Decatur Blvd.
Among the dignitaries attending the early-morning gathering were Ford sales operation manager of the Phoenix Region Philip R. Chancellor, Ford credit business development manager Edgar Gutierrez and former Las Vegas Mayor Oscar Goodman, who calls his frequent attendance at the anniversary gatherings "my good luck visit."
There are numerous reasons for Friendly Ford's continued success.
"It's because of the Olliges family," said Chancellor, who awarded the Triple Crown to dealership owner Ed Olliges for the fifth time, the President's Award for the 18th time and the Top 100 Club sales volume award. "We're very fortunate to have the representation of the Olliges family in Las Vegas."
Chancellor added that Friendly Ford won the President's Award for that sixth consecutive time. The dealership has the second-best record in the Phoenix Region for receiving 18 of the awards.
Its Triple Crown award is the result of capturing the President's Award, Sales Leadership and Premier Club in the same calendar year. Only 22 out of 3,100 dealerships in the United States won the Triple Crown in 2016.
Chancellor said business has experienced strong sales numbers.
"We're very happy with the car business right now," he said. "Las Vegas had a very successful first quarter and we're looking forward to a very successful 2017."
Established in 1970, Friendly Ford was built north of Western High School. The area was largely vacant, but the close proximity to U.S. Highway 95 was appealing to the location.
"This dealership is obviously very special to me," Olliges told the gathering. "We are very grateful for what we have here. I still remember hiring people to work for us before we had the building built."
The dealership was built the year Olliges' daughter, Dana, was born.
"My dad has always told me that he absolutely loves his job," she said. "He told me that he didn't care what you do in life, but you have to love what you're doing."
Yet another reason for the continued success of Friendly Ford is the number of dedicated employees who have been with the dealership for many years. Longtime employees include service director Greg Haase, parts director Rob Mancini and customer care coordinator Geri Bich.
Haase and Mancini have each been with the dealership for 40 years, while Bich has worked for Friendly Ford for 18 years.
"I can't imagine working anywhere else," said Mancini, who walked across the street from Western High School to apply for a job after suffering a football injury that ended his playing days. "I was only 15 years old when I was hired here."
The 60-year-old Haase was 20 years old when he joined Friendly Ford.
"I got offered a job as a technician with a flat-rate pay which is what every technician would want. It's been great for me here because they give you an opportunity. They keep going here because they're family-owned and operated, and we have integrity dating back to 1970. We simply do what's right."
"I think it's the people here and, most of all, it's the owner," Bich said. "Ed is here all of the time, and he greets people. We have longevity here because it's a good place to work."