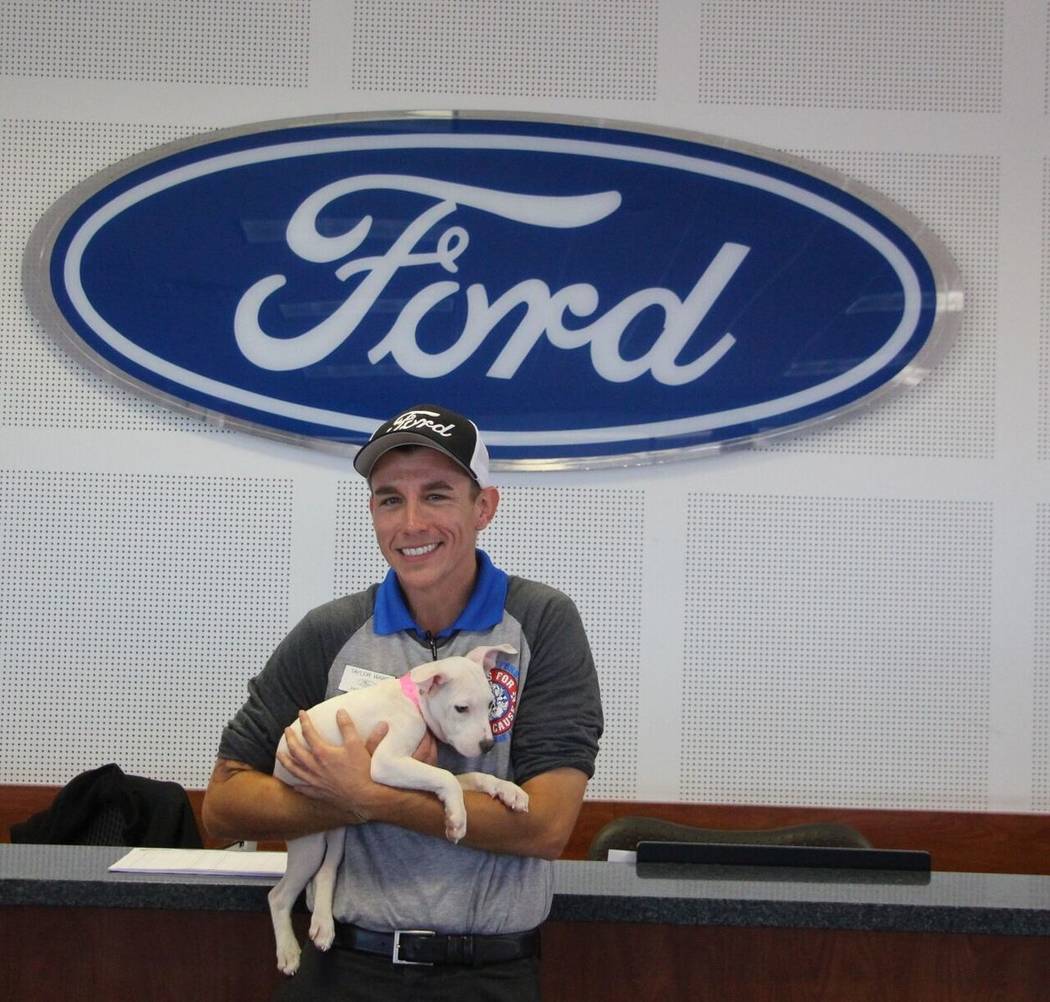 Friendly Ford new car manager Taylor Warf arrived early at the dealership Oct. 21 for the annual fall edition of Paws for the Cause, which has become the go-to gathering spot each year for those looking for a family dog.
However, when the 28-year-old Warf began placing the available dogs into pens at the front of the dealership for the three-hour gathering, he suddenly became the first new owner of a dog that was looking for a home.
"I just came in a little early to help out with the event, since we all know what a huge gathering it is each year," Warf said. "As we were getting ready to place the pups in another cage, someone handed me one of them.
"The pup looked at me and I looked at her, and I knew my days of being without a dog had just ended. It was almost as though we claimed each other."
Warf named his new pit bull puppy Lucy. "She's my first dog. I named her after the Beatles song 'Lucy in the Sky with Diamonds,'" he said. "I have always wanted my own dog anyway but never dreamed helping Paws for the Cause would lead to me owning one. Lucy is an incredible pet."
Event founder Dana Arcana said Warf's finding his pet was a big example of what Paws for the Cause and its partnership with the Animal Foundation is all about.
"This particular event was huge," said Arcana, who has spearheaded the twice-a-year-gatherings at Friendly Ford since 2011. "Taylor finding Lucy was the perfect way to start the fall event."
A special touch was added to the latest Paws for the Cause when the Rev. John Assalone, pastor of St. Francis of Assisi Catholic Church, blessed each animal with a prayer.
"Father John's blessing the animals added a very special touch to this event," Arcana said. "This was our largest-ever Paws for the Cause event, with 31 dogs being adopted, so his prayers worked.
"It was an amazing day that also saw 90 animals get microchipped."
Foundation outreach coordinator Chris Pietrafeso said Paws for the Cause is one of his favorite events of the year.
"I want to say this has been overwhelmingly successful,' said Pietrafeso, who has been with the foundation for 2½ years. "The strong partnership between Friendly Ford and the Animal Foundation is very strong, as evidenced by the turnout."
The event was also bolstered by a fall blanket drive along with support from MP K9 Dog training, free microchipping provided by Blue Cross Animal Hospital and paid for by Friendly Ford, with additional help by veterinarians from Blue Cross Animal Hospital and Warm Springs Animal Hospital. The event also featured live radio remotes by 97.1 The Point and La Buena 101.9.
The Animal Foundation is located at 655 N. Mohave Road. It is open daily from 11 a.m. to 7 p.m. Further information can be found online at www.animalfoundation.com or by phone at 702-384-3333.
About the dealer
Located at 660 N. Decatur Blvd., Friendly Ford has been at the same location for 47 years. The dealership is an 18-time winner of the prestigious President's Award, Ford's highest single honor for customer satisfaction. Additional information regarding Friendly Ford can be found by visiting www.friendlyfordlv.com or by calling 702-870-7221.