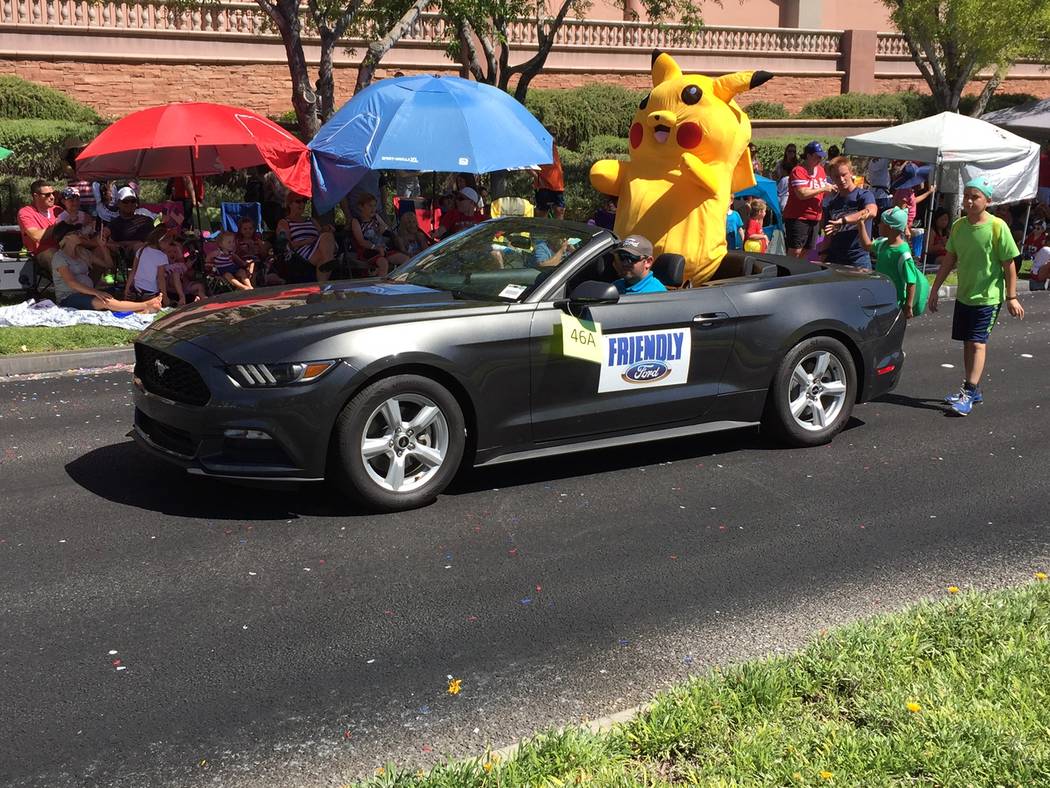 With more than 70 entries, the July 4th Summerlin Council Patriotic Parade, sponsored in part by Friendly Ford, lived up to its expectations, drawing a record crowd of more than 40,000 enthusiasts who packed the northwest valley area.
In true All-American fashion, the event included strong participation from Friendly Ford, which provided free usage of 11 trucks and six convertibles to help produce a colorful combination of bands, floats and giant helium-filled balloon floats highlighting storybook and cartoon characters.
Bolstered by an estimated 2,500 participants in the parade, the event was purely red, white and blue, and the crowd loved the celebration. Some 500 volunteers also participated in the running of the parade.
The dealership has been the exclusive automobile dealer of the event since 2008. A coordinated effort is needed to transport trucks and convertibles to the Summerlin Council Patriotic Parade each year, and Friendly Ford employees teamed up again to support the All-American event.
"The Summerlin Council Patriotic Parade is a labor of love for hundreds of volunteers and our many sponsors, whose support has helped the parade become what it is today — Southern Nevada's largest Independence Day parade," said Tom Warden, senior vice president, The Howard Hughes Corp. "Now in its 23rd year, the Summerlin Council Patriotic Parade relies on sponsors like Friendly Ford, which provides trucks, convertibles and drivers to pull floats and escort our grand marshal, costumed mascots and more.
"Friendly Ford's partnership has been instrumental in our operations over the years, and we couldn't do it without them. Thank you, Friendly Ford."
Lezlie Barnson-DeNardin, director of community relations for The Summerlin Council, praised the participation of Friendly Ford.
"Friendly Ford became the official vehicle provider of the Patriotic Parade in 2008," she said. "It's been a wonderful partnership now celebrating its 10th year that Friendly Ford has supported us."
About the dealer
Now 47 years old, Friendly Ford is located at 660 N. Decatur Blvd. The dealership is an 18-time winner of the prestigious President's Award, Ford's highest single honor for customer satisfaction; along with the Triple Crown Award, the highest honor that a dealer can achieve.
Further information can be found by calling 702-870-7221 or by visiting www.friendlyfordlv.com.