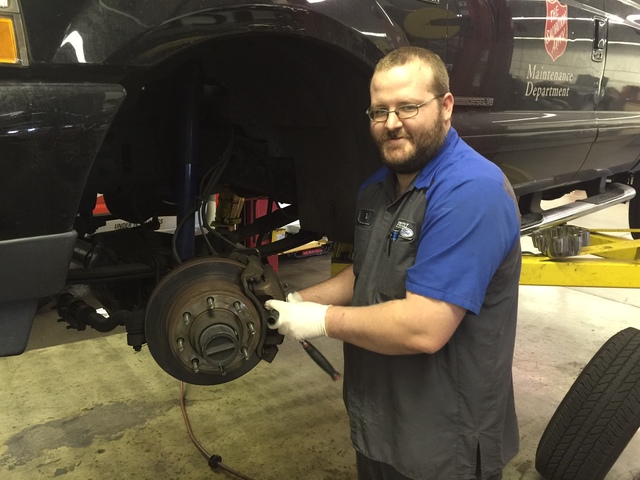 As it relates to necessary service, brakes may be the most ignored part of a vehicle primarily because they're out of sight. In many cases, drivers have no idea they are on the verge of facing serious consequences until it's too late.
And according to Friendly Ford master tech and brake specialist Ryan Banning, a simple checkup can alleviate concerns while also protecting the vehicle owner from expensive repairs and even possible accidents.
Now a certified master technician, the 25-year-old Banning changes worn-out brakes for new brakes numerous times each week at Friendly Ford. Unfortunately, oftentimes vehicle owners have waited until after exceeding the lifetime of a set of brakes.
Warning signs of bad brakes include a grinding sensation, thereby indicating that the brake pad is worn and that parts may be scraping the rotor. When worn to the metal, the rotors are damaged beyond safety standards, and they must be replaced, which usually cost about $120 each.
In some cases, the rotors can be surfaced, but if they have exceeded the limits, replacing them can be expensive depending on the make and model of the vehicle. Worse yet, bad brakes are many times accidents waiting to happen.
"Never neglect brakes or take them for granted," said Banning, a native Nevadan and a five-year employee of Friendly Ford. "One of the most frightening experiences can be stepping on the brakes, only to have the brake pedal go to the floor."
In many cases, the problem lies in the fact that vehicle owners simply don't take time to have their brakes checked, according to Banning, in what can best be determined as being "out of sight, out of mind."
"There are times when noisy brakes are simply the result of dust on the rotors or pads," he said. "However, there's always that chance that something worse could be occurring, so it's always a good time to have the brakes checked. Checkups are especially important prior to going on long trips. The last thing anyone needs is to experience mechanical failure while on the road.
"It's generally a good idea to have your brakes checked regularly, every oil change. While the brake pads are a big concern, so are the other components related to the brake system including brake fluid levels. It's never a good idea to procrastinate when it comes to the servicing of your vehicle.
"By putting it off, they can only get worse."
Not just anyone can work in the automobile repair business primarily because changes occur often.
"To become a master tech, Ford Motor Co. has a specific program that we must take," explained Banning. "The education is required on an ongoing basis. Anytime there is something new in the industry, we must attend and pass a particular course."
Located at 660 N. Decatur Blvd., Friendly Ford has been at the same location since 1970 and is also a 17-time winner of the prestigious President's Award, Ford's highest single honor for customer satisfaction.
Further information can be found by calling 702-870-7221 or by visiting www.friendlyfordlv.com. The dealership is headed by general manager Jason Davis.