Friendly Ford truck pulls Vegas Golden Knights float in parade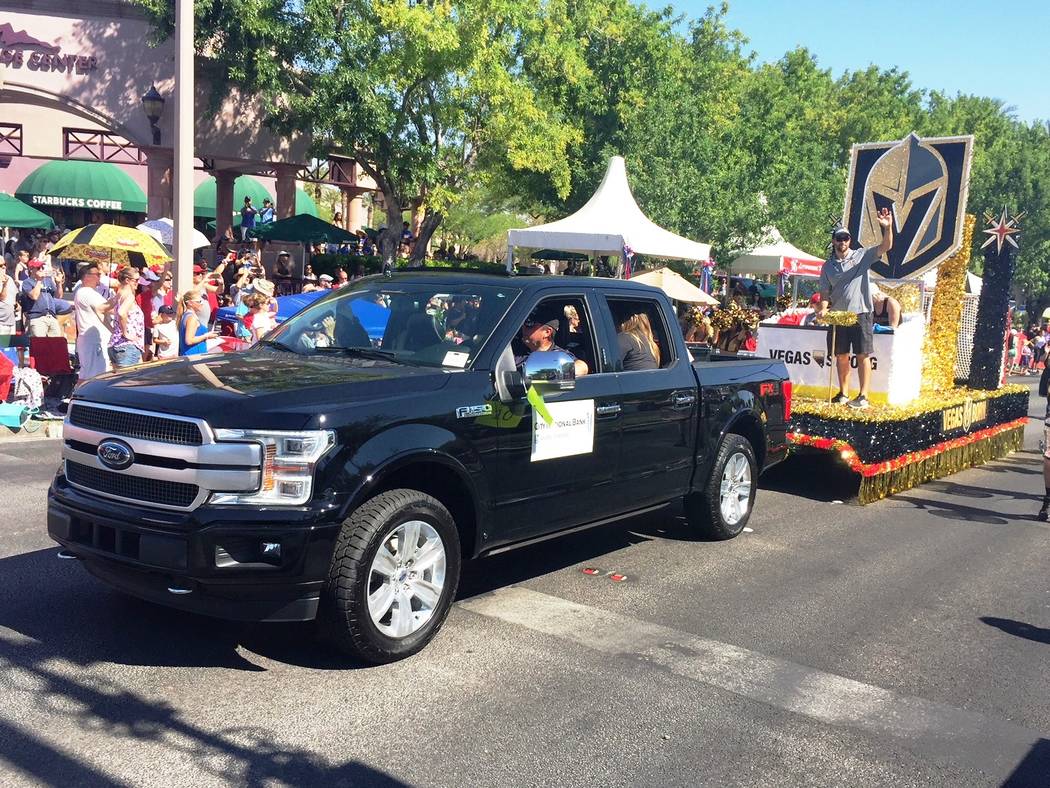 The 24th annual Summerlin Council Patriotic Parade is history, and Friendly Ford capitalized on its annual participation in the July 4 event presented in the northwest valley. The dealership provided Ford trucks and convertibles for the event that attracted about 40,000 enthusiasts along with 75 parade entries.
In what was a brilliant marketing move conducted in conjunction with the Summerlin Council, Friendly Ford "hooked up" with the National Hockey League's wildly popular Vegas Golden Knights and parlayed its agreement as the sole vehicle provider to escort the Golden Knights' entry in the parade that marked the 10th time the dealership has participated.
In its inaugural season, the Vegas Golden Knights recorded a mind-boggling record of 51-24-7 to win the National Hockey League's Pacific Division championship and march into the prestigious Stanley Cup, losing in five games to the Washington Capitals.
Throughout the year, Las Vegas fans flocked to T-Mobile Arena to watch the team, which became the darling of professional athletics and the best-ever professional major league team to compete in Southern Nevada.
The season ended, but the enthusiasm hasn't waned a bit, as evidenced by the chants of "Go Knights Go" during the celebration in Summerlin.
Coordinating the trucks and cars for the parade was longtime Friendly Ford sales consultant Rafael De Leon, who selected the Golden Knights' float to be towed behind the dealership's Ford F-150 Platinum.
"You can bet I wasn't going to turn down the Golden Knights' float," De Leon said. "I assigned the float to myself. I have driven some nice floats over the years, but to be honored with the Golden Knights and their star Deryk Engelland made the selection even better for Friendly Ford.
"Deryk is the coolest guy."
This was De Leon's first year of assembling the drivers and vehicles for Friendly Ford.
"All of the Friendly Ford employees were very happy to help out," he said. "We had 16 F-150s and four convertibles. It wasn't easy, but it was all worth it and I'll be back to help out as long as I'm needed. It's a great honor."
About the dealer
Now 48 years old, Friendly Ford is located at 660 N. Decatur Blvd. The dealership is an 18-time winner of the prestigious President's Award, Ford's highest single honor for customer satisfaction; along with the Triple Crown Award, the highest honor that a dealer can achieve. Further information can be found by calling 702-870-7211 or by visiting www.friendlyfordlv.com.