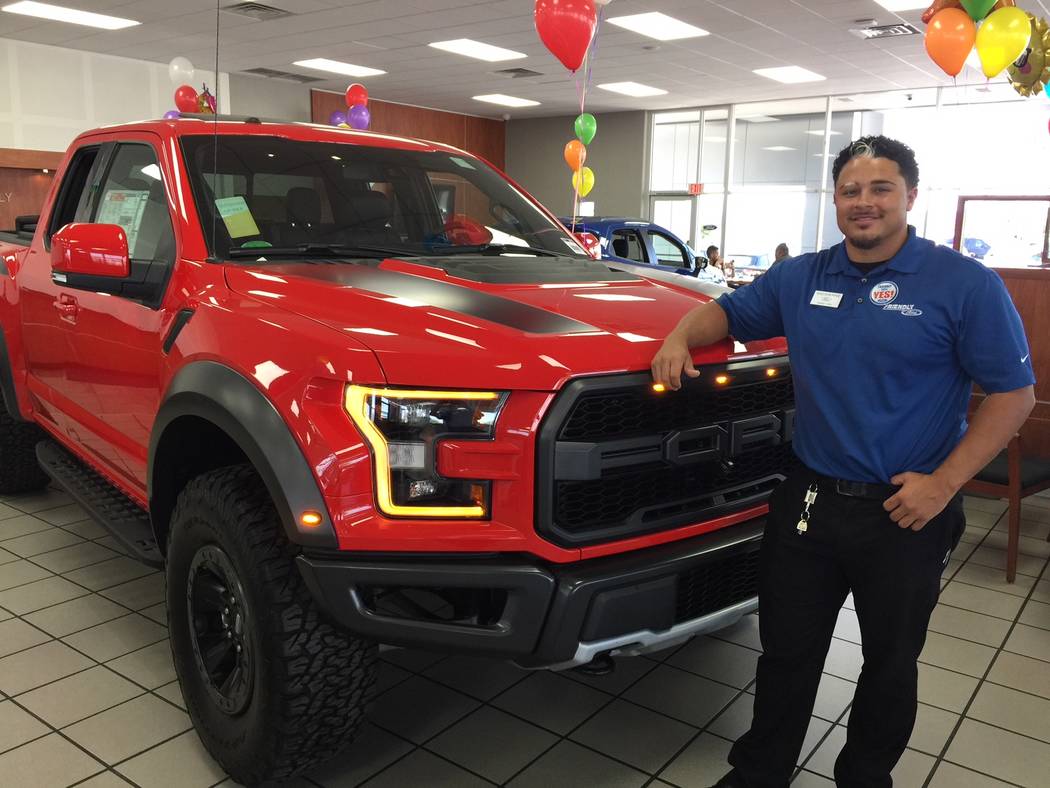 The 2018 Ford Raptor has been drawing looks since it arrived about eight years ago. It's a thrill to drive and a thrill to sell for sales consultants like Sheldon Pyke of Friendly Ford.
"No question about it," said Pyke, a 27-year-old native of Washington state who has lived in Las Vegas for two years. "The Raptor is a one-of-a-kind."
The new Raptor features a 3.5-liter V-6 high-output Ecoboost twin turbo with 450 horsepower and 510 foot-pounds of torque.
With so many upgrades, the Raptor is one of the few vehicles with legitimate recreational off-road viability from the factory. It's even conducive for performance racing off-road, while also providing a smooth ride on-road.
"It reacts as soon as you put your foot in on the accelerator," Pyke said. "There's the beautiful sound of the twin-turbo power plant that you'll never forget."
Ford F-Series trucks have been the best-selling trucks for the past 42 years, and the Raptor took the product to yet another level.
Among the many buyers of the Raptor at Friendly Ford are Las Vegans Ron and Marenda Mariano.
"We bought our Raptor Feb. 3," Ron Mariano said. "We took it to California a few times and since I'm in construction, I have taken it to a few job sites. We're very happy with the vehicle and in fact, it's the best truck out there.
"Just the way the truck looks is very different from other trucks. I have looked at all of them and the Raptor looks so aggressive. I have driven various sports cars and, while it's a truck, it sure can handle well. It has not disappointed me one bit. I have taken a lot of my friends for a ride and one of them bought a Raptor from Friendly Ford after I showed him ours."
Mariano also is impressed with the gas mileage he has gotten with the Raptor. "I can get 22-23 miles per gallon driving about 70 miles an hour on the highway," he said. "With the air conditioning on, I still get about 16-18 in the city."
Mariano said the couple has nicknamed the truck "Betsy."
"I love the fact that it has a 36-gallon gas tank," he said. "It handles the turns like a sports car with a bed and stays flat in the turns. This is my first truck and I'm glad it's a Ford."
About the dealer
Located at 660 N. Decatur Blvd., Friendly Ford was opened in 1970. The dealership is an 18-time winner of the Ford President's Award, Ford's highest single honor for customer satisfaction. Further information can be found by calling 702-870-7221 or by visiting www.friendlyfordlv.com.