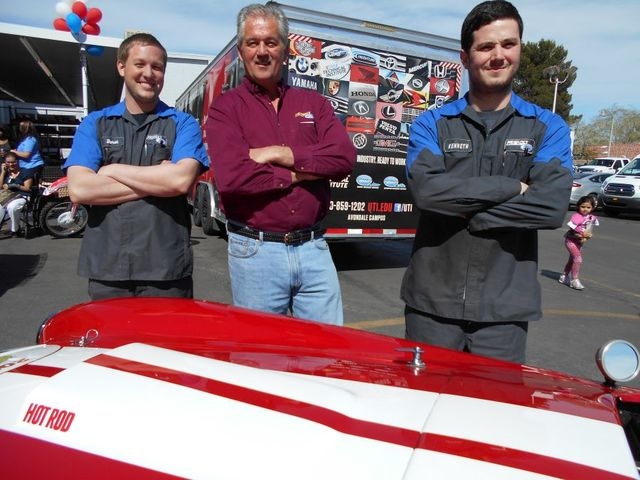 Approximately 150 high school seniors and their parents from Southern Nevada and Southern Utah packed a room at Friendly Ford on Saturday for the Universal Technical Institute meeting and scholarship testing.
UTI has 12 campuses nationwide providing education that covers the mechanical portion of the automotive business. UTI admissions representative Rudy Arbabi and Friendly Ford Service Director Greg Haase praised the event at Friendly Ford, 660 N. Decatur Blvd.
Both Haase and Arbabi said the big crowd was indicative of young men and women now wanting to be employed in the automobile business.
"We give more than $15 million in scholarships every year," said Arbabi, who has been working with UTI for more than 11 years. "Our average graduate receives as many as 10 offers as soon as they graduate. In fact, I had one graduating student receive 19 job offers the first day he returned to Las Vegas after attending school."
Haase, who has worked for Friendly Ford for 38 years, echoed Arbabi's comments. He added that he will never forget his first years working as a technician with Friendly Ford.
"The industry has certainly been good to me and there is more opportunity now than ever before," said Haase "We actively recruit graduates from the UTI training because we appreciate the extensive education the students receive. In addition, the dedication of today's students is unmatched.
"This is a very exciting career. Our technicians have monthly incomes ranging from $4,000-$7,000 monthly. I have seen this industry change so much in the past 10 years, ranging from parts to repairs and the tools we use, and education is more important nowadays than ever before," he said.
"We have technicians who have worked here for 25 to 30 years, and that speaks for itself."
Scholarships ranging from $500 to $2,500 were awarded at the event. In addition, financial aid experts were present to help advise parents and students about future educational requirements.
UTI Regional Director Kent Irwin, who has been with UTI for 27 years, covers five states for the company. He explained that the education helps provide a series of opportunities for students.
"We have job boards that list 1,000 jobs all over the country," Irwin said. "Many of our students even go on to work with pit crews for NASCAR teams. The opportunities are endless. Companies come in weekly to work with our students. There are a number of companies that visit all of the time."
In addition, Irwin said strong principles are required of students who attend UTI.
"You cannot come to work with an old T-shirt," he said. "You had better have pride in yourself. We want our students to be successful. We have students from Guam and Alaska going to our school. We are going to position you for success, but if you're late to school and you're lazy, you're not going to do great.
"We have been doing this for 50 years, and many of our schools are full. When I started, we had three campuses, and we now have 12. Employers are screaming for technicians. A total of 350,00 technicians are going to be needed in the next 10 years."
Out of 65 Ford dealerships, Friendly Ford was selected to host the UTI event.