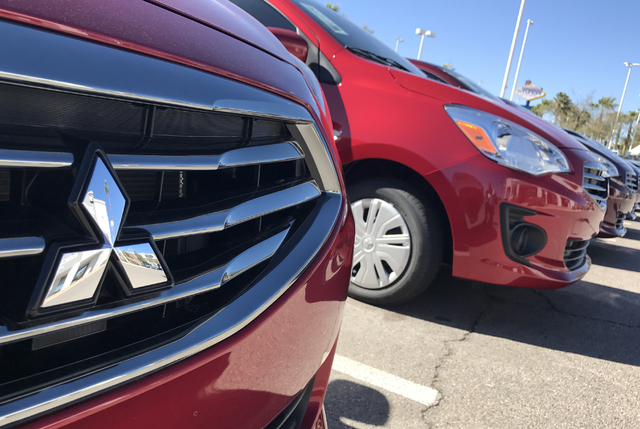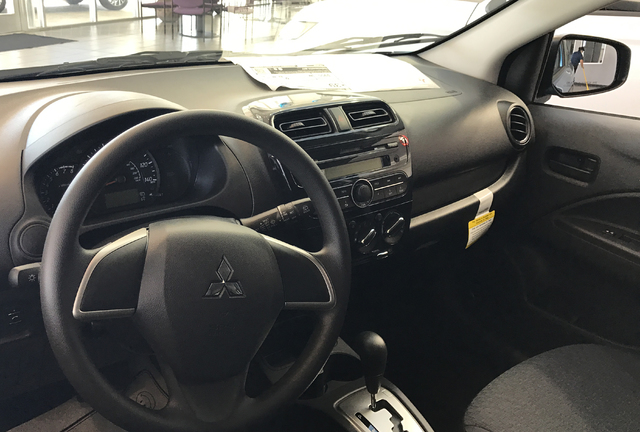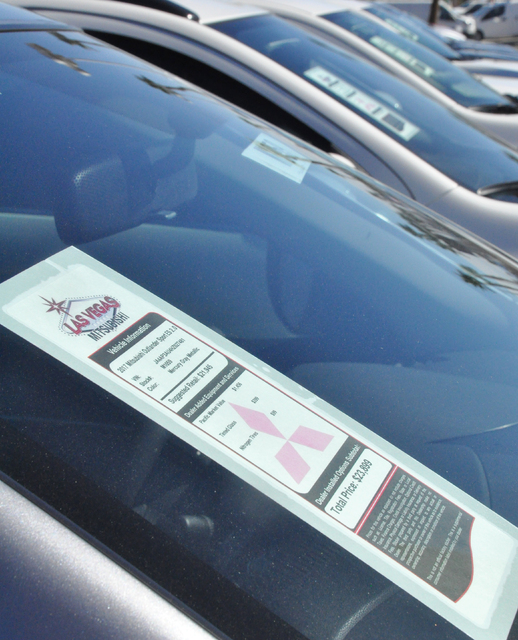 Las Vegas Mitsubishi at 7100 W. Sahara Ave. opened earlier this month as the Tokyo-based company marks 100 years of auto production.
"They have been building cars since 1917 … ," said Lou Finkelberg, general sales manager. "They just have not been as big in the American market."
Owner John Staluppi believes being the city's sole stand-alone Mitsubishi dealership will attract potential customers who want to become better acquainted with the brand.
"There hasn't been an exclusive Mitsubishi representative in Las Vegas for many years, and now Mitsubishi is adding dealerships in strategic markets across the country," he said. "A lot of the growth is coming from new, committed dealers like us in Las Vegas."
"With the quality of the product and the aggressive pricing, I think we will do really well with it," Finkelberg said. "Most definitely, we want to attack the market share. The look and style of the car is phenomenal, the Japanese build quality is top of the line, bar none."
Staluppi, who also owns the Hyundai dealership with which Las Vegas Mitsubishi shares a car lot, said the automotive business has evolved significantly in recent years, due in part to customers' education about the product's features and relative value through the internet.
"Let's face it, we are living in a digital world," he said. "We have thousands of online shopping conversations with potential buyers each day, some reaching out for the first time and others having their 10th conversation with us.
"No matter where shoppers are in their purchase cycle, we are here to be a resource and help them determine the best car for them at the payment they can afford. We look at online resources as our added driveway in helping customers make the right decision."
Staluppi continued, "Mitsubishi offers a lot of car for the money, making it a logical choice for many consumers. On top of that, Mitsubishi offers a 10-year/100,000-mile warranty that is the best of any Japanese automaker. The combination of the two, great tech features at a great value, will make Las Vegas Mitsubishi a success."
The business received a new shipment of vehicles Feb. 21, which include Mitsubishi's most popular models, colors and features.
The Lancer
The Lancer Evolution has been one of Mitsubishi's most popular models, beginning production in 1973 as a subcompact and evolving into a compact car beginning in 1995. Mitsubishi plans to end production of the front-engine, front-wheel-drive sedan in 2017.
"They're supposed to be coming up with another Evolution, and they're coming out with an Eclipse SUV, so there is a lot of new product line coming up," Finkelberg said. "The Evo stopped being offered in the U.S. because we're going through a redesign — hopefully it comes back out in 2018."
The Outlander
The Outlander is a midsized crossover SUV that has been in production since 2001. It features a front-engine, four-wheel drive. More than 120,000 units have been sold worldwide to date.
The Outlander Sport is the company's top- selling car in the U.S. The company also offers a limited edition of the model that features enhanced technology and style elements.
"The Mitsubishi Outlander Sport is a great two-row crossover," Staluppi said. "It's been redesigned, looks great … and is an incredible crossover that has Bluetooth, touch screen and push-button start for under $20,000. That's an incredible value versus our competitors."
The Mirage
Evolving from the Colt, the Mirage is a subcompact available in a four-door sedan and five-door hatchback. It is a 1.2-liter, three-cylinder, front-engine, two-wheel-drive vehicle.
"The Mirage comes in at only $10,000 — a brand-new car with power windows, power doors and air conditioning," Finkelberg said.
i-MiEV
The company's foray into the North American electric car market began in 2011 with the five-door hatchback i-MiEV, which stands for Mitsubishi innovative electric vehicle. The car has a range of more than 60 miles, and it is fueled by a 16 kilowatt per hour battery pack.
More than 37,000 i-MiEVs have been sold to date, including more than 2,000 in the United States and Canada.
"At this stage, we have not received any of the (i-MiEV); we're going to have to install charging ports and other supports," Finkelberg said. "I do not know how far in the future it is going to be for us to offer them to the market here in Las Vegas. We are planning on doing it, though, absolutely."
The company's new compact SUV named the Eclipse Cross will debut at the Geneva International Motor Show in March.
Nissan bought 34 percent stake in Mitsubishi North America Motors for $2.3 billion in 2016, a transaction Finkelberg believes will benefit both automakers.
"With that connection with Nissan, we know they're going to have some new, fun and exciting projects coming up that should help the line, also," he said.
"Since I live in Las Vegas with my children, I really focus on Southern Nevada and not other regions," Staluppi said. "We couldn't be prouder to be the exclusive home of Mitsubishi in all of Southern Nevada. Las Vegas Mitsubishi will continue in our long tradition of providing a great value with exceptional customer service to those looking to buy or lease a Mitsubishi."
Mitsubishi Motors North America reported that overall sales were up 3.1 percent in January 2017 from the same time-period in 2016. The Outlander showed a 9.5 percent increase in sales during that period, the most of any model. The Outlander Sport was the most popular model, with 1990 units sold during the month.