Nellis employee can now travel in style after winning 2015 Volkswagen Jetta
October 16, 2015 - 3:35 pm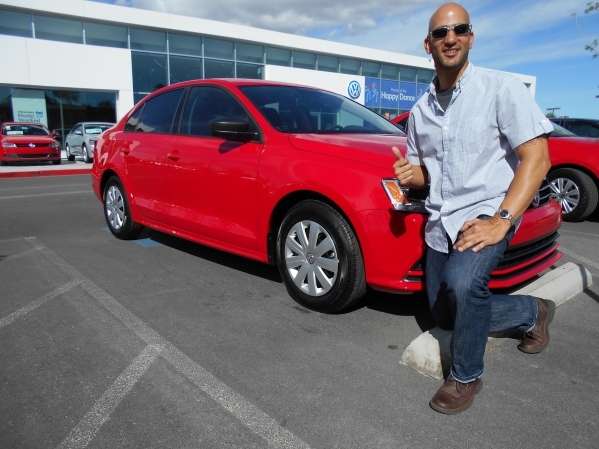 The 2015 Volkswagen Jetta from Findlay North Volkswagen has enjoyed good sales results since it was introduced last year. In fact, the Jetta has been the top-selling model at the dealership.
The Jetta comes in five trim levels including S, SE, Jetta Sport, SEL and GLI.
It features three gasoline power plants including 2.0-liter base engine, 1.8-liter turbo and 2.0-liter turbo.
"The Jetta is one of the safest and most fuel-efficient four-door sedans in its class," said Reggie Leggette, dealership military support liaison. "It's well-designed and well-engineered."
Southern Nevadan Carlos Del Valle has been driving an old Chevrolet Yukon for the past two years. The vehicle has 150,000 miles, has seen better days and Del Valle has been riding his bike to work most days.
However, Del Valle won't have to worry any longer since he recently won a red 2015 Volkswagen Jetta complimentsof the 99th Force Support Squadron at Nellis Air Force Base. The dealership partnered with the squadron to provide the grand prize for Ultimate Summer Giveaway sweepstakes.
Del Valle, a five-year resident of Las Vegas, entered the sweepstakes during the summer at Nellis where he is a civilian recreation specialist. On Sept. 20, the final day of summer, he received a phone call out-of-the-blue from Col. Zev York informing him that he had won the vehicle.
"I thought it was a joke," Del Valle said of the phone call. "I was told by the colonel that I got a parking ticket. Then, he told me that I actually won the Jetta."
Del Valle is planning a trip to Colorado sometime around Christmas.
"I love to snowboard," Del Valle said. "It's beautiful up there."
In addition, there is a special sense of pride owning a new car.
"I like the fact that I don't have a car payment and I have a new car," he said. "There will be less stress with a new car, that's for sure. I no longer have to worry about road trips."
Del Valle had been renting a vehicle when necessary.
Del Valle's Jetta comes equipped with a 2 liter, four-cylinder engine, automatic transmission, tilt cruise control, split fold-down rear seats, eight-way adjustable driver's seat and Blue Tooth compatible Infotainment system with six speakers.
The Jetta gets up to 36 mpg on the highway and 26 mpg in the city when equipped with the 1.8-liter turbo engine.
Findlay North Volkswagen is situated at 7300 W. Azure Drive. The dealership is headed by long-time Findlay Auto employee and general manager James Cobbs.
Findlay North Volkswagen is part of Findlay Automotive Group, which was founded more than 50 years ago by the late Pete Findlay, whose son, Cliff, now oversees 28 new and resale dealerships in Nevada, Utah, Idaho, Oregon and Arizona.
Further information regarding the dealership can be can be found by visiting www.findlaynorthvw.com or by calling 702-982-4800. Further information regarding Findlay Automotive Group can be found by visiting www.findlayauto.com.