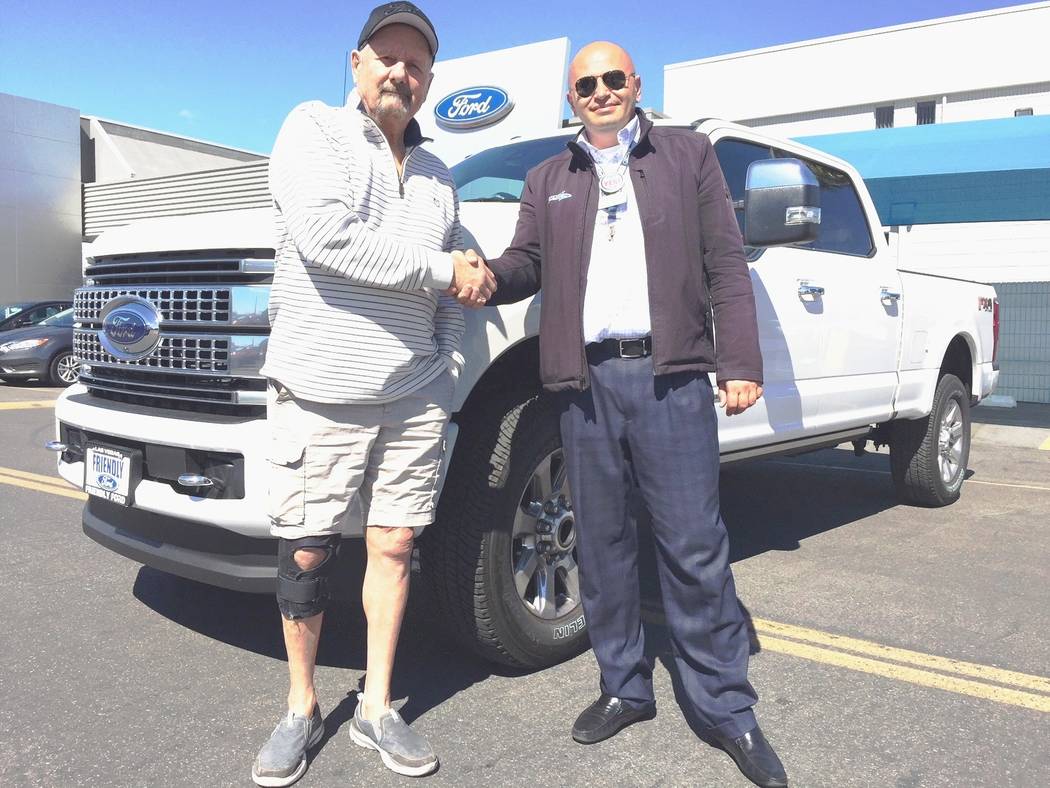 Tom Triol discovered the hard way that he could get stuck at Dumont Dunes, a hotspot for off-roaders that features steep and soft sand dunes. He then started looking for a replacement vehicle and found the answer in a 2018 Ford F-250 Super Duty Platinum truck.
The 71-year-old retiree now living in Pahrump won't have to worry any longer after buying the 2018 F-250 model from Friendly Ford.
When Triol voiced a concern about the competition, sales consultant Grig Demirchyan solved that problem by taking Triol to a competing dealership in a Ford pickup so the two models could be compared. The F-250 came through with flying colors no matter what the challenge.
"I got stuck pulling my flatbed trailer in Dumont three times," said Triol, a transplant from Escondido, California. "Now, with the F-250 Super Duty 4×4, I no longer have to worry."
Triol is also pleased with the truck's 6.7- liter turbo diesel engine.
"I drove all the way to California and left the cruise control at 60 mph," he said. "I left it at that speed and got 20.3 miles to the gallon. What's so interesting is that the faster I went, the better my gas mileage. I was super happy with the engine considering that it'll get even better once the engine is broken in."
Triol raved that both front seats have excellent massagers that provide relief for the back. The seats also are heated and cooled.
"This truck also has Apple Carplay," he explained. "Rather than texting, I can just speak into the microphone on the truck. I'm asked if I want to send it, and it's all done verbally."
The F-250 has FordPass that provides remote starting, service histories, contact for roadside assistance, scheduling appointments for service, locating, parking and paying for the service, along with a direct link to Ford Credit.
Triol also raves about the sound system.
"The whole roof is a glass skylight, and the sound is like listening to a rock concert," he said
Triol was very happy with the service he received from sales consultant Grig Demirchyan, who also is the product trainer for the dealership.
"He's very easy to talk to and easy to deal with," Triol said. "Grig was not pushy at all, and I felt comfortable working with him."
Demirchyan said the 2018 F-250 Super Duty Platinum edition FX4 is one of the best-selling trucks at Friendly Ford.
"This particular truck is best-in-class with 450 horsepower and 935 pound-feet of torque," Demirchyan said. "It has all the high-tech features including simple features like rain-sensing wipers all the way to adaptive cruise control."
About the dealer
Located at 660 N. Decatur Blvd., Friendly Ford is an 18-time winner of the Ford President's Award, Ford's highest single honor for customer satisfaction. Further information can be found by calling 702-870-7221 or by visiting www.friendlyfordlv.com.