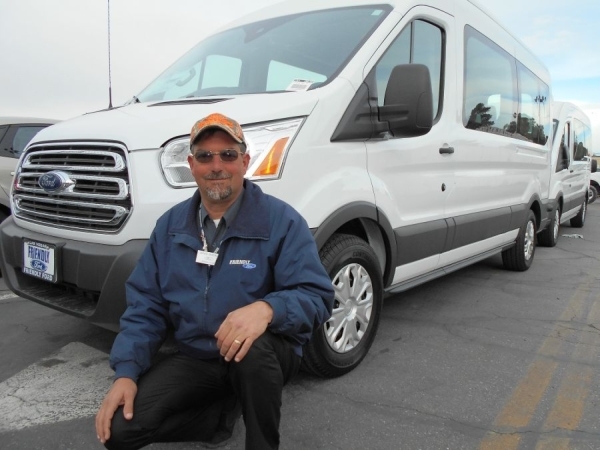 The 2016 Ford Transit is undoubtedly one of Ford's most multifaceted vehicles now available at Friendly Ford at 660 N. Decatur Blvd.
Available as a cargo van or a wagon that holds up to 15 passengers, the 2016 Transit is offered in three lengths and three roof heights. Interestingly, the Transit is also available as a cutaway and a chassis cab.
Three different engines include a 3.7 V-6 with 275 horsepower and 260 pounds of torque; the popular 3.5 EcoBoost V-6 that is a twin turbo with 310 horsepower and 400 pound-feet torque; and the new diesel engine 3.2 Power Stroke I-5 turbo diesel with 185 horsepower and 350 pound-feet of torque.
The passenger wagon is popular primarily because it is available with eight to 15 passenger capacity along with an Extra Length that offers extensive space behind the seating.
Ford's brilliance in the car business is exemplified by the fact that the Transit can also be utilized as a vehicle for handicap with the availability of wheelchair lifts and special seating for the handicapped.
"There are also several hundred configurations that can be utilized for a myriad of professions such as plumbers, air conditioning repairmen, refrigeration units, general contracting and even flower companies or bakeries," explained 20-year veteran of the car business, Davis Boehle, a military veteran of the U.S. Navy and Army Special Forces with service in Desert Storm.
"Between the transit van and the cutaway chassis cab, there are limitless opportunities with the Transit."
Boehle is certainly qualified to talk about Ford's product lines since he is Ford master commercial certified and is also master certified through F-750 trucks. A master technician in Southern Nevada before entering the sales field, the 51-year-old Boehle also sold Fords in Jacksonville, N.C.
Boehle is very confident that 2016 is yet another signal that the construction industry is again running at full-speed. Many of his customers are involved in the construction industry.
"There is no question that 2008-09 were bad years for commercial sales," Boehle said. "However, things are turning around and I'm very excited about this year. This should be a banner year."
Friendly Ford has been situated at the same location since 1970. Further information can be found by visiting www.friendlyfordlv.com or by calling 702-870-7221.