Subaru of Las Vegas, Certified Auto Body create unique aquarium
November 30, 2018 - 2:35 pm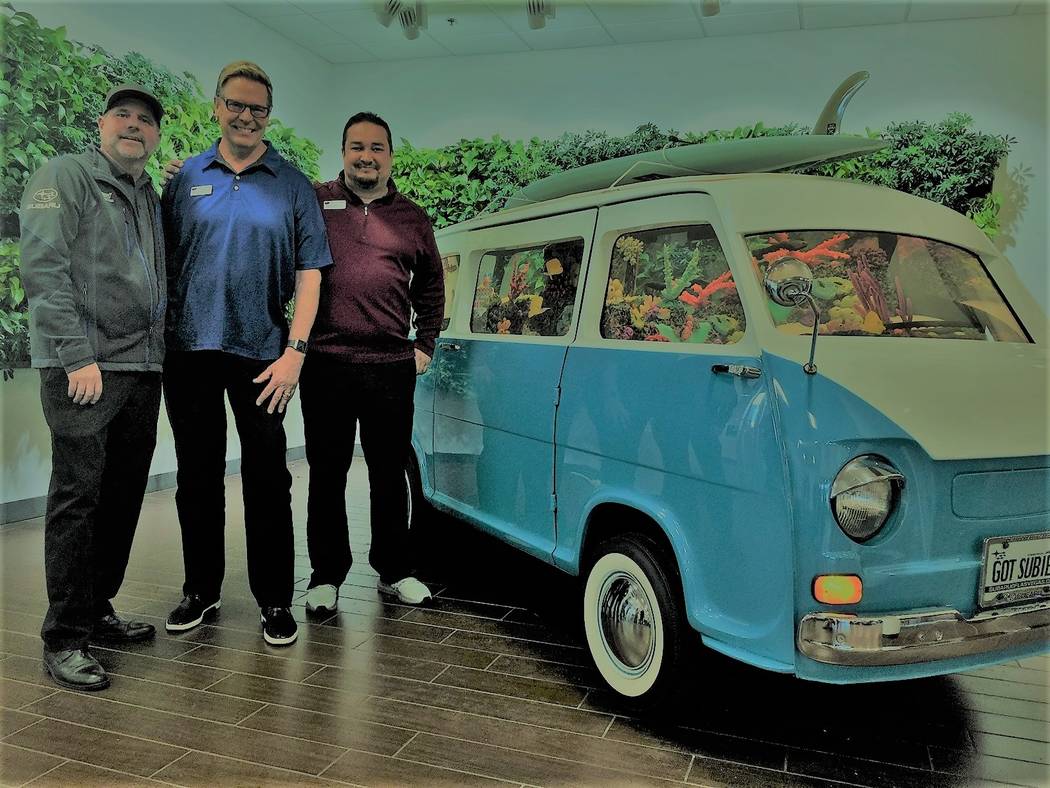 When Findlay Automotive Group built a state-of-the-art Subaru of Las Vegas dealership in the southwest Las Vegas Valley about a year ago, General Manager Burton Hughes knew that he wanted to highlight the facility with an aquarium.
A former resident of Hawaii, Hughes made his idea into a reality thanks to dealership Parts Manager Kelly Brian, who reached out to Acrylic Tank Manufacturing in Las Vegas along with Certified Auto Body to create a first-of-a-kind work of art that includes an aquarium inside a classic 1969 Subaru 360 van.
Several modern-day gear heads went to work, as only automotive enthusiasts can when presented with a challenge.
The shell of the van was gutted and customized to allow for an aquarium. Every portion of the van had to been modified for the interior, which is now the home of one of the most interesting aquariums in the world.
In a team effort spearheaded by Brian, the interior of the van was transformed into a unique and colorful aquarium complete with saltwater fish and a replica of the original "Welcome to Fabulous Las Vegas" sign in the back of the van. Other features include custom wheels and a surfboard that was added to the roof of the van to create a beach scene.
Their creation will be showcased on the popular reality show "Tanked," which will premiere on the Animal Planet channel in mid-December.
"At first I thought it was the craziest idea ever," Hughes said. "We called the production company, and the next thing we knew the idea became a reality."
The new aquarium is more than unique. It's saltwater-psychedelic, thanks to the work of several automotive experts, who included off-road racer and body shop expert John Koeth, body repair technician Tony Martinez and manager Speedy Kinard and all of the Certified Auto Body team.
"This was the most unique project that we have ever been a part of," said Kurtis Rosborough, the owner of Certified Auto Body. "Just to see what our people did was amazing. I was in awe. This was a full-fledged Subaru 1969 360 van, and we totally disassembled it. I didn't know what we were getting into, but thankfully, we have some very talented people."
Rosborough said Certified Auto Body provides all the bodywork for Subaru of Las Vegas.
"This is another step in our relationship with Subaru of Las Vegas. Subaru is a very hot product now, and the customers love the vehicles."
"It fits the dealership perfectly," Hughes said of the aquarium. "It's exactly what this dealership represents, and it embraces the beauty of the store. It's an adventurous addition to Subaru of Las Vegas."
About the dealer
Subaru of Las Vegas, a Findlay Automotive Group dealership is situated at 6455 Roy Horn Way in the southwest valley. Further information can be found by calling 702-495-2100 or by visiting www.subaruoflasvegas.com.