Toys for Tots drive culminates in star-studded concert
January 5, 2018 - 10:59 am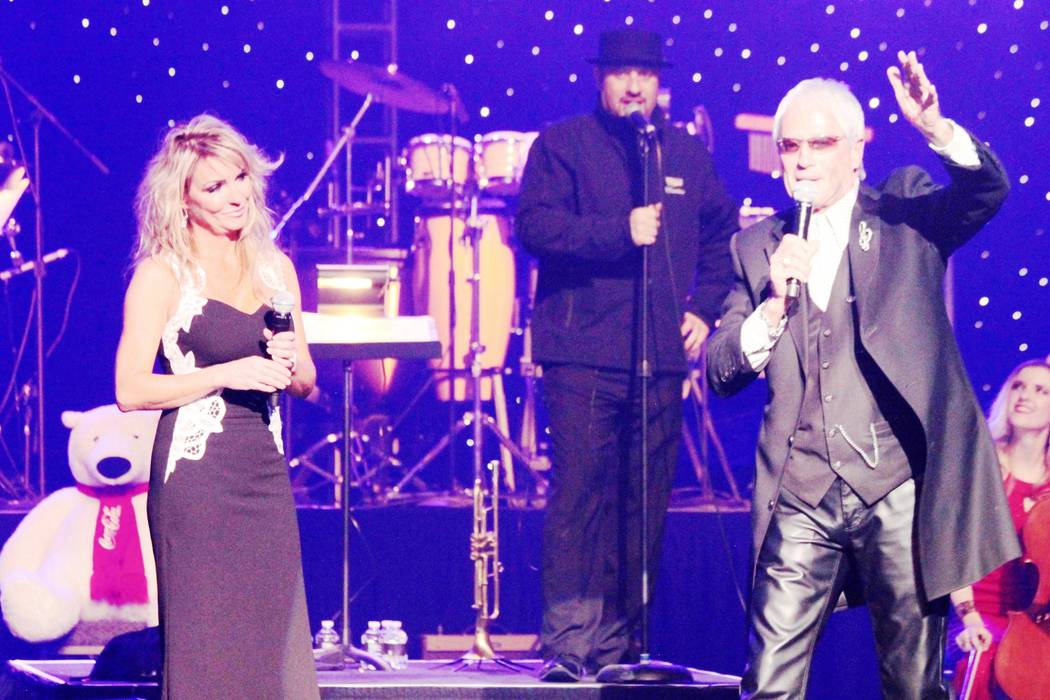 A blockbuster concert Dec. 16 highlighted the ninth annual U.S. Marine Corps Reserves' Toys for Tots celebration at the Westgate International Theater.
With a red carpet opening the ceremonies, the show featured a long list of noted entertainers during a live two-hour showcase.
The list of performers included the David Perrico Pop Strings Orchestra; Lon Bronson; Zowie Bowie; Howard Leese, Paul Shortino and Robin McAuley from "Raiding the Rock Vault"; country rock artist Sam Riddle; Jennifer Romas with the cast of "Sexxy"; Lorena Peril from "Fantasy"; "Sin City Kiss" tribute band; R&B singer Skye Dee Miles; "King of Diamonds" Rob Garrett; KLAS-TV, Channel 8 news anchor Sherry Swensk; KTNV-TV, Channel 13 Morning Blend host JJ Snyder; Review-Journal entertainment columnist John Katsilometes; and many other Las Vegas headliners.
A rendition of the Doors' "Touch Me" by Paul Shortino, lead vocalist of Quiet Riot and "Raiding the Rock Vault," included a rocking drum introduction by L.J. Harness, whose career has included performances dating back to the 1970s when he toured with Patti LaBelle, Aerosmith, Tom Petty and the Heartbreakers, Kansas, Ted Nugent and Cheap Trick, among others.
"This was a home run, for sure," said Harness, Findlay Cadillac's sales marketing and promotions manager.
"I still enjoy playing the drums, and the addition of the numerous performers and live music was a production that people will remember for years to come," Harness added. "When you tie the show with several local charities, it was more than any of us expected."
Findlay Cadillac kicked off the Toys for Tots drive in its showroom in the Valley Automall on Nov. 22. By the evening of the Dec. 16 Toys for Tots celebrity show, more than 5,000 new, unwrapped toys had been donated by the Las Vegas community.
"This was a lot of work, and it was worth every minute of the time necessary to pull it together," said Findlay Cadillac General Manager John Saksa. "Truth be known, it was a production that could easily be featured on national television. It was that good."
Marines-Las Vegas Toys for Tots chairman Thomas McGrath added, "The finest musicians, Strip performers and the legends of Las Vegas turned out in force to assist the U.S. Marine Reserves in their mission to make certain that 'Every child receives a little Christmas.'
"We also want to give a special thanks to the Las Vegas Marine Riders for all they do in giving back to the Las Vegas community."
The show drew a crowd of 1,546, the largest-ever for a Toys for Tots event. For fans longing for the old days in Las Vegas when live performances were the norm, the show was over the top.
Toys for Tots was started in 1947 by Major Bill Hendricks in Los Angeles. Some 5,000 toys were selected before Christmas of that year, with the first toy being a handmade doll.
About the dealer
Situated at 993 Auto Show Drive in the Valley Automall, Findlay Cadillac is part of Findlay Automotive Group, founded in 1961 by the late Pete Findlay, whose son, Cliff, now oversees 31 dealerships in Nevada, Utah, Oregon, Idaho and Arizona.