Introduction
In the fast-paced fashion world, finding the perfect OEM clothing manufacturer can make all the difference in elevating your brand. Here you will see the 10 best OEM clothing manufacturers who excel in craftsmanship, detail and products. 
From custom designs to large-scale production, these manufacturers have the expertise to bring your fashion vision to life. Discover their commitment to sustainability, ethical practices and innovation as they help you leave a lasting mark on the industry. 
We will also discuss factors to consider when choosing an OEM clothing manufacturer and the benefits of partnering with an OEM manufacturer. So get ready to take your fashion game to new heights with these top 10 OEM clothing manufacturers!
Appareify

: Best China-Based OEM Clothing Manufacturer 

Good Clothig Company

: Top USA OEM Clothing Manufacturer 

DBL Group

: Leading Bangladesh OEM Clothing Manufacturer

Billoomi Fashion: India-based Eco-friendly Clothing Manufacturer

Gym Clothes: Excelling in Activewear and Sportswear Manufacturing

Apparel Win: The One-Stop-Shop for All Your Fashion Needs

Corneliani: Timeless Italian Style and Elegance

Duchelina Dove: Known for Unique and Couture-like Designs

Zega Apparel: OEM Clothing Manufacturer for Fast Fashion Solutions

DSA Manufacturing: Known for End-to-end Textile Manufacturing
So, let's dive into the world of top-notch OEM clothing manufacturers!
Appareify: Best China-Based OEM Clothing Manufacturer 

As a leading OEM clothing manufacturer based in China, Appareify specializes in turning fashion brands' ideas into reality. With their streamlined and efficient manufacturing processes, they can produce high-end apparel in large batches each month. Notably, Appareify offers impressive production lead times, with private label designs taking only 10 to 15 days and custom variants requiring 30 to 45 days.
Their OEM service encompasses the entire manufacturing process, from fabric selection to shipment. Appareify's team of professionals handles cutting, sewing and customization with meticulous attention to detail, ensuring the highest level of quality. They provide the option to add customizations and brand labels and their packaging team ensures a premium look for the final product.
As a custom clothing manufacturer, Appareify employs various printing methods, including sublimation, heat transfer, heat press, DTG, screen printing and airbrushing, catering to different design preferences and fabric types.
The company offers an all-in-one solution. They cover a broad range of garment categories, you will get prompt production without compromising quality, and they are committed to sustainable manufacturing backed by sustainability certifications. Appareify also prioritizes fast turnaround times and global shipping while maintaining high ethical standards through rigorous quality control inspections.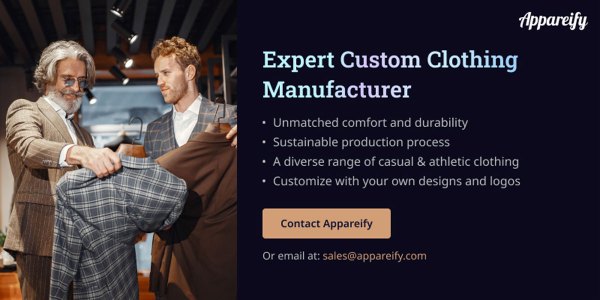 Pros
Streamlined manufacturing processes

Impressive production lead times

All-in-one solution

Global shipping

Eco-friendly practices
Cons
They are based in China, so that factory inspection could have difficulties.
Start your clothing line with Appareify today and elevate your fashion game!
Good Clothing Company: Top USA OEM Clothing Manufacturer
Good Clothing Company is your go-to for small-batch, high-quality clothing. Specializing in crafting bespoke garments with distinctive design elements, GCC ensures every item is produced with care and love. They've dedicated to ethical manufacturing for an affordable price, bringing value to businesses and the planet. 
Pros
Small-batch manufacturing

Made in the United States

Offers a wide range of customization options
Cons
 Potential longer turnaround times due to small-batch production
DBL Group: Leading Bangladesh OEM Clothing Manufacturer
Make a statement in the world of eco-friendly textiles with DBL Group, a Bangladesh-based manufacturer. Their commitment to sustainability and innovation has made them a favorite among environmentally conscious businesses. DBL Group ensures every product meets exacting ethical and environmental standards. 
Pros
 Sustainability and social responsibility

 Diversified product offerings
Cons
Geographical distance for U.S. and European customers
Billoomi Fashion: India-based Eco-friendly Clothing Manufacturer
Billoomi Fashion brings the subcontinent's vibrant colors and skilled craftsmanship to your doorstep. With a penchant for organic clothing and eco-friendly manufacturing, this Indian clothing manufacturer provides an array of garments encompassing diversity and sustainability. Their products reflect a commitment to social and environmental responsibility, making them an ideal partner for fashion innovators. 
Pros
 Eco-friendly garment production

 Wide-ranging apparel options
Cons
 Shipping costs and delivery times for international customers
Gym Clothes: Excelling in Activewear and Sportswear Manufacturing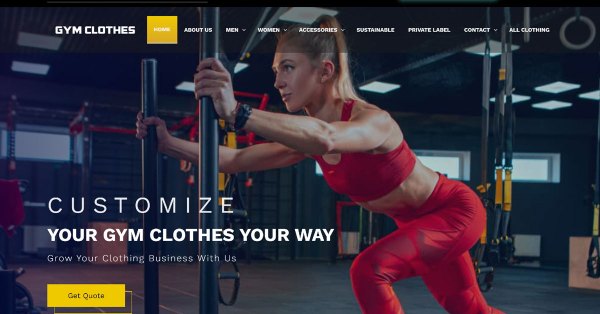 Exercise enthusiasts, rejoice! Gym Clothes, one of the leading activewear manufacturers, designs and produces sleek, versatile, high-quality sportswear for athletic and casual needs. With their innovative materials and personalized approach, Gym Clothes enables you to create premium products that make your line stand out.
Pros
 Focus on quality and functionality

 Quick and easy customization
Cons
Limited to gym and activewear
Apparel Win: The One-Stop-Shop for All Your Fashion Needs
Apparel Win, based in China, offers an all-inclusive package for new and professional designers. They create budget-friendly, trendy clothing with a touch of Chinese finesse. Enjoy customized services and professional design support in your quest to create a masterpiece.
Pros
 Professional design support

 Competitive prices

 Fast turnaround times
Cons
 High overseas shipping costs
Corneliani: Timeless Italian Style and Elegance
Step into the realm of Italian finesse with Corneliani, a luxury menswear manufacturer specializing in tailor-made suits and refined clothing. Boasting generations of craftsmanship and unparalleled style, Corneliani works to fulfill your every sartorial whim. 
Pros
 Luxury and high-end menswear

 Impeccable craftsmanship
Cons
Duchelina Dove: Known for Unique and Couture-like Designs
Discover the playground of Duchelina Dove, a clothing brand renowned for its one-of-a-kind apparel with unique aesthetics. Their creativity and mastery know no bounds, providing an exceptional opportunity for fashion enthusiasts. 
Pros
 Unique artistic vision

 Distinguished craftsmanship
Cons
Limited to couture-like designs
Zega Apparel: OEM Clothing Manufacturer for Fast Fashion Solutions
For a harmonious blend of style, speed and quality, look no further than Zega Apparel. Based in Pakistan, this fantastic OEM manufacturer offers end-to-end solutions from design and development to production and shipping. No matter your fashion line, Zega Apparel has got you covered, whether you're after fast fashion or high-quality garments produced in record time. 
Pros
 Quick turnaround times

 End-to-end textile production services
Cons
May not be suitable for niche or specialized clothing lines
DSA Manufacturing: Known for End-to-end Textile Manufacturing
Established in the United Kingdom, DSA Manufacturing crafts luxury apparel destined to please even the most discerning fashionistas. Renowned for their diligence and attention to detail, DSA Manufacturing delivers superior products tailored to your specifications. Their in-house design team will work with you to develop your fashion dream.
Pros
 High-quality fabrics and materials

 In-house design team
Cons
 Exclusive focus on luxury apparel
Factors to Consider When Choosing the Right OEM Manufacturer
Selecting an ideal OEM clothing manufacturer is crucial for your brand's success. When seeking the right partner, consider essential factors such as:
Production quality

Price and budget

Turnaround times

Environmental and ethical practices

Communication and customer service
Weighing these factors will enable you to identify a manufacturer that aligns with your business goals, elevating your brand and bringing your vision to life.
Benefits of Partnering with an OEM Manufacturer
There are numerous advantages to teaming up with an OEM manufacturer. These benefits include:
Cost reduction: Outsourcing production can significantly lower manufacturing expenses, particularly regarding materials, labor and equipment.

Expertise: Partnering with established manufacturers provides access to invaluable knowledge, allowing your brand to flourish while avoiding common pitfalls.

Increased efficiency: Leverage the knowledge and resources of professional manufacturers to streamline your production process and enjoy faster turnaround times.

Scalability: As your brand grows, an OEM partnership allows you to scale production accordingly without additional infrastructure investment.
FAQs
1. What is an OEM clothing manufacturer?
An OEM (Original Equipment Manufacturer) clothing manufacturer produces garments and clothing accessories according to your designs and specifications, bearing your brand logo and labels.
2. Are there minimum order quantities (MOQs) for OEM manufacturers?
Generally, OEM manufacturers have MOQs to ensure profitability, but each company has its requirements. It's crucial to check MOQs with your chosen manufacturer before starting a partnership.
3. What type of clothing can OEM manufacturers produce?
OEM manufacturers can offer a wide range of clothing items, from activewear to luxury apparel. Partnering with a manufacturer specializing in your desired niche is crucial for optimal results.
4. What is the difference between OEM and ODM?
OEM manufacturers produce clothing based on your designs and specifications, whereas ODM (Original Design Manufacturer) manufacturers offer pre-designed, customizable products that can be branded with your logo.
5. How do I choose the right manufacturer for my clothing brand?
Select a manufacturer that aligns with your brand's values and vision and consider factors such as product quality, pricing, turnaround times,
Conclusion
Choosing the right OEM clothing manufacturer can be a game-changer for your fashion brand. Our comprehensive guide to the top 10 OEM clothing manufacturers showcases a diverse range of options, from eco-friendly textiles to luxury menswear. By understanding each manufacturer's strengths and characteristics, you'll be better equipped to identify the best possible partner to elevate your brand, streamline production and ultimately stand out in the competitive world of fashion.
Members of the editorial and news staff of the Las Vegas Review-Journal were not involved in the creation of this content.