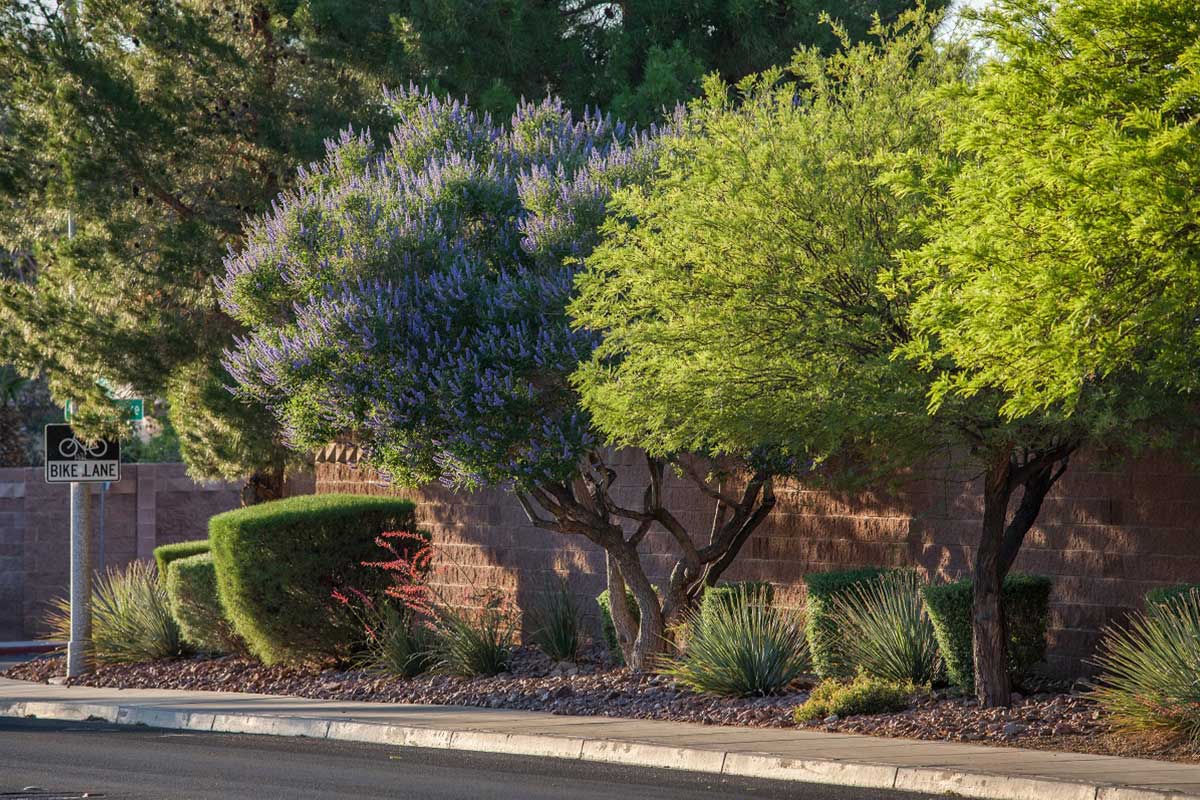 If you've been contemplating the idea of transforming your thirsty grass landscape to drip-irrigated, water-efficient plants and trees, look no further than the Southern Nevada Water Authority's (SNWA) Water Smart Landscape Rebate program (WSL).
Whether you choose to do the work yourself or hire a water-smart contractor, you can earn a cash incentive of up to $3 per square foot of grass replaced with water-efficient landscaping. Additionally, SNWA has added a bonus! You can now receive $100 for every new tree planted as part of the grass replacement process (some restrictions apply).
To qualify for the tree incentive, WSL participants must plant new, living trees from the Southern Nevada Regional Plant List with a minimum canopy value of 236 square feet at maturity. Small-canopy trees, such as palms that produce minimal shade, also do not qualify. Trees also must be in a 15-gallon container or larger with a minimum height of 5 feet when planted in a landscape.
Trees play myriad roles in Southern Nevada landscapes—they offer welcome shade from the summer's intense sun, provide habitat for wildlife, and function as "nature's air conditioning" by helping to cool and clean our hot urban air. Trees should be considered a top priority when converting your grass landscape for these and many other reasons.
As you plan your conversion, you'll need to include enough trees to meet the WSL program's requirement of at least 50 percent living plant cover at maturity up to 100 percent canopy coverage. A comprehensive list of recommended trees is available at snwa.com.
Once you've selected your new trees, consider where to plant them. Even the best tree is useless if you plant it in the wrong location. To avoid potential problems down the road, follow these tips:
Plant trees at a safe distance from structures, walls, above-and below-ground utilities, and swimming pools. 

Always consider the tree's mature height and width before planting. Small trees should be at least 10 feet away from structures, and large trees should be 20 feet away. 

By doing your research and planning accordingly, you will be setting yourself up for success.  
For more information about which trees can survive and thrive in Southern Nevada and to enroll in the WSL program, visit snwa.com.
Members of the editorial and news staff of the Las Vegas Review-Journal were not involved in the creation of this content.