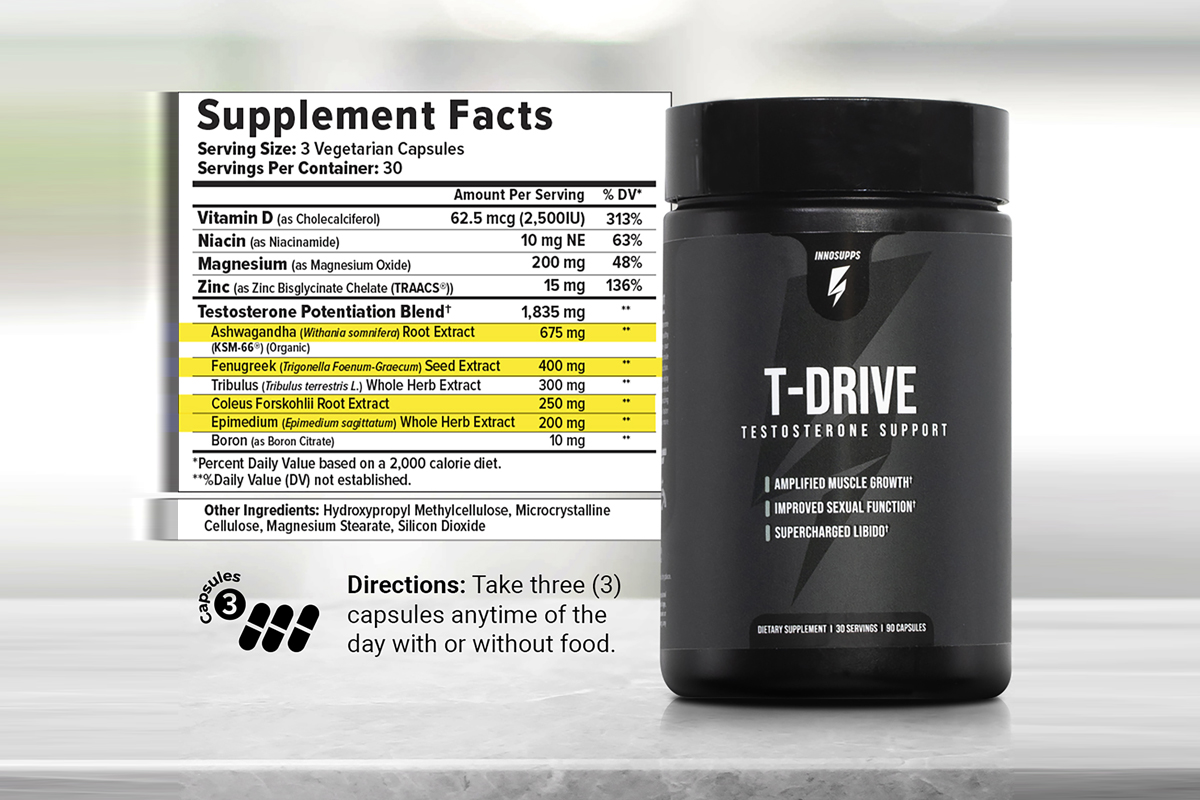 If you're struggling with 'performance' in and out of the bedroom, learn more about how T-Drive can help 
If something feels off… be it your inability to lose weight no matter how hard you diet and exercise, your libido, strength and stamina or focus – chances are your testosterone is to blame. 
Testosterone is the primary sex hormone in males, but is needed in healthy amounts in both sexes for overall health and well-being– including libido, weight management, reproductive health, mood, bone health and more.

When your body isn't producing enough testosterone, every bodily function can suffer. 
Low testosterone can:
Destroy your sex drive.

Decrease muscle mass.

Impact your ability to lose weight.

Negatively impair your mood.

Cause a decrease In bone density.



WHO CAN SUFFER FROM LOW TESTOSTERONE? 
Men and women, young and old, fit or overweight, can all experience low testosterone levels. 
While declining hormones are more likely to occur with aging and in those overweight, testosterone rapidly decreases for most people around 30. 
Yup, right in the PRIME of your life! And some people experience low testosterone levels even sooner. 
HOW CAN YOU SAFELY INCREASE TESTOSTERONE? 
There are some very effective ways to boost the testosterone your body makes naturally.
Eat whole foods, especially those rich in omega-3s, zinc, magnesium and vitamin D.

Exercise regularly.

Get enough quality sleep.

Supplement with herbs like ashwagandha, fenugreek, boron, niacin and tribulus terrestris.
Instead of searching for each of these ingredients in a bunch of different supplements and wondering if it's an effective dose– you can find them all in one supplement called T-Drive by Inno Supps. 
WHAT IS INNO SUPPS and INNO SUPPS T-DRIVE?
Inno Supps is one of the most trusted supplement companies in the world. Their headquarters are in Las Vegas, and their supplements are vegan-friendly and contain no artificial sweeteners, fillers or harmful additives.

T-Drive is a testosterone booster formulated using an all-natural blend of ingredients to offer you the best testosterone enhancement formula on the market. 
T-Drive is one of their most popular supplements, with thousands of reviews raving about how it's helped customers naturally skyrocket T levels, mental drive and performance.
WHAT INGREDIENTS MAKE INNO SUPPS T- DRIVE EFFECTIVE AT NATURALLY BOOSTING TESTOSTERONE?
T-Drive has 10 ingredients that work together to naturally support testosterone levels and lower the stress hormone cortisol. 
The most impressive component in the ingredient list is KSM-66®, which is a superior form of the adaptogen ashwagandha.

T-Drive has a whopping 675 mg of this adaptogenic herb. An amount that is clinically shown to stimulate and support natural test levels.

T-Drive also features nine other ingredients that can help boost testosterone levels and sexual performance in men of all ages.
SCIENCE-BACKED CLAIMS ON T-DRIVE'S EFFECTIVENESS TO BOOST TESTOSTERONE 
There are plenty of studies that show that all of the ingredients in T-Drive are effective.
Fenugreek:

Been shown to almost double free testosterone levels in only eight weeks.

Zinc:

Also shown to nearly double free testosterone levels (in men ages 55-73).




Epimedium:

Said to help increase libido and stamina.

Boron:

Helps boost free testosterone levels.

Coleus:

Helps decrease body mass and enhance lean muscle mass. 

Niacin:

Shown to boost testosterone levels and improve erectile function. 

Vitamin D3:

Has also been shown to help boost testosterone.

Tribulus Terrestris:

May help men with erectile dysfunction and increase sex drive and testosterone levels.

Magnesium:

Known to reduce cortisol levels, boost testosterone and promote muscle strength.
But the most impressive research is behind the main ingredient in T-Drive– KSM-66® 
In a 90-day pilot study, men with a low sperm count consumed 675 mg of KSM-66® daily (the exact dose in a serving of T-Drive) and at the end of the treatment had a:
167% increase In sperm count.

53% increase In semen volume.

57% increase In sperm motility.

17% increase In serum testosterone levels.
IS INNO SUPPS T-DRIVE SAFE?  

T-Drive only contains natural ingredients in clinically safe dosages.

When taken correctly, T-Drive should be safe and effective for both men and women 18+ and is endorsed by doctors: 
"T-Drive contains several ingredients clinically known to boost testosterone and improve overall vitality." – Dr. David Filsoof MD, FACC – Cedars-Sinai cardiologist.
All ingredients in T-Drive are manufactured in the USA. Inno Supps manufacturing practices are independently reviewed, and each product is lab tested for safety and effectiveness.
CONCLUSION
Testosterone is one of the most crucial hormones in the body, especially for males. 
Most people don't need to give their body more testosterone; they need to help boost the testosterone their body already makes. That is exactly what Inno Supps T-Drive can do.

With consistent use, T-Drive can help you have:
Supercharged hormone levels.

Enhanced endurance and stamina.

Improved body composition.

More desire and overall vitality.
Click here to learn more and grab your supply of T-Drive so you can begin to experience an overall restored youthful feeling! 
Members of the editorial and news staff of the Las Vegas Review-Journal were not involved in the creation of this content.